American Muscle 2017 with Bex Russ & Bianca Owens
Written by Bex Russ Wednesday, 16 August 2017 15:07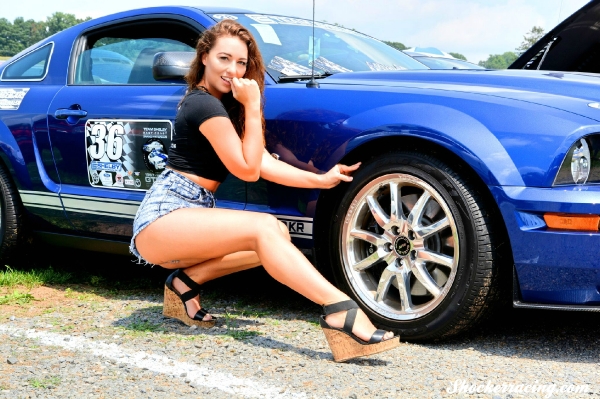 Saturday August 9th, Shocker Racing Model Bex Russ joined Bill Caron of Team Shelby at American Muscle's 9th annual Mustang show in Mohnton, PA at the Maple Grove Raceway. American Muscle Mustang Show is the largest event for a cause in the country. The show takes the shared passions for Mustangs and charities and transforms into a huge one day event. AM2017 was full of thousands of Mustangs, drag racing, burnouts, plenty of activities, all while raising money for charitable organizations. AM2017 raised more than $150,000 for Make-A-Wish®.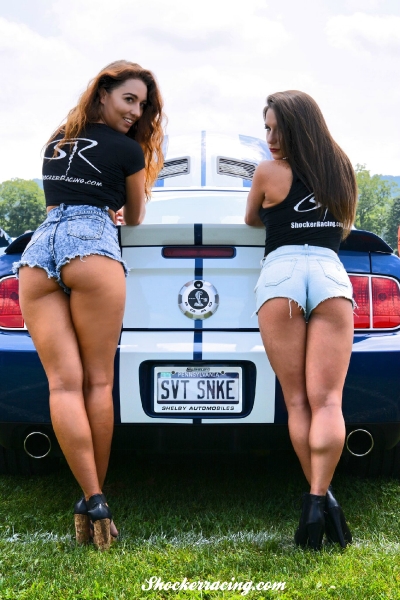 Bex ran into many Shocker Racing fans and models including Alex Owen, Morgan Kitzmiller, and Bianca Owens. The potential rain wasn't holding back these fans. Bianca and Bex had the chance to snag a few pictures together at the Team Shelby area. They posed for photographer, Bill Caron, with the teams cars as well as the new 2017 Shelby Super Snake Truck, from Team Shelby member Rachel Dawn. We love when our girls work together and have a good time. "I had such a blast at the show. It was so great finally meeting Bex" Bianca told us.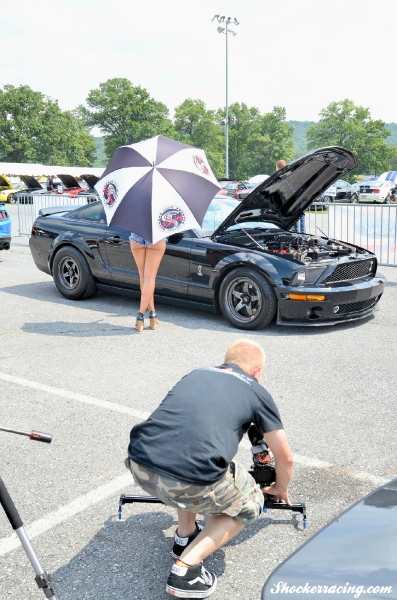 With plenty of after market vendors, activities, and events, American Muscle is a hectic show. As busy as Bex was with Team Shelby, she had the chance to run into a few of our favorite people to collaborate with.  Our pal JD Joyride TV was one of them, and JD Vlogged the day on his YouTube channel so be sure to check that out(we'll post the video at the bottom of this article). Bex posed with JD's 2008 Shelby GT500 as well as a few fan cars on the vlog. John Forester was also there with his 2014 GT/CS with a USMC vinyl wrap. "It was so great running into everyone all day. It was like a family reunion" says Bex.
AM2017 had over 3000 Mustang Show Cars and 10,000+ Mustang enthusiasts. Bex ran into many fans of Shocker Racing while walking the concourse. If you happened to take a picture with Bex or any of our models at the event, be sure to tag us. As well as hashtag #shockerracingAM17 for your chance to win a calendar.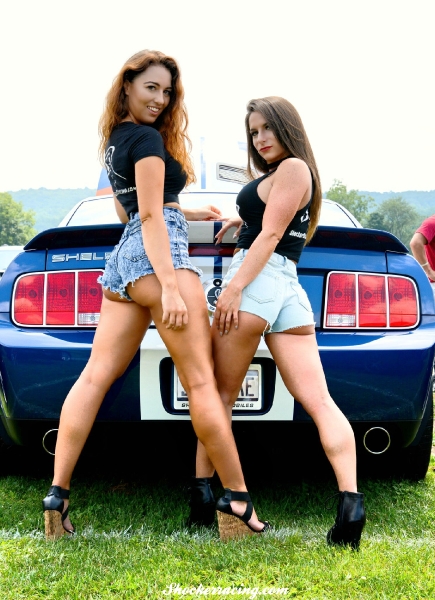 Bex will be covering Mustang Week 2017 for us September 3-9th. So don't be shy, stop by and say hi. Bex would love to meet more of our fans. If you are interested in shooting with Bex at Myrtle Beach during Mustang Week. Email her at BJamruss@gmail.com or message her on her Facebook Fan Page www.facebook.com/BexRussModel for details and availability. Be sure to follow all our social media to keep up with behind the scenes from the event.
Follow the Team:
Photos by Bill Caron Photography
Facebook: https://www.facebook.com/bill.caron.54
Website: https://www.teamshelbynortheast.com to find out more about Team Shelby Club!
Bex Russ Model
Website: http://bexrussmodel.wixsite.com/portfolioblog
Facebook: https://www.facebook.com/BexRussModel/
Instagram: https://www.instagram.com/bjam1934/?hl=en
Twitter: https://twitter.com/BJam1934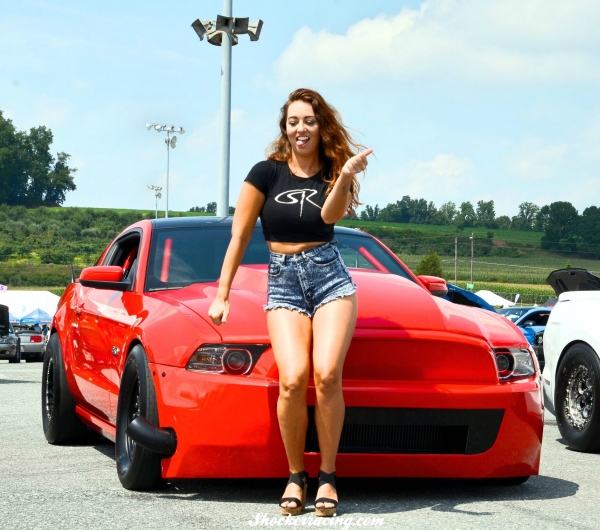 Bianca Owens
Facebook: https://www.facebook.com/bianca.n.owens
Instagram: https://www.instagram.com/littlebiaaa_fitxo/?hl=en
Twitter: https://twitter.com/biancaowens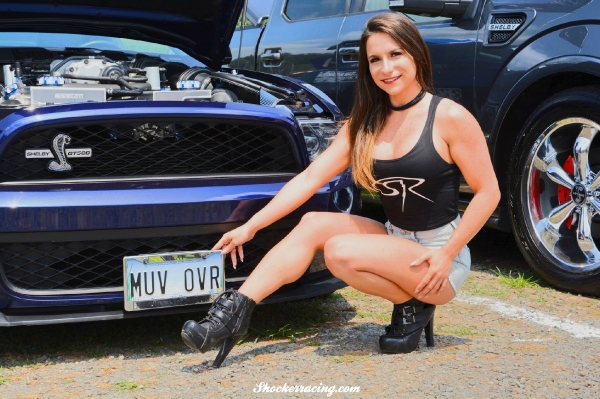 JD Joyride TV
YouTube: https://www.youtube.com/user/JDizzleGT500?app=desktop
Instagram: https://www.instagram.com/jd_joyridetv/?hl=en
Facebook: https://www.facebook.com/JD-JoyrideTV-898378503520424/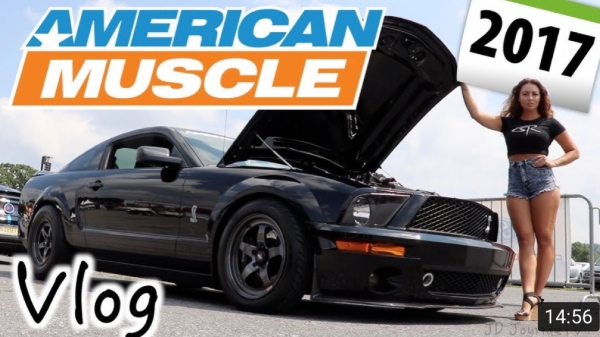 John Forester
Instagram: https://www.instagram.com/f_bomb_111/?hl=en
Facebook: https://www.facebook.com/search/top/?q=photos_by_f_bomb%20photography
YouTube: https://www.youtube.com/channel/UCzoduTwFx7AJETUNjRAnQ9g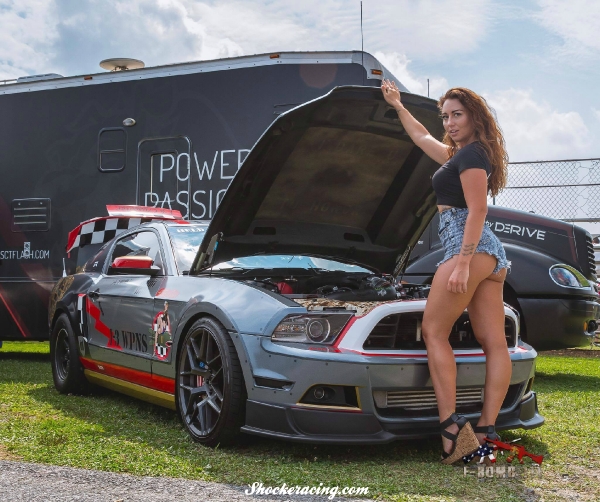 Alex Owen
Instagram: https://www.instagram.com/alexxowenn/?hl=en
Facebook: https://www.facebook.com/alexandra.owen1
Morgan Kitzmiller
Instagram: https://www.instagram.com/mustang_morgan/?hl=en
Facebook: https://www.facebook.com/morgan.stambaugh.7
Follow ShockerRacing on our Social Media: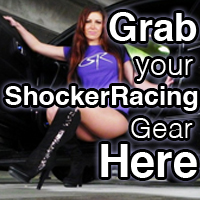 Instagram: @ShockerRacing
Twitter: @ShockerRacing1
Facebook: Facebook.com/ShockerRacing
YouTube: YouTube.com/ShockerRacing
Snapchat: @ShockerRacing
Don't Miss JD Joyride TV's AM2017 Coverage:
View the full photo gallery here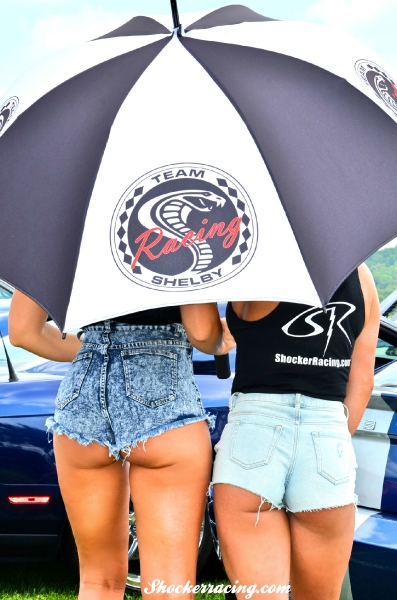 View the full photo gallery here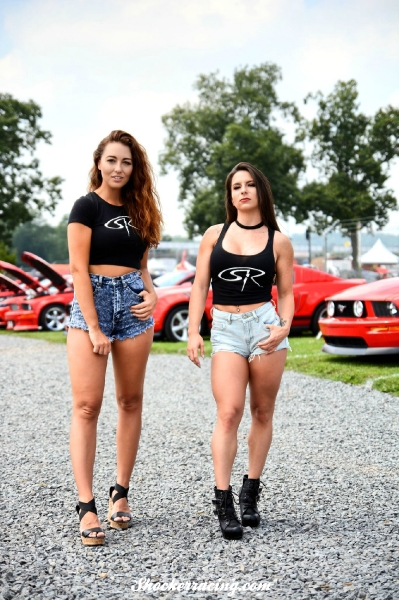 Don't Miss Lam and Courtney with a Pair of Subies - Click Below: