Kristen Benavides with her Camaro SS aka "Survivor Camaro"
Written by James Friday, 30 October 2015 13:53
Imagine walking into science class on your first day of junior high school.  The first thing you notice is a corner of the classroom filled with pictures and trophies of a 2010 Magnuson Supercharged Camaro SS.  As you are checking out the fifth generation Camaro, in walks a 5'6" tall beauty with long brown hair.  Kristen, aka Mrs. B, begins class by mentioning that the "Camaro Corner" in her room features her car.  Mrs. B then says "I like to use my car for examples when teaching certain topics."  In that moment, you already know this is going to be the greatest class you will ever have...
Kristen lives her life by the motto, "life is not measured by the number of breaths we take, but by the moments that take our breath away."  You see, it hasn't always been about playing with cars and teaching for her.  In 2009, Mrs. B spent the whole year going through chemo and treatments as she battled Leukemia.  She lost all of her hair, but won the battle.  She is now a 6 year cancer survivor and has themed her "Survivor Camaro" around the battle with cancer.  She tells us "I hope to spread cancer awareness and inspiration with my Survivor Camaro."  "I am very open about my cancer with my students and share stories with them.  It's usually one of the first things I tell them on the first day of school.  They think it's cool to hear about and it opens up a lot of questions and conversations."  Her car has given her an easy way to open up the conversation with men, women and children about cancer.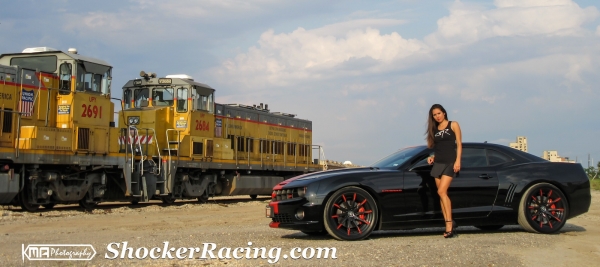 In December of 2011, Kristen found this completely stock and all black 2010 Camaro 2SS.  She immediately added a Magnaflow Exhaust to change the Camaro's purr to a growl.  From there the Survivor Camaro really began to evolve,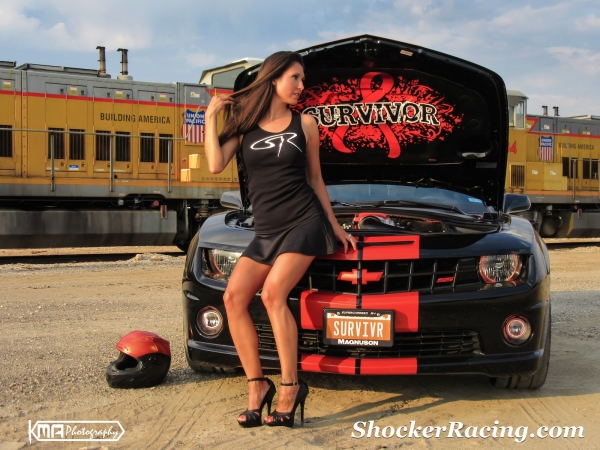 she already knew that she wanted to add some orange accents to the all black Chevy because the cancer color is orange.  Orange vinyl stripes were added pretty quickly and a year later they were painted on.  Then Inferno Orange interior accents were added along with orange grill, engine and halo lighting.  Kristen had a custom "Survivor" hood liner created that she tells us makes it feel like she gave a face to the Camaro's identity.  But it wasn't all just about the appearance for Kristen.  She also wanted to give the car power, like the power that others who have been touched by cancer need to get through it.  To get this additional power the build started with a Comp Cam and long tube headers.  From there, a Magnuson TVS 2300 Supercharger was added to help get it to its current 545 rear wheel horsepower.  There is more in the works with an upgrade to the fuel system that should net around 600 horsepower to the wheels.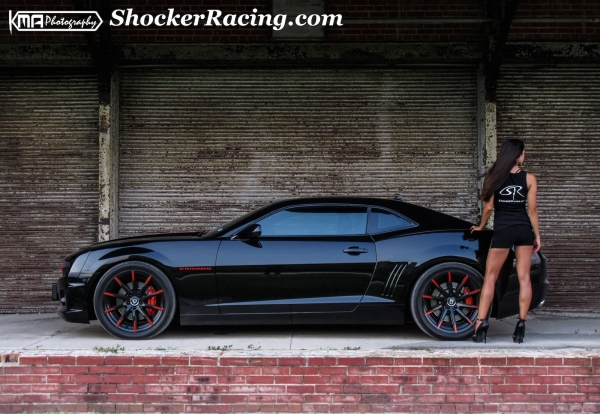 Here is the rest of our interview with Kristen:
SR: What was your first car?
Kristen: It was a 1989 Nissan piece of crap but I really wanted a Mustang then.
SR: What is your dream car?
Kristen: The one that is already in my garage, but paid off!
SR: If you could take your Camaro anywhere in the world, where would you go?
Kristen: I would love to take my Camaro to Dubai to meet the UAE Camaro Club.  I absolutely love their Camaros.  As far as style and how they mod their cars they blow ours away.
SR: If ShockerRacing was going to pay for any one mod to your Camaro regardless of price, what would you choose?
Kristen: My dream mod is a wide body kit! I would love to have it sponsored!  Right now, I need a new fuel pump so I can install my cog pulley upgrade I got from Magnuson Superchargers.
SR: How did you get involved in the car scene?
Kristen: I have always loved muscle cars. After I got my Camaro, I went to Houston Cars and Coffee and met the H-Town Camaro Club and have been hooked ever since.  This car has literally changed my life by bringing many great friends and opportunities my way.  When I bought it, I knew nothing about cars... only how pretty some of them were.  I never imagined it would have turned into this.

SR: What is your favorite automotive event of the year?
Kristen: The San Antonio Camaro Club puts on an awesome event called Texas Camaro Revolution.  Camaros from all across the state meet up for the weekend for autocross, a car show and after parties.  They do a great job and it's always a blast.

SR: Do you have any modeling experience?
Kristen: No, I just like having my picture taken with my car and every now and then I will pose with friends cars.
SR: What would an ex say is your best asset?
Kristen: My legs!
SR: Do you have any nicknames?
Kristen: On the streets they call me Survivor, in my classroom I am Mrs. B, and at home I am Mommy!
SR: What is your favorite food?
Kristen: Vietnamese Noodle Soup Pho.
SR: Which of the Fast and Furious movies is your fave?
Kristen: I love Tokyo Drift.
SR: Are you a Paul Walker or a Vin Diesel kind of girl?
Kristen: Do I really have to choose?
SR: Drag Racing or Road Racing?
Kristen: What about Autocross? I've done it all but Autocross is my favorite.
Be sure to follow Kristen and her Camaro on Instagram: @KC_Survivor
Her photographer for this shoot is Kaleb Adams a fellow Camaro owner. Follow him on IG: @kalebadams or at www.kmaphotog.tumblr.com
Survivor Camaro Full Build List:
Engine & Exhaust:
LS3 conversion kit
Comp Cams camshaft
Comp Cams valve springs/pushrods
Trunnion retrofit Kit
1:1 Rear Cog Pulley Set Up
Magnuson TVS 2300 supercharger
American Racing long tube headers
Engine bay dress up
Magnaflow exhaust
4" quad tips
Injector Dynamics 850 fuel injectors
Livernois Dual Fuel Pump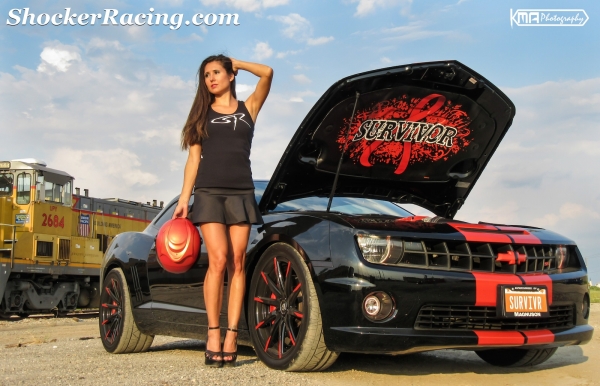 Drivetrain & Suspension
Transmission cooler
Circle D torque converter
Pfadt solid subframe bushings
Pedders Xa coilovers
Powdercoated calipers - Inferno Orange

Exterior & Interior
Custom Painted Inferno Orange Stripes
1LE rear diffuser
Inferno Orange interior door panels
Inferno Orange dash knobs
Oracle grill lighting,
Orange Halos
Custom "Survivor" hood liner
Orange engine bay light
Light up custom Survivor trunk setup
All emblems blacked out or painted orange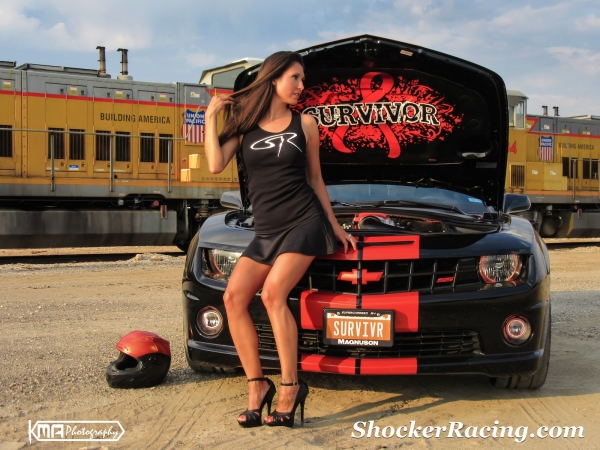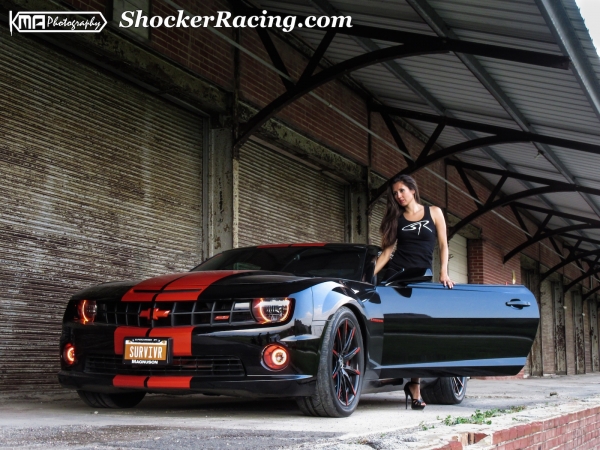 Here are a couple of Halloween Themed Shots Kristen took: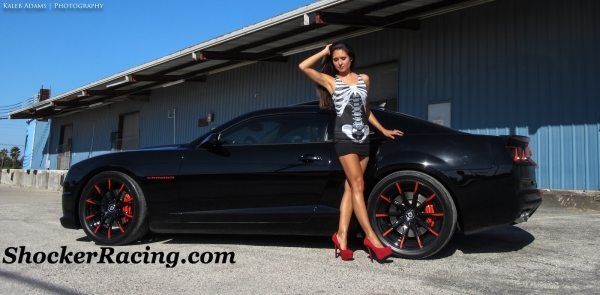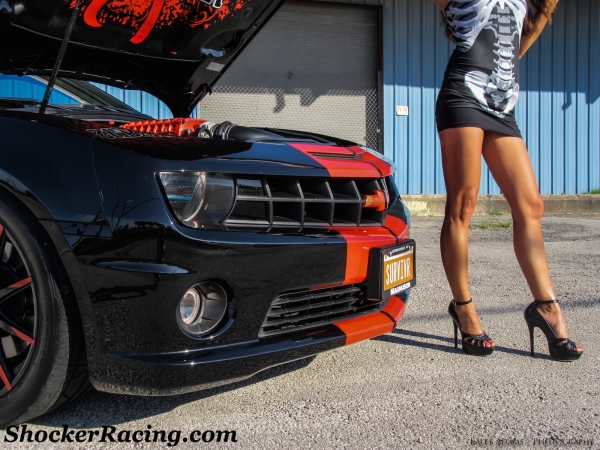 Here are a couple of shots with her friends Camaros: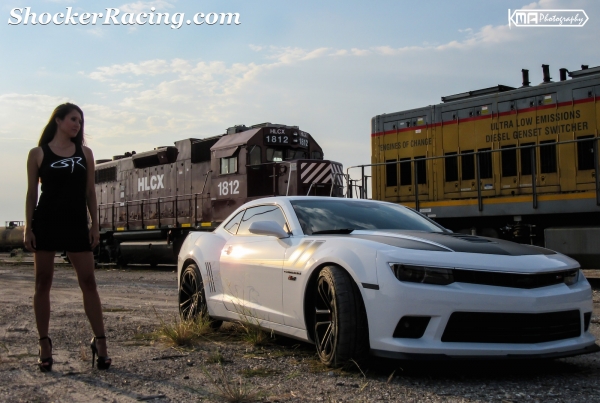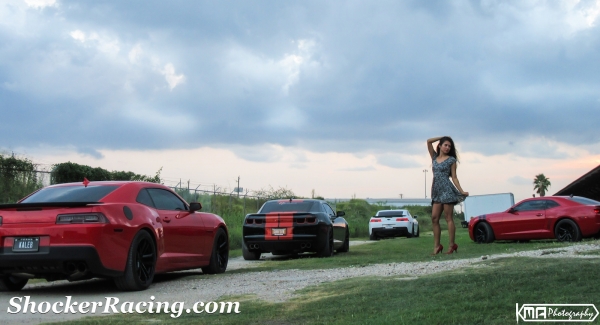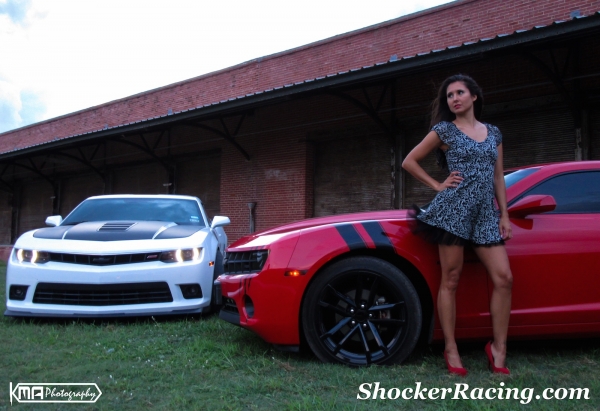 Updated 4/21/16 Kristen was featured in this video by TheSpeedGirls and mentions ShockerRacing:
Check out our feature on Kysten Brents with her G8 GT:
Watch the ShockerRacing C7 Z06 take on a C6 ZR1 in the Half Mile: