Happy 21st Birthday to Harley Danielle
Written by James Tuesday, 05 January 2016 09:56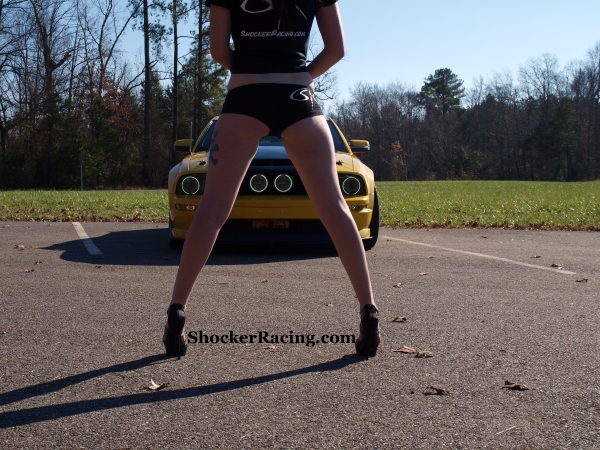 It isn't often that ShockerRacing is lucky enough to release a new feature on a ShockerRacingGirls' birthday.  Our first feature of 2016 is being released on January 7th, which just happens to be Harley Danielle's 21st birthday!  Harley has been working on cars with her dad for 15 years already, as she has been helping him since she was just 6 years old.  She spent her younger years going to drag strips with her dad.  He raced Mustangs, Camaro's, and a Firebird back in the day. As for what she thinks of growing up at the drag strip, she says, "Burning rubber is like, the best smell."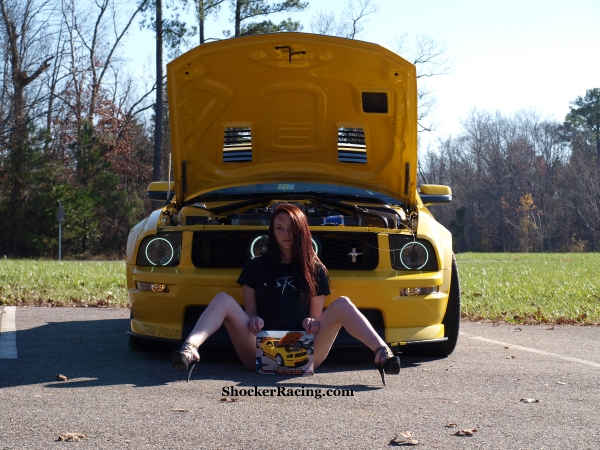 Harley's involvement in the automotive scene was pretty much determined at birth.  Her father loves Harley Davidson motorcycles and gave her the name Harley.  "If he had his way, my middle name would have been Davidson," laughs Harley.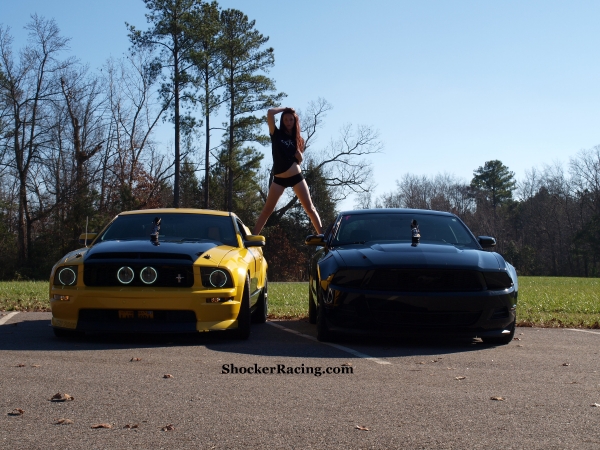 Here is the rest of SR's interview with Harley Kirby:
SR: Have you always lived in Woodford, VA?
Harley: Yes, born and raised.  But I am preparing to move to Florida as we speak!
SR: What do you currently drive?
Harley: Well, I just sold my 2009 Mustang GT. I am getting ready to head to Florida and it was easier to sell it before I move.
SR: What was your first car?
Harley: It was a Green 1996 Mustang.  It blew a head gasket so I got rid of it.
SR: What would be your dream car?
Harley: I want a 1967 Shelby!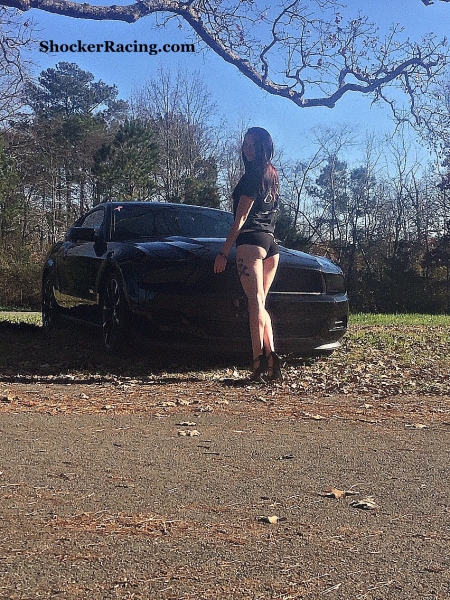 SR: If you could have your dream car and go anywhere in the world, where would you go?
Harley: I would love to cruise the Shelby in Australia!
SR: What is your favorite automotive event of the year?
Harley: I have been to Mustang Week the last two years and it's by far my favorite event of the year!
SR: What modeling experience do you have?
Harley: Before ShockerRacing, I have done photoshoots with some local cars.  I have recently been contacted by a car sponsor that wants to sponsor me as a model for a group, so I am looking forward to some more opportunities!
SR: Which of the Fast and Furious movies is your favorite?
Harley: Furious 7
SR: Are you a Paul Walker or a Vin Diesel kind of girl?
Harley: I am a Paul Walker girl.
SR: Are you single?
Harley: Yes!!!
SR: What is your biggest pet peeve?
Harley: Bad grammar.
SR: Do you have any nicknames?
Harley: They call me Harley Quinn.
SR: What is your favorite food?
Harley: Pizza is my fave!
SR: Tell us something about you that a lot of people don't already know.
Harley: I was a cheerleader for 6 years and I also won a bikini contest in Fredericksburg.
SR: Leave us with your favorite quote:
Harley: "Be curious, not judgemental."
For her photoshoot, Harley met up with photographer Mycheal Smith.  They brought along Donald Eley's 2005 Ford Mustang GT and Kaleb Lindsey's 2012 Ford Mustang 3.7 for the shoot.
Donald's 2005 Ford Mustang GT has the following mods:
Borla Exhaust
Roush Spoiler
Shelby Hood
Paint Matched Engine Bay
CCFL Halos
Steeda Package - Stripes, Wheels, Interior
Custom Door Panels
Full Eibach Suspension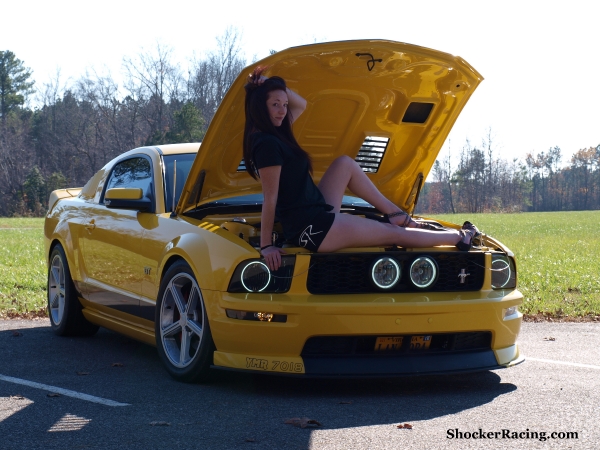 Kaleb's 2012 Ford Mustang has the following mods:
Airaid Intake
Roush Axle Back Exhaust
MPT Tune
Louvers
GT500 Spoiler
Euro Style Headlights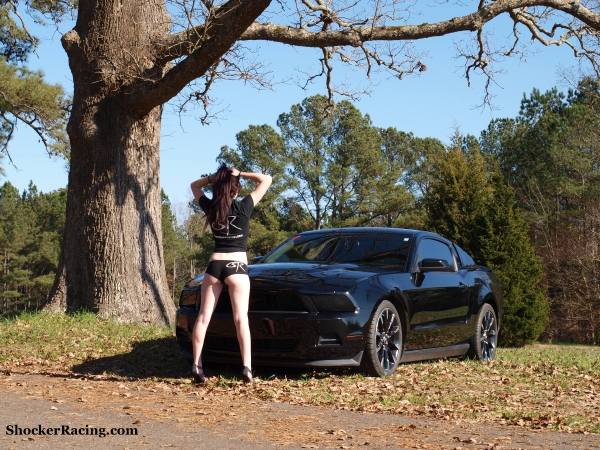 Be sure to follow Harley Danielle on Instagram at @Harley.daniellee
Follow the Mycheal Smith on Instagram at @Muscle_Myke
Follow the car owners - Donald at @va_lanora & Kaleb at @athena_3point7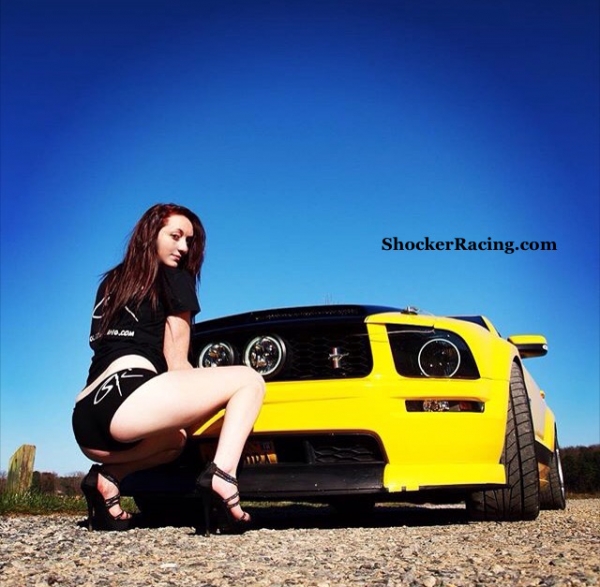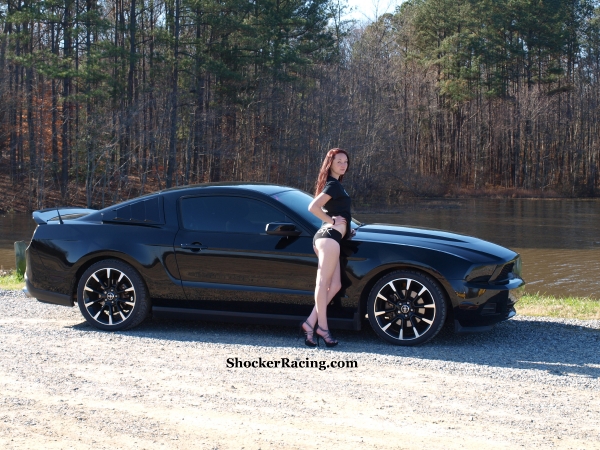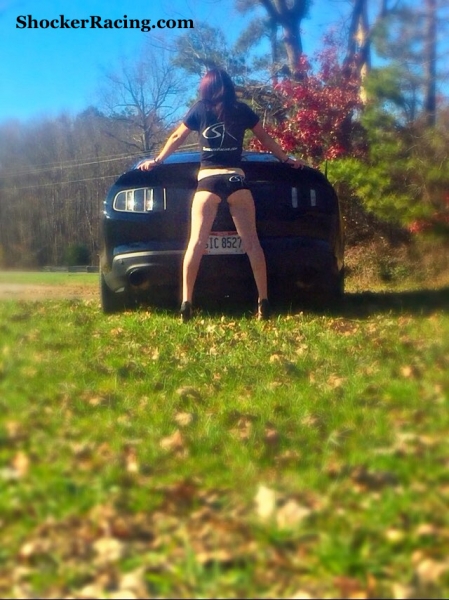 Check out one of our other great ShockerRacingGirls features with - Morgan Kitzmiller: