Jennifer Combs - From Riding Ponies to Racing Mustangs
Written by James Tuesday, 09 May 2017 00:00
"I was horse crazy and riding from the time I could walk," 29 year old Jennifer Combs tells ShockerRacing.  Her love for horses began with animals and although that love has continued to grow, she also branched out to loving Ford Mustangs.  Born and raised in Kentucky, Jennifer grew up on a farm.  "I had my own horses which was a big sacrifice for my family," said Jennifer, "I also started working on cars as a kid with my dad."  Besides riding horses and working on cars, her days on the farm consisted of hunting, fishing, and shooting guns! Sounds like a pretty amazing childhood!  These days, Ms. Combs spends much of her time with her Roush Supercharged 6 speed 2014 Ford Mustang GT Track Pack.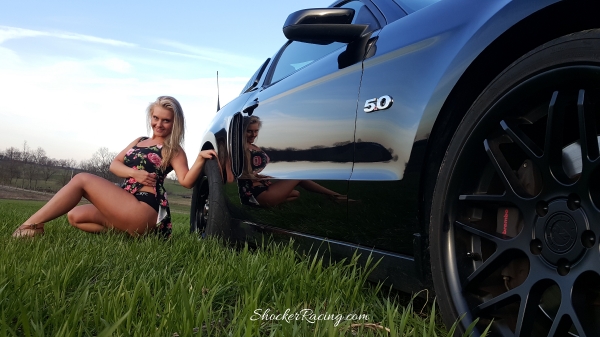 The Mustang started out being Jennifer's everyday driver, but during the last few years she worked hard to do some mods while paying the car off and a few months ago she got it paid off.  "It has 3.73 gears which I really like because it pulls really hard," Jennifer tells us, "but my most recent mod is the one I am most proud of, my Roush TVS Supercharger."  She just got the car back with the newly added power and says she fell in love with the car all over again.  The supporting mods include; JLT Intake, Off-Road X-Pipe, Roush Axle Back Exhaust, MGW Race Spec Shifter, 295 Mickey Thompson Street ET Tires, and a Tune by Alejandro Flores at VMP.  Next up is a McLeod RXT Twin Disc Clutch to handle the additional power.
SR: How did you get involved in the car scene?
Jennifer: I have the ultimate Muscle Car now but I was absolutely an Import girl growing up.  I started with a 1992 Honda Prelude at 17 years old, then a 1995 Mitsubishi Eclipse GS-T at 18, and at 19 I purchased an '04 Infiniti G35 Coupe.  It was easily one of my favorite cars and I had it for 6 years.  In fact, I loved it so much that when I paid off my Mustang I purchased a G37 Coupe to replace it as my daily driver.  All of these cars introduced me to so many great people who would become great, life-long friends.  I can't imagine my life without cars.
SR: What was your first car?
Jennifer: My first car was a Ford Explorer.  It was also a 302, 5.0L V8... Kind of funny!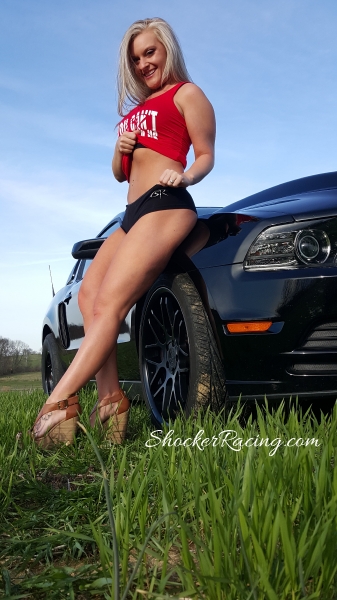 SR: What is your dream car?
Jennifer: I have so many dream cars but the top few would be a Supra MKIV, Datsun 240Z, or a Nissan GT-R.  However, my ultimate dream car would be a Ford GT-40 right hand drive, right hand shift... yes, these do exist!
SR: If you could travel and have your dream car anywhere in the world, where would you go?
Jennifer: We are so blessed here in Kentucky because we have some amazing roads.  However, hands down, I would go to the French Riviera.  I will absolutely do this one day!
SR: What got you interested in ShockerRacing?
Jennifer: I became interested in SR when I first saw the articles featuring the girls and the cars.  I felt like it was such a cool way for people to see the hard work that people put into their cars, and of course, all of the beautiful girls.  My favorite features are the girls that own their cars because it is a reminder of what we, as women, are capable of.  In the recent past, it was difficult to be taken seriously in the car community if you were a girl, especially one that was attractive or interested in modeling.  I feel that SR has helped change the car culture in a significant way.  Now people seem to give women more credit for their builds, their interest in cars, and their knowledge.  That's a pretty big deal.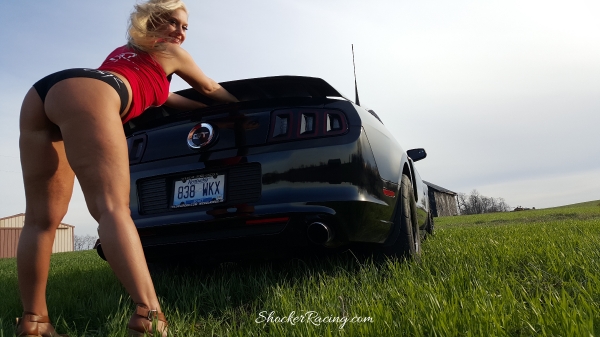 SR: If ShockerRacing was going to pay for any one mod to your Mustang no matter what the cost, what mod would you choose?
Jennifer: It seems like when you are building a racecar there is always more to do.  I really need to invest quite a bit into suspension work and a one piece driveshaft so that I can actually get to the track and achieve the goals I have set for myself.  I'm pretty competitive and you know what they say, "Spinning ain't winning!"
SR: What is your favorite automotive event of the year?
Jennifer: We are pretty active in our community and we have a lot of car clubs in my area but I haven't had the opportunity to go many car events.  We are planning to go to Mustang Week this year, which is a huge dream of mine.  One day I would love to go to SEMA, and I just found out about Ponies in the Smokies and we are going to try to go to that too.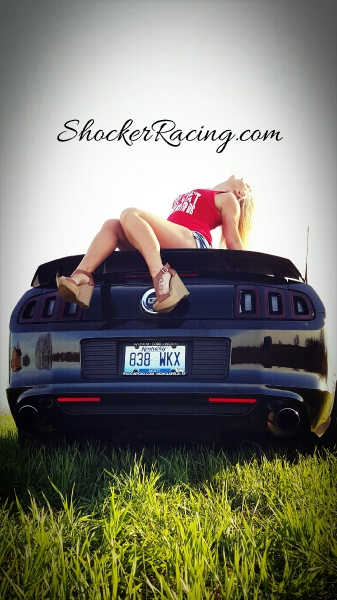 SR: Who is your favorite previous ShockerRacing Girl, and why?
Jennifer: Tyler Paige is such a sweet person.  When I first had an interest in modeling, I messaged her asking her advice.  I knew how busy she was and that I probably would not hear back but to my surprise, I did!  She was so kind and truly cared about giving me advice and being supportive.  I won't ever forget that she took that time to talk with me.
SR: What modeling experience do you have?
Jennifer: I have always had an interest in modeling but this was my first photoshoot.  It was 37 degrees during this shoot but it looks so sunny and warm in the pics.  I plan on doing more modeling in the future though because I had an absolute blast.
SR: Are you single?
Jennifer: I am currently engaged to a great guy who loves cars just as much as I do! In fact, we met racing.  We also had the exact same car so that was pretty cool.
SR: What is your biggest pet peeve?
Jennifer: My biggest pet peeve is when women talk badly about other women.  I wish more women supported one another rather than feeling the need to bring them down.  Don't get me wrong, there are going to be people that don't care for one another, but let's keep it classy ladies.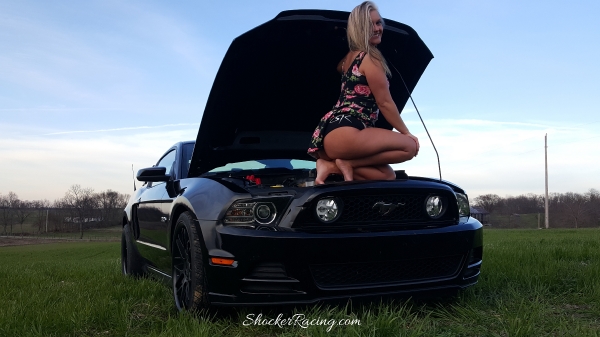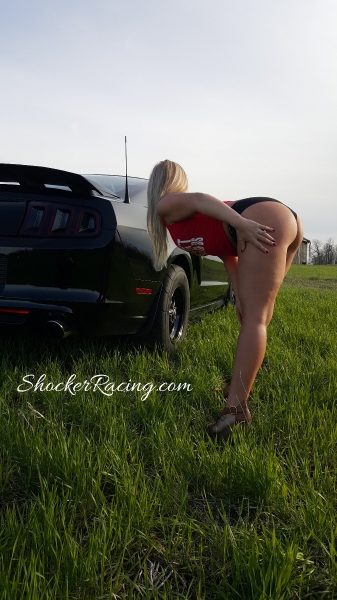 SR: What was your favorite part about this shoot?
Jennifer: We shot in Paris, KY at my grandparent's farm which is one of my favorite places.  Also, the photographer was my fiancé, Ryan Callahan.  I don't know if most couples would work well together but we really do.  It's so much fun, we don't take it too seriously.  The great thing is that every smile, every look, it looks genuine because it is.  I'm not sure every photographer and model would have that kind of chemistry.  Since I am new to modeling, it really helped me come out of my shell and feel confident trying new things.
SR: Leave us with your favorite quote.
Jennifer: "She slept with wolves without fear, for the wolves knew a lion was among them." by R.M. Drake
Follow Jennifer on her social media:
: @5Alarm_Mistress
: Shes_Boosted
: Facebook.com/5alarmmistress
Photos by Ryan Callahan: IG - @SirBoostAlot
Follow ShockerRacing on our Social Media: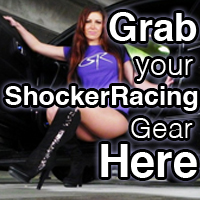 Instagram: @ShockerRacing
Twitter: @ShockerRacing1
Facebook: Facebook.com/ShockerRacing
YouTube: YouTube.com/ShockerRacing
Snapchat: @ShockerRacing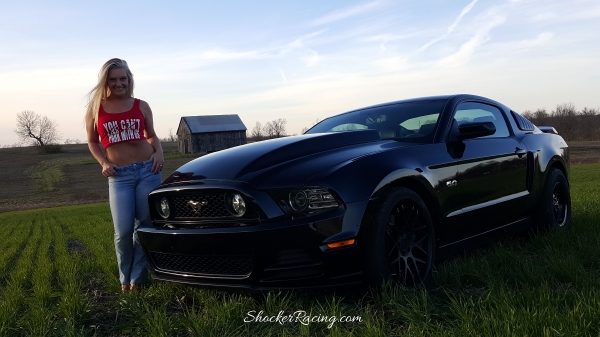 View the full photo gallery here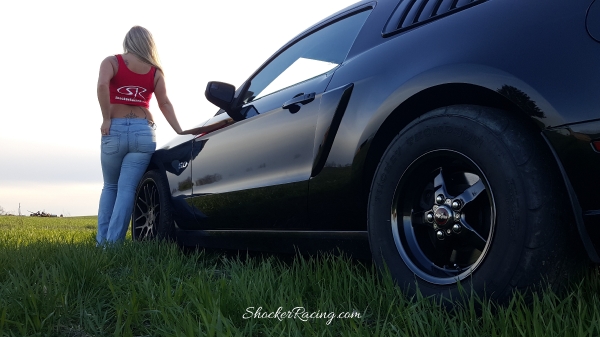 View the full photo gallery here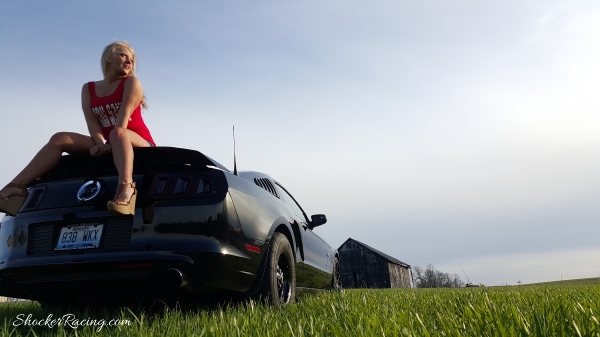 View the full photo gallery here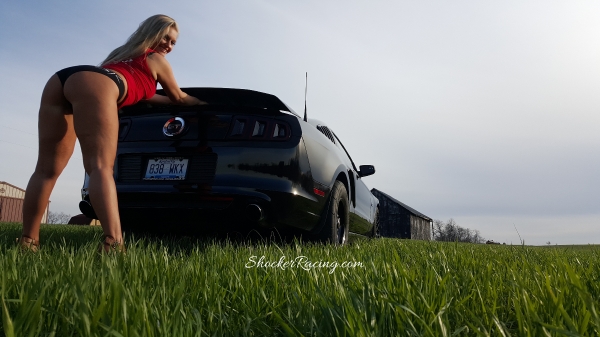 View the full photo gallery here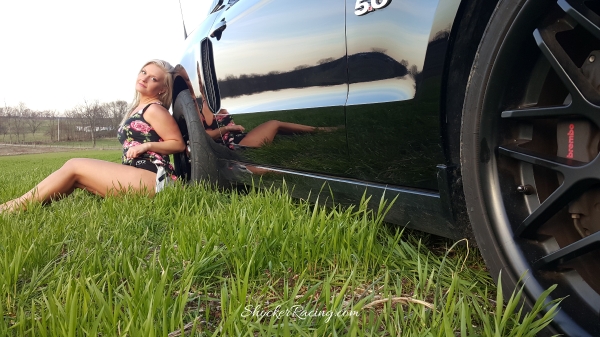 View the full photo gallery here
View the full photo gallery here
Additional Photos Added September 13th, 2017: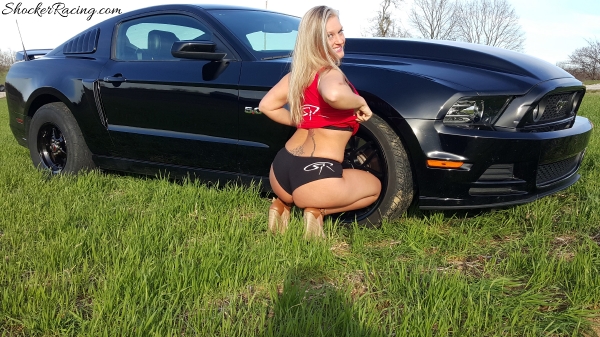 View the full photo gallery here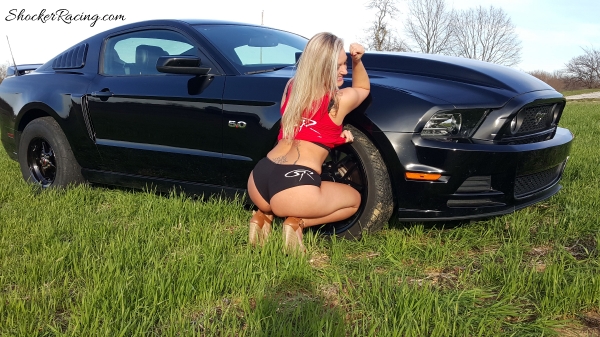 View the full photo gallery here
View the full photo gallery here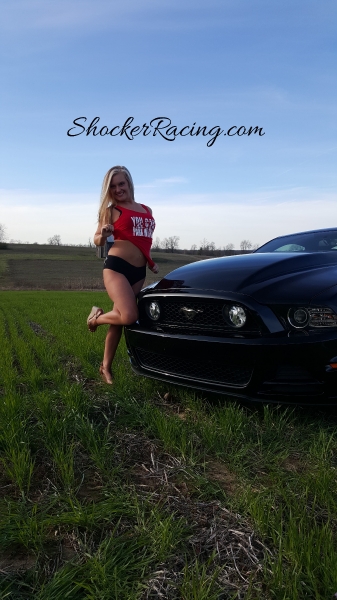 View the full photo gallery here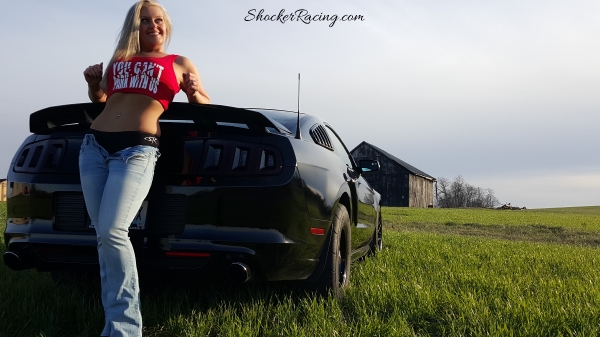 Take a peak at Cassie Marshall's feature with an assortment of rides: