Megan Smith Loves Mustangs and Chicago Deep Dish Pizza
Written by James Saturday, 24 March 2018 08:56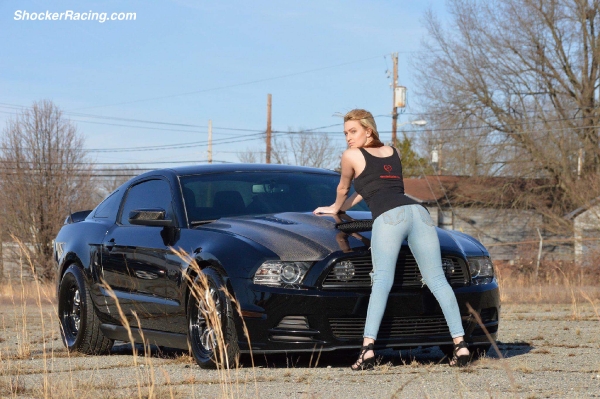 That's right, Megan Smith is a Carolina girl with a love for Chicago Deep Dish Pizza!  "I can't wait to go to Chicago again.  I went a couple years ago, and I think I left my heart there.... My heart is where the good pizza is!" Megan exclaimed when she heard ShockerRacing was based in Chicago.  Ms. Smith is also a huge fan of Mustangs.  She tells us her first car was a 2000 Mustang convertible, but she dreams of owning a '69 Mustang Fastback someday.
For her first ShockerRacing Girls photo shoot, Megan showed off her boyfriend Jason's 2013 5.0 Mustang.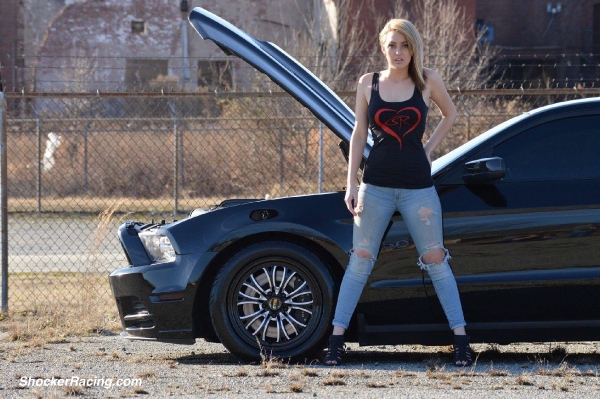 Megan lucked out to have such nice weather for her shoot.  She shot in the middle of winter in Highpoint, NC and it happened to be a 56 degree day.  "I wasn't freezing my butt off and was able to show off my ShockerRacing Heart Logo Tank Top!" Megan told us.  She knocked out some killer shots with photographer Nick Faircloth before having to run off and take her EMS Boards for North Carolina.
Megan is a Paramedic Student and just received her EMS Certification in early February.  She has worked in a Cardiac Unit where she has actually brought a couple of people back to life! Megan tells SR, "I'm just all about trauma and stressful situations.  I'm an adrenaline seeker."  After completing the course, she had to go pass the state EMS Board Testing which was a 100 question test but she was ready for it!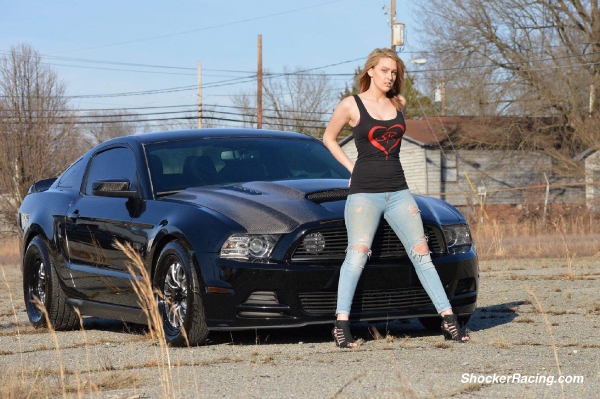 The first thing you will notice on Jason Hamby's 2013 Stang is the staggered stance from the skinny wheels up front and the fat tires in the back.  This stance is thanks to the Weld Wheels setup he runs on his Mustang.  Then the Trufiber Carbon Fiber Hood pops out at you, along with the Carbon Fiber Wing.  Megan tells us that this beautiful Coyote Mustang also has full power bolt-ons.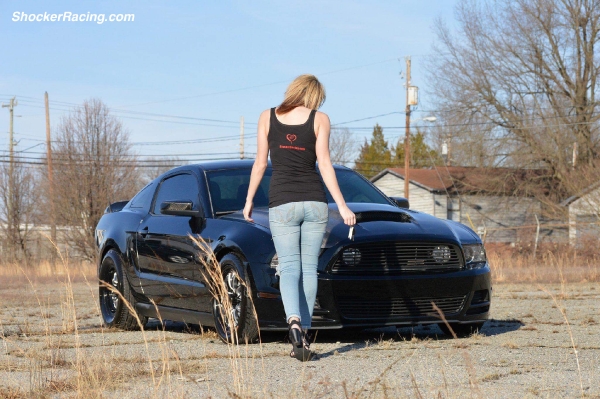 Check out the rest of our interview with Megan below: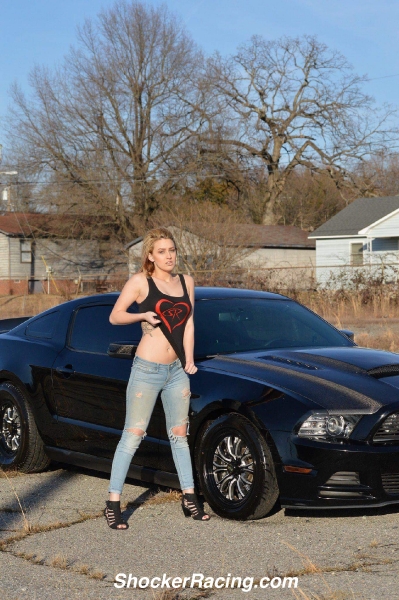 SR: What do you currently drive?
Megan: I have a Chevy Cruze RS with the sports package.
SR: If ShockerRacing offered to buy you any mod for your car, what would it be?
Megan: I would probably trade in the Cruse for a 2016 5.0 Mustang and put a Supercharger Kit from Roush on it!
SR: What got you interested in ShockerRacing?
Megan: I have always loved cars, and had an interest in modeling even though I was told I would not be a good fit for modeling.  That motivated me to work out, eat right, and the the best I could be.  I was taught to set goals, and this was a big goal for me.  ShockerRacing combines both of these interests!
SR: Who is your favorite ShockerRacing Girl?
Megan: It would have to be Sarah aka Sen.Cityy, she seems like a very sweet and down to earth individual and what can I say, she is butt goals!
SR: Fast and Furious Films, which is your favorite?
Megan: Fast and Furious 6 is definitely my favorite movie of all time.
SR: Vin Diesel or Paul Walker?
Megan: I would have to say I am more about American Muscle than Imports so I would have to be a Vin Diesel girl.
SR: What would an ex say is your best asset?
Megan: They would probably say my personality or my eyes.
SR: What is your biggest pet peeve?
Megan: When someone takes me for granted, or when I put my all in to being there for someone and they turn their back on me in a time of need.
SR: Do you have any nicknames?
Megan: They call me Mack, Megs, and M&M's because of my initials being MMS.
SR: We already know you love Chicago Deep Dish Pizza, what's your go to topping?
Megan: Definitely Pepperoni!
SR: Leave us with something people might not already know about you.
Megan: I sing and draw and have been on America's Got Talent.
Make sure to check out the crew on Social Media:
Megan Smith - Model
Jason Hamby - Car Owner
Nick Faircloth - Photographer
Follow ShockerRacing on our Social Media: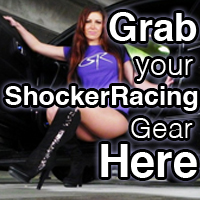 Instagram: @ShockerRacing
Twitter: @ShockerRacing1
Facebook: Facebook.com/ShockerRacing
YouTube: YouTube.com/ShockerRacing
Snapchat: @ShockerRacing
View the full photo gallery here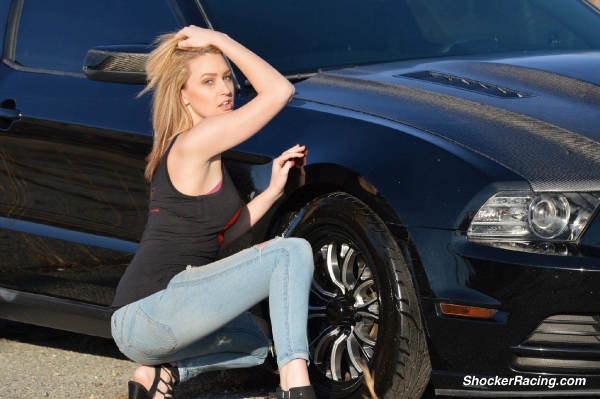 View the full photo gallery here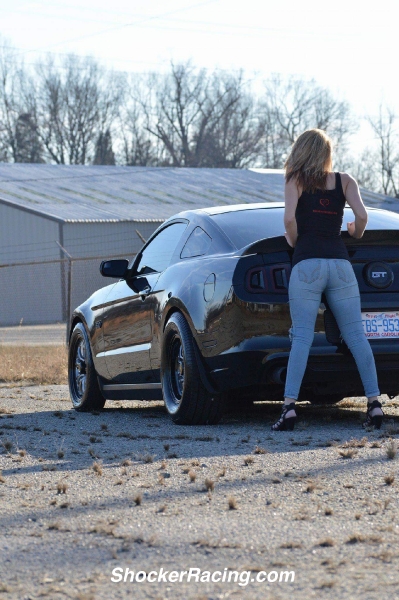 View the full photo gallery here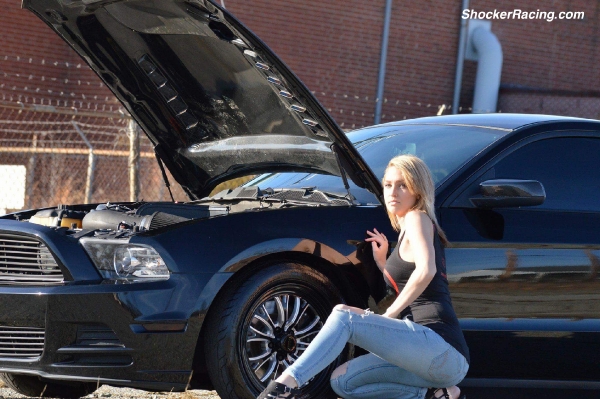 View the full photo gallery here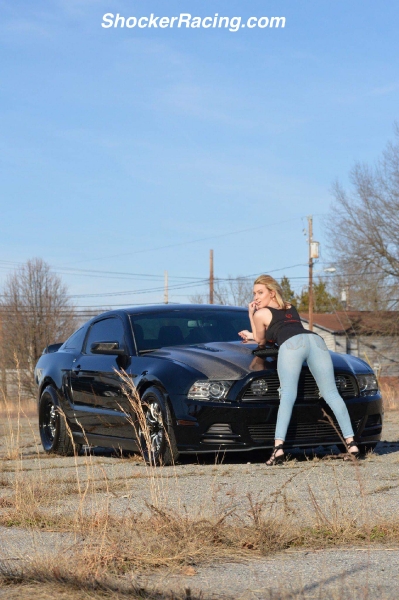 View the full photo gallery here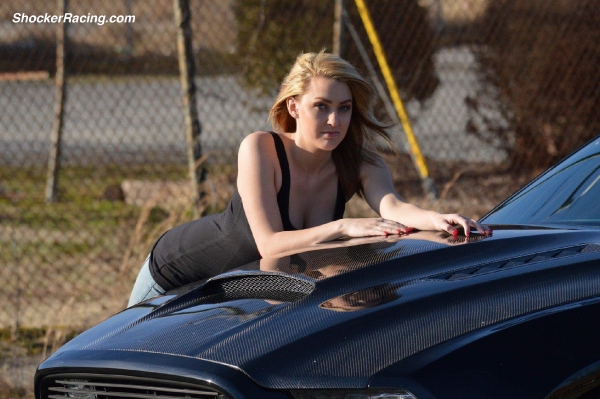 DON'T MISS - Meagan Michelle Thomas With a Stang - Click Below: