Erica Bradley With Her Furious Fuchsia Mustang
Written by James Saturday, 14 April 2018 09:45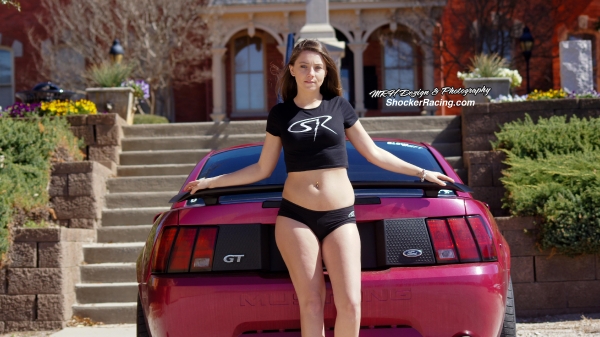 The first thing you will notice about Erica Bradley's Mustang is that it is Pink... Very very Pink!  23 year old Erica tells us her 2000 Mustang GT has been painted a custom color.  "Furious Fuchsia is the name of the color. It's a Dodge color that came on Challengers!" she exclaimed.  When Erica picked up her New Edge Mustang 5 years ago, it was completely stock.  It was the factory Silver paint and sported an automatic transmission.  Much has changed in the last 5 years...
Hit the link to check out how Erica has customized her Stang: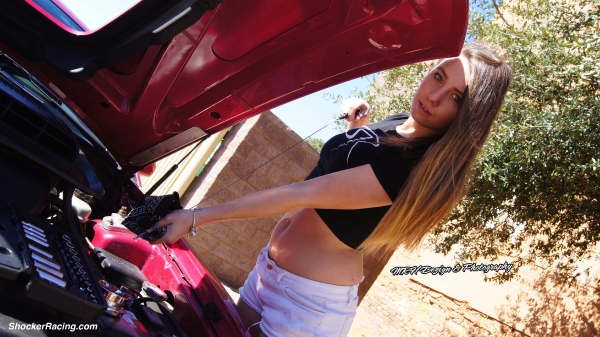 For Erica's first ShockerRacing Girls photoshoot, she teamed up with Matt from MRH Photography.  Matt is a long time friend and supporter of ShockerRacing and it has been a long time coming for us to finally feature one of his shoots here on ShockerRacing.com!  They headed to downtown Monroe, NC to use as the backdrop for the shoot.  "There were a lot of cars that kept passing by... the same cars, over and over again." Erica laughed!  We are sure they enjoyed what they were seeing.
Besides the obvious Pink paint job, Erica has done quite a bit to this Stang.  She has given it the Mach 1 appearance package including; Mach 1 Shaker Intake, Mach 1 Shaker Hood, and Mach 1 Rear Spoiler.  She added the 99-01 Cobra front bumper, '01 Cobra Seats, a pair of Terminator Mirrors, and a set of FR500 Wheels, and a custom Hard Wood Floor in the trunk.  Then she swapped the transmission for a manual T45.  Erica says she has an Eaton Supercharger at home ready to go on, but she needs a few more parts and will need a new tune.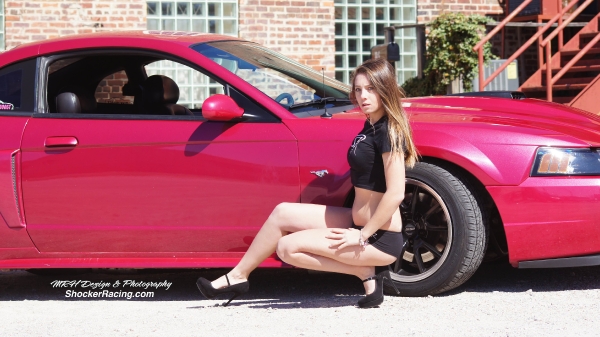 Check out the rest of our interview with Erica:
SR: What was your first car?
Erica: My 2000 Mustang is the first car I ever owned.
SR: What is your dream car?
Erica: I would love a 2001 to 2011 Series 2 Lotus Elise.
SR: If you could travel and take your dream Lotus anywhere in the world, where would you go?
Erica: Everywhere! From Australia to France, and even California! Then travel to "The Best Driving Road in the World" according to Top Gear... The Transfagarasan Highway in Romania.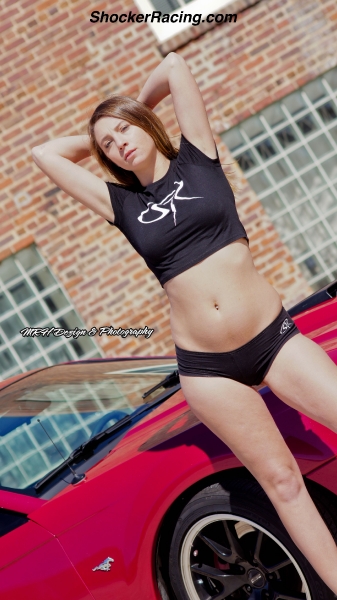 SR: How did you get involved in the car scene?
Erica: My ex-fiancé and now friend introduced me to the scene with his black SN95 Mustang that he swapped a Lightning motor in.
SR: What got you interested in ShockerRacing?
Erica: I have always wanted to model for ShockerRacing.  I love the opportunities they provide for models to get close to amazing cars.
SR: If ShockerRacing was going to pay for any mod to your Stang, what would you choose?
Erica: I'd love to be faster, I currently have the Eaton Supercharger at home and just need a fuel pump and a tune, but she desperately needs a new paint job.  Her paint has seen better days because she is my daily driver, so I would have to choose a new paint job.
SR: Who is your favorite previous ShockerRacing Girl?
Erica: Bianca Thomas aka @ThatMach1Chick.  She's my favorite because she is down to earth and all around an amazing girl.  She has worked with a friend photographer and has always impressed and she is great in pictures.
SR: What would an ex say is your best asset?
Erica: Probably my butt and my attitude.
SR: Which of the Fast and Furious Films is your fave?
Erica: Fast 5!
SR: Are you a Vin Diesel or Paul Walker kind of girl?
Erica: Talking about the cars they drove, Vin Diesel.  I like the family values the characters portrayed but when it comes to the cars they drove, I'm definitely and American Muscle kind of girl.  I'm more of a Paul Walker fan because of the person he was.
SR: Tell us two facts about you that people don't already know.
Erica: I am a triplet, and I have Type 1 Diabetes.
SR: Leave us with your favorite quote.
Erica: "Whatever good things we build, end up building us." Jim Rohn.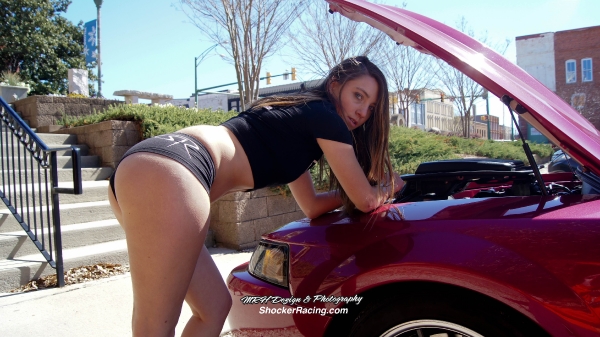 Check out Erica and Matt on Social Media:
Erica -
MRH Photography -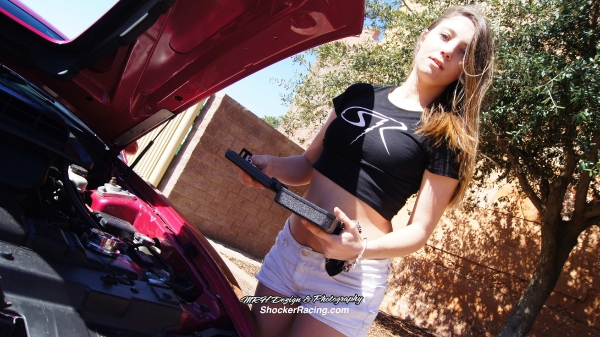 Follow ShockerRacing on our Social Media: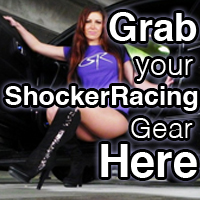 Instagram: @ShockerRacing
Twitter: @ShockerRacing1
Facebook: Facebook.com/ShockerRacing
YouTube: YouTube.com/ShockerRacing
Snapchat: @ShockerRacing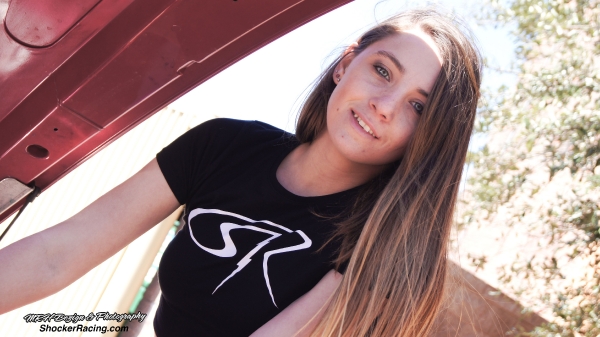 View the full photo gallery here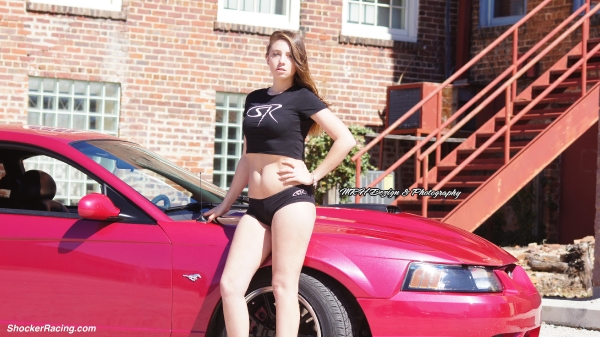 View the full photo gallery here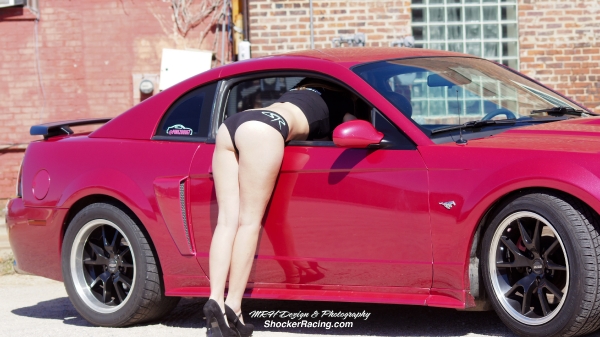 View the full photo gallery here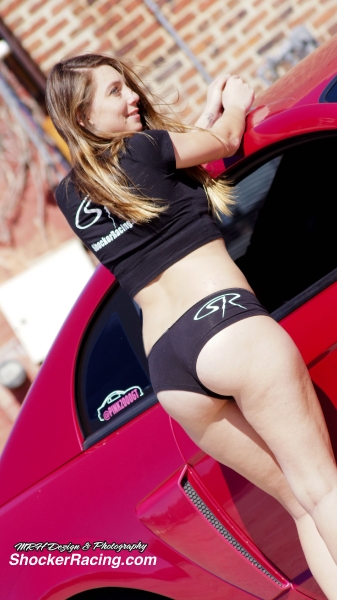 View the full photo gallery here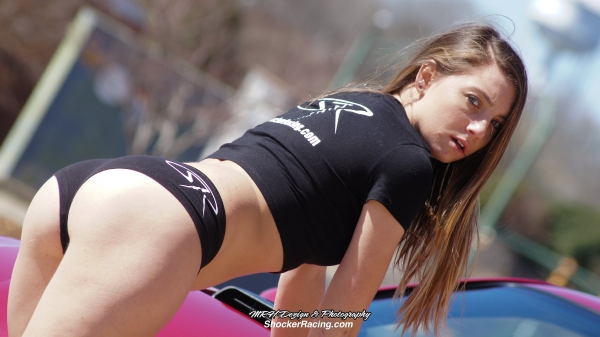 View the full photo gallery here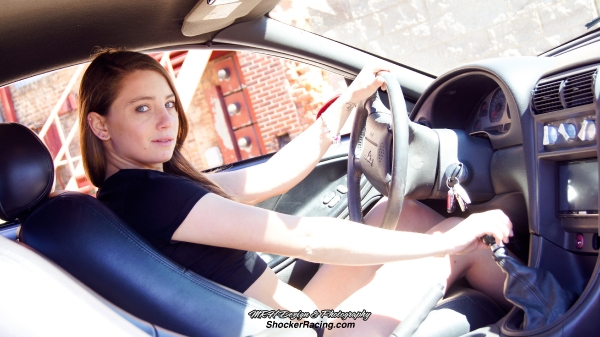 View the full photo gallery here
DON'T MISS  - Alexis Alcorn and an Orange Boss 302 Stang - Click Below: