Harley Scruggs Joins the ShockerRacing Girls
Written by Bex Russ Tuesday, 17 July 2018 10:21
Southern Bell, Harley Scruggs is from good old Boiling Springs, SC. Ms. Harley joins Shocker Racing new to the modeling world. She became interested in Shocker Racing through our popular social media pages. Like many, she was drawn to the flame of the popularity of the page. Harley knew she wanted to be apart of the team and contacted us with information on how to become a model. After helping Harley coordinate a shoot to get her images up to show the world, here we are… Hit the link to learn more about Harley Scruggs.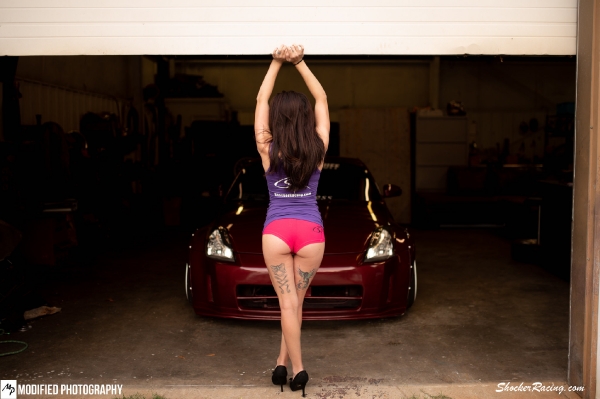 Harley shot with Shaun Storey's 2003 Nissan 350z and had one of her best friends, Harley Wylie from Modified Photography, take the photos.  They met up at Speedhaus in Spartanburg, SC to use the shop as a backdrop and we're excited to share this latest photoshoot with you!  Check out Shaun's list of impressive modifications: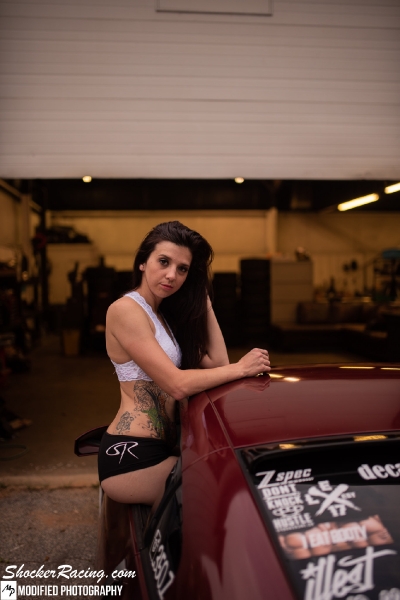 BC Racing Super Low Coilovers
Varrstoen ES2 Wheels
Custom Zpec Widebody
Custom White Pearl flake paint on the wheels
Custom Calypso Red paint
ISR v2 blast tips
ISR test pipes
Tinted windows
Carbon Fiber Eyelids
Cold air intake
Peanut butter leather seats
Carbon fiber interior pieces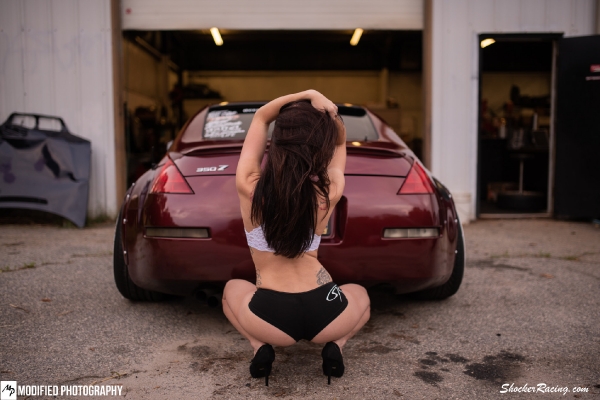 Harley tells Shocker Racing that she became a gear-head by default. As a 'Daddy's Girl' she hung around with him and learned the ins and out of the Gear Life. She tells us, "Being in the car scene is very sentimental to me, growing up if i wanted to spend more time with my dad I had to be under a car with him. I am the oldest of 5 children, so my dad worked really hard to make sure we had what we needed and wanted growing up. He made sure I knew how to pull a motor out and apart and put it back together and back into the car." Harley went on to say, "When it was time for me to legally drive he put me in a stick car and said I needed to know how to drive it or I wouldn't be driving. After spending time with him with cars I grew the same love for it that he has, and now I am passing that love down to my children so they will become little gear-heads too!"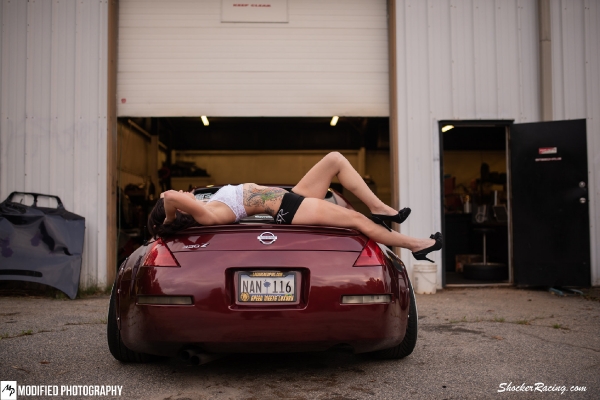 We loved getting to know Harley. Read the rest of her interview here:

SR: What was your first car?
Harley: Ahhh my very first baby was a 1999 Ford Mustang V6, but it was chipped and I use to make so many little boys cry in that car. I couldn't tell you how much trouble I got in with that car.
SR: What do you currently drive?
Harley: Nothing special just a 2002 Acura TL, a straight mommy car!
SR: If ShockerRacing was going to pay for any mod to your car no matter what the cost, what mod would you choose?
Harley: Instead of modding it could we just get me a different car?
SR: What is your dream car?
Harley: I have a lot of dream cars, I really need to own a car lot LOL. But I have forever wanted a 1967 Shelby GT500 Cherry Red with black leather seats and white trim around them, a red leather covered steering wheel, on a set of black Cragar wheels with white wall tires... ahh pure heaven.
SR: If you could travel and have your dream car anywhere in the world, where would you go?
Harley: I would love to go to Japan for the Formula Drift tour there and watch all the races.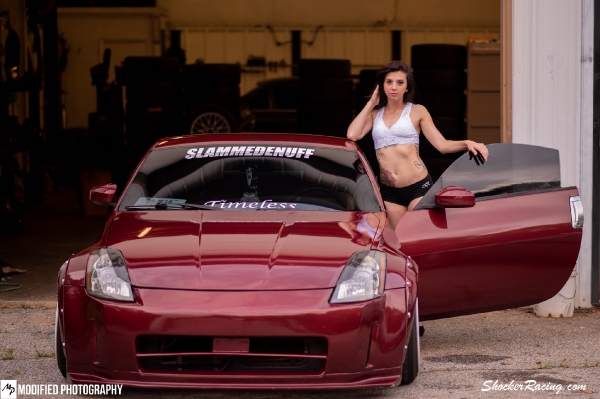 SR: Who is your favorite previous ShockerRacing Girl, and why?
Harley: Sarah Senecal because I first met her at a Dankfest event and we were both in the bikini contest! I was freaking out and she just kept telling me that I would do great and just go out and be myself. And now that I am trying to get started she's been giving me advice when I ask her.
SR: Which of the Fast and Furious movies is your Fave?
Harley: Of course, Tokyo Drift is my favorite movie, I love the storyline of a little country boy who just cared about muscle and going fast then falls in love with the art of racing and drifting and becomes one of the best.
SR: Are you a Paul Walker or a Vin Diesel kind of girl?
Harley: Vin Diesel, of course, I may be an import fan now but my heart will always be for muscle cars. And he's just gorgeous. I would love to have a relationship like him and Letty do in the movies.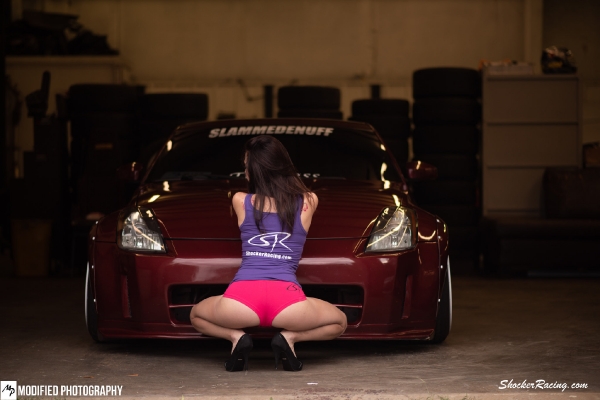 SR: Are you single?
Harley: I am seeing someone special.
SR: What would an ex say is your best asset?
Harley: My legs!
SR: What is your biggest pet peeve?
Harley: Girls who act like they know cars and don't. Any girl can put grease on their hands and face and take a photo but not every girl can do a motor swap.
SR: What nicknames do you have?
Harley: Vixen, Freckles, Harley Davidson, Babydoll, Sweetcheeks, Legs, and the best one is Mommy!
SR: What's your favorite food?
Harley: Ohmygah.. Steak!
SR: What's your favorite Pizza topping?
Harley: Pepperoni!
SR: Do you have any tattoos? If so, how many? Tell us about them.
Harley: Tattoos are a weakness of mine and a great stress reliever, I have 12. My first one was a tribal piece on my right side, which now is being covered up by a dragon since I decided to be basic. I also have "Beautiful" down my left side, a set of lips on my hip, an anchor on my sternum, a pansy on my left shoulder, an infinity symbol that says "My mother my friend" on my right shoulder, a sugar skull on the left side of my lower back, a corset on the back of my left thigh, a watercolor phoenix on the back of my right thigh, a diamond on my left ring finger (was supposed to be my wedding band but now its just my forever diamond), "shh" with a set of lips on my right index finger, and a dragon with a heart on my right middle finger to remind myself I'm strong. My goal is to be covered one day.
SR: What are two fun facts about you that people don't already know.
Harley: This is very hard to come up with. I am a mother of two, Averie and Cam. And I used to want to be a corporate lawyer,  I actually went to school to be a paralegal and got my degree but haven't put it to use yet.
SR: What's your favorite quote.
Harley: "Veni. Vidi. Amavi. [We came. We saw. We loved.]"

Catch Harley at her favorite event, Formula Drift. Can't get enough of all your favorite Shocker Racing Girls? Be sure to follow ALL our social media channels. If you would like to become a Shocker Racing model. Email James at shockerracinggirls@gmail.com and tell us why you could be an asset to the team.

Follow Harley and her team here:
Photographer: IG - @modified_photography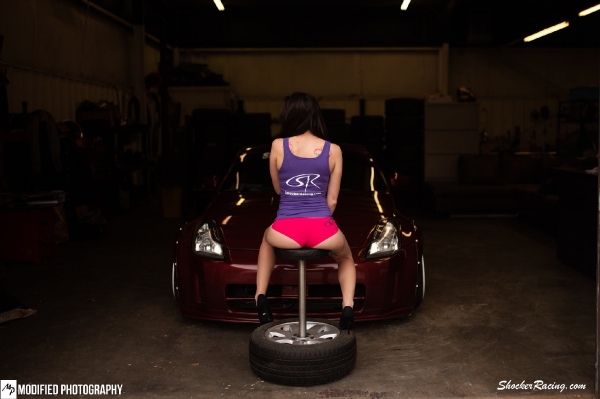 Follow ShockerRacing on our Social Media: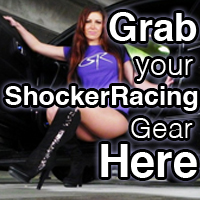 Instagram: @ShockerRacing
Twitter: @ShockerRacing1
Facebook: Facebook.com/ShockerRacing
YouTube: YouTube.com/ShockerRacing
Snapchat: @ShockerRacing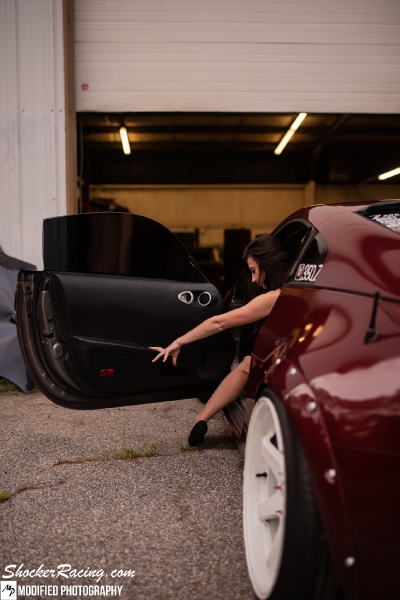 View Harley's full photo gallery here
View Harley's full photo gallery here
View Harley's full photo gallery here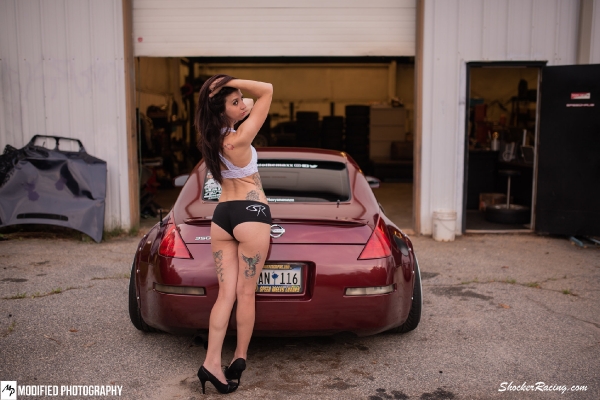 View Harley's full photo gallery here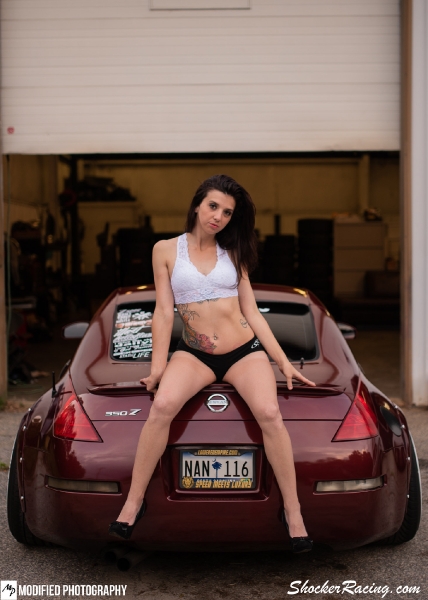 View Harley's full photo gallery here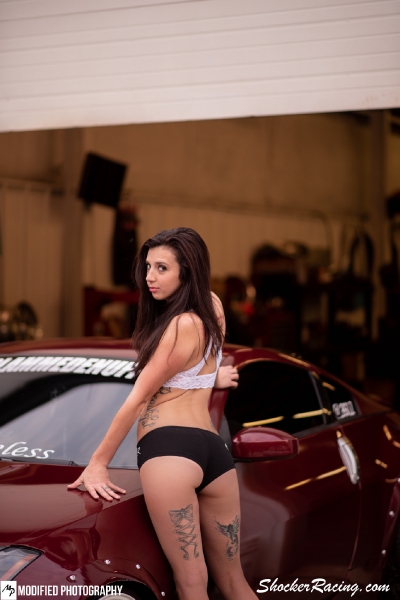 View Harley's full photo gallery here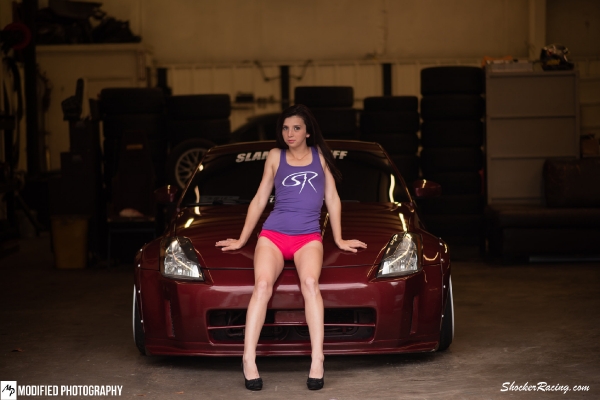 View Harley's full photo gallery here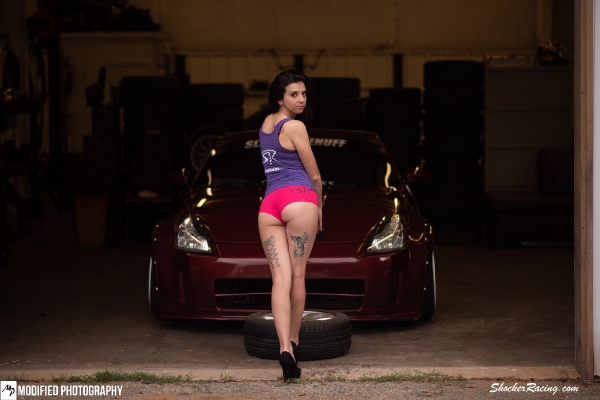 View Harley's full photo gallery here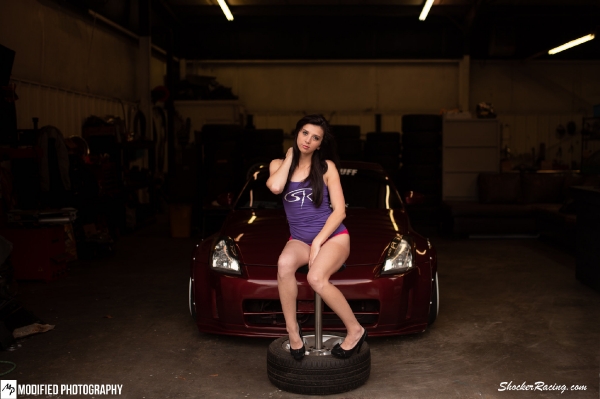 DON'T MISS - Mrs ShockerRacing show how to use a MATCC Foam Cannon with a Karcher Pressure Washer: