Kristen Graham - Muscles and Muscle Cars
Written by James Thursday, 09 August 2018 09:26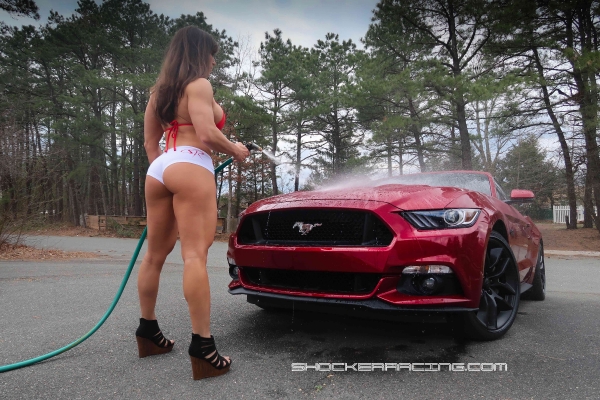 Kristen Graham is all about Muscle... she spends much of her time training, competing and building her muscles at her gym: Crossfit Toms River.  Kristen recently purchased a 2017 Ruby Red Mustang GT Premium and began flexing a different kind of muscle.  She wasted no time adding an Airaid Intake and a Borla S-Type Exhaust along with some appearance mods like plasti-dipping the stock wheels black.  Kristen has a fast growing YouTube Channel, and she has documented much of her Muscle Building on the channel including the modifications she has done to her Stang along with event coverage such as American Muscle.  Kristen had the opportunity to meet up with our friend JD Joyride TV and take some pics for her ShockerRacing Girls feature!  Hit the link for the full shoot and to see Kristen DEADLIFT A MUSTANG!!!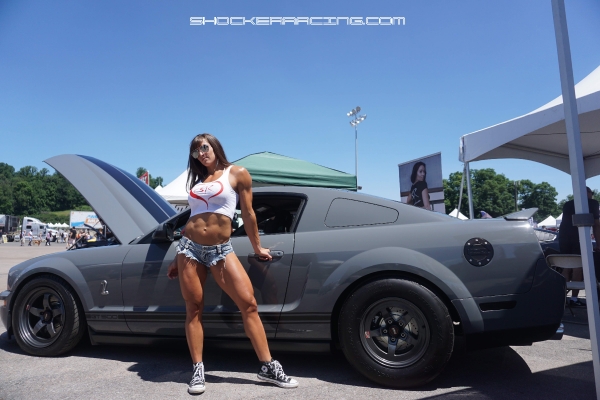 You read that right... the 32 year old, Jersey girl, fitness guru and Crossfit athlete managed to figure out a way to deadlift her own Mustang! What better way to bring two passions together than lifting a Muscle Car with your own Muscles???
Mrs. Graham headed out to Maple Grove Raceway in Pennsylvania for the 2018 American Muscle Mustang car show and was able to meet up with JD Joyride TV for some pics.  She also had the opportunity to meet fan favorite Bex Russ from the ShockerRacing Girls.  JD's Shelby was freshly wrapped in it's new color by Laid Not Sprayed Vinyl Workz and was the perfect car for Kristen to flex with.  She wore her custom White & Red  Heart Crop Top to shoot in and it was a scorcher for the event so it was perfect for her to bust out the bikini top!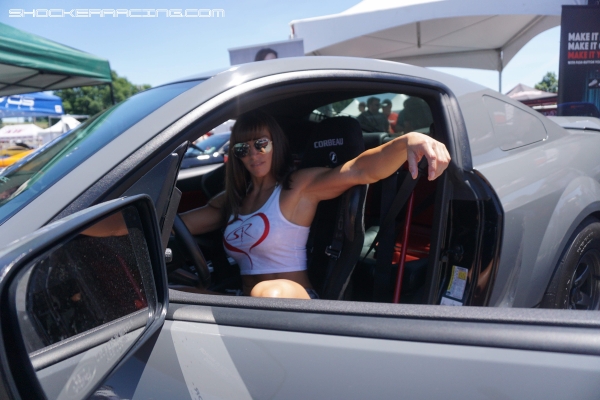 Check out the rest of Kristen's Interview here:
SR:  Have you always lived in New Jersey?
Kristen: I was born in Brooklyn, NY but moved to Jackson, NJ at a young age.  After college, I married my husband and we have lived in Toms River, NJ ever since.
SR: How long have you been doing Crossfit?
Kristen: I started doing Crossfit 7 years ago when my daughter was born to the lose the baby weight.  I have never looked back and I became a gym owner at Crossfit Toms River 4 year ago.
SR: If we offered to pay for any one mod to your Mustang, what would you choose?
Kristen: Either headers or a Cervini Stalker Hood!  Oh, and I still need a tuner!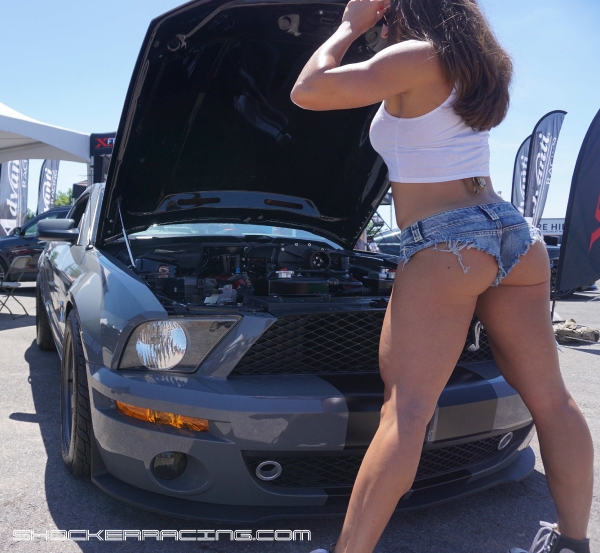 SR: What is your dream car?
Kristen: Hmm... I don't know right now, I am still really in love with my Mustang.
SR: What modeling experience do you have?
Kristen: I am a published fitness model, and I recently went to Dubai to make a guest appearance at the Dubai Muscle show. I will be going back this December.
SR: What is your biggest pet peeve?
Kristen: People that drive slow in the left lane, and won't move out of the way!
SR: What is your favorite food?
Kristen: Ice cream... Vanilla Ice Cream with M&M's, Rainbow Sprinkles, Whipped Cream and a Cherry.
SR: What's your favorite Pizza topping?
Kristen: White Pizza for the win!
SR: Are you a Paul Walker or a Vin Diesel kind of girl?
Kristen: Paul Walker.
SR: Who took all of these photos?
Kristen: My husband and published photographer, Chris Graham.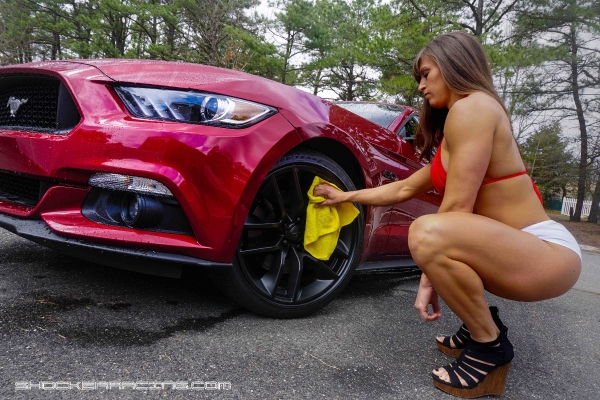 Make sure you follow Kristen across all of her social media:
Photographer - Chris Graham
JD Joyride TV's Shelby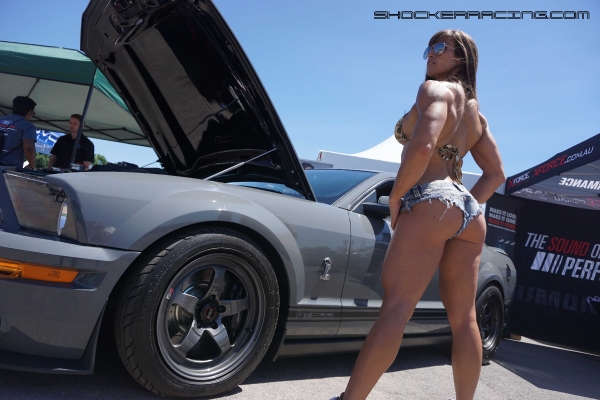 Follow ShockerRacing on our Social Media: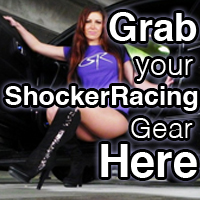 Instagram: @ShockerRacing
Twitter: @ShockerRacing1
Facebook: Facebook.com/ShockerRacing
YouTube: YouTube.com/ShockerRacing
Snapchat: @ShockerRacing
View Kristen's full photo gallery here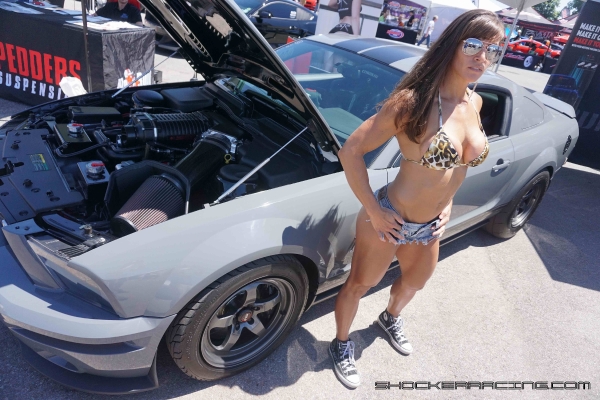 View Kristen's full photo gallery here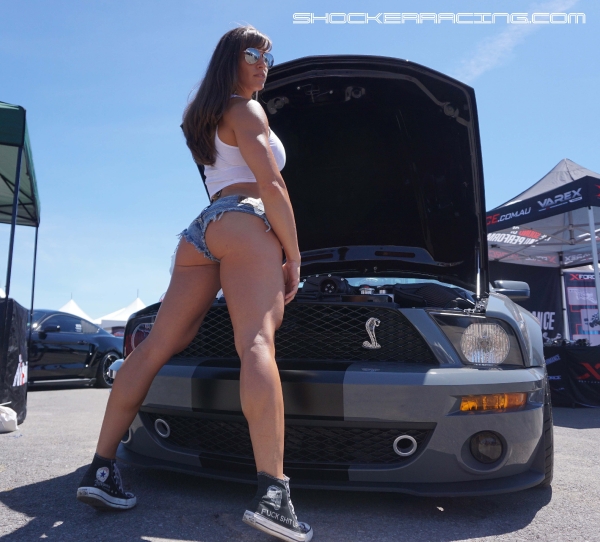 View Kristen's full photo gallery here
View Kristen's full photo gallery here
View Kristen's full photo gallery here
View Kristen's full photo gallery here
View Kristen's full photo gallery here
DON'T MISS - Selina Holguin's ShockerRacing Girls Feature - Click Below: