Mustang Week 2018 With Allysa Reyes
Written by James Friday, 05 October 2018 09:22
September of 2018 marked the first time I have had the opportunity to attend one of the famous Mustang Weeks!  I have had it on my bucket list for years now and things finally worked out for Mrs ShockerRacing and I to attend.  We began planning in early spring, and decided that we would drive there and bring our friend Jordan's(@CarsMoveMe) Shelby GT500 out in a trailer from Chicago.  We booked an amazing house right on the beach, and began assembling the ShockerRacing crew to stay with us.  But even with all of the hype around Mustang Week, the thing I was most excited for was to finally meet many of the amazing ShockerRacing Girls I have known and worked with over the years.  One of these girls was Allysa Reyes, whom you may remember from her first feature: Allysa Reyes With Her Ecoboost Mustang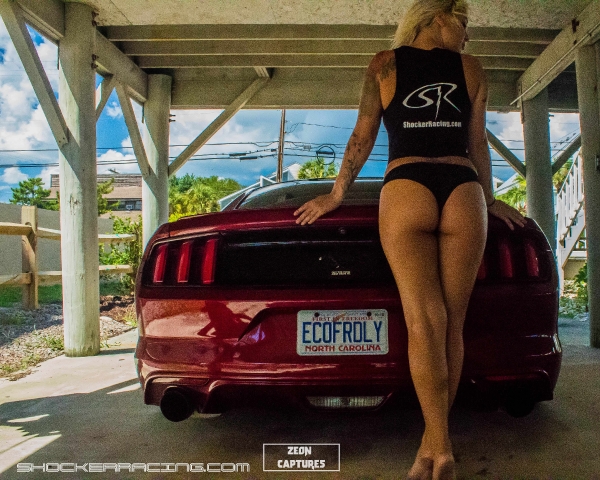 Allysa contacted us while we were in Myrtle Beach because she was teaming up with photographer @ZeonCaptures for a photo shoot and she needed a fresh ShockerRacing Tank Top.  We finally got to meet Allysa  at the famous Suck Bang Blow Retro Night event.   Myrtle Beach, SC offers a variety of amazing spots for shoots so they chose to in one of the parking areas under a beach house before deciding to drive Allysa's Ecoboost Mustang out onto the sand for some killer beach shots.
Along with Allysa, I was so happy to meet some of the newer ShockerRacing Girls like Megan Smith, and Erica Bradley.  We even had the opportunity to see Erica race her Mustang at the drag event and both of these ladies joined us out at the YouTuber Hooters Meet and Greet on Friday night.  At the Suck Bang Blow event, I was tapped on the shoulder and turned around to see none other than Kyrie aka ShockerRacing Girl of the Year for 2014! It almost doesn't seem believable that it has been 4 years since Kyrie shot with Chromalusion Photography at Mustang Week.  We even briefly had the pleasure of meeting Sarah and Bianca Thomas at different points of the week.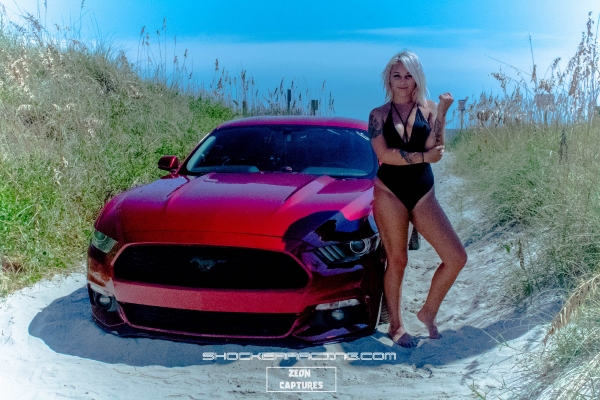 Of course I can't go without mentioning that I also had the opportunity to meet Alexandra Owen and Bex Russ who I have been lucky enough to call friends for years without ever having met them.  For those of you that don't know, Bex has been my right hand woman for a handful of years now and has been extremely helpful in the growth of ShockerRacing along with helping to bring consistently amazing shoots to us.
Mustang Week 2018 was such an amazing experience for me because it brought together ShockerRacing Girls and fellow Mustang lovers for a week of fun and excitement while enjoying some amazing beach weather.
Be sure to check out Allysa on her Instagram page: @Miss_R3y3s
Check out the photographers Instagram: @zeoncaptures
Follow ShockerRacing on our Social Media: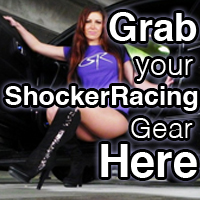 Instagram: @ShockerRacing
Twitter: @ShockerRacing1
Facebook: Facebook.com/ShockerRacing
YouTube: YouTube.com/ShockerRacing
Snapchat: @ShockerRacing
DON'T MISS - Jenny Walter's Latest Feature - CLICK BELOW: