Brittany Ford Joins the ShockerRacing Girls
Written by James Wednesday, 21 November 2018 11:32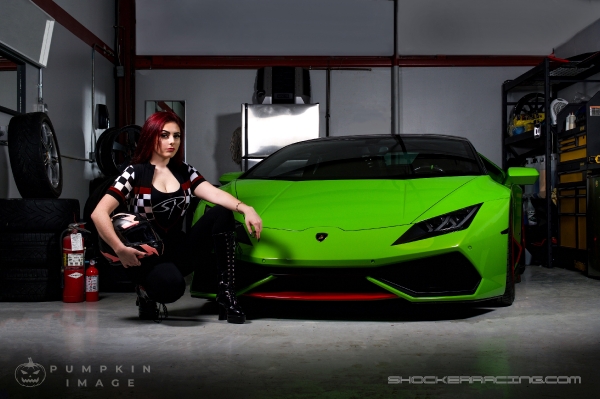 If you have been following along on our Instagram, then you already know I have become obsessed with my Jeep Wrangler Rubicon and the amazing Mojito Green color paint.  Today's feature introduces Brittany Ford to the ShockerRacing family and she chose an incredibly striking Verde Mantis Green Lamborghini Huracan 610-4.  I didn't think I could love a green paint color more than Mojito, until I saw this shoot!  20 year Brittany could not have chosen a more stunning piece of automotive beauty to pose with.  Hit the link to learn more about Brittany...
Brittany grew up in Midland Texas, but currently resides in Dallas... "I moved to be closer to family, and the only thing fun to do in Midland was riding horses." Brittany tells us.  Ms. Ford is a true car chick, whipping a 2017 Mustang GT Premium with a proper manual transmission.  It features a Chameleon Wrap, KCM Wheels, and a VIS Carbon Fiber Hood.  Besides hitting car events like TX2K, Brittany spends her time grinding at one of her 3 jobs!  That's right, she is hard at work building her empire... which is why she says she is "single as a pringle"!
Brittany met the photographer, Pumpkin Image, a while back when she joined in a shoot with Angie Moltzan.  Since then, the two have become great friends and have been shooting together regularly.  They spent two months planning this shoot, coordinating with the Lambo owner and RPM Garage in order to be able to shoot in their shop.  The shop provided an incredible backdrop with a unique mural of Paul Walker and Vin Diesel.
For more on the Lambo, check out the Instagram page for @selfmade.duespaid.  He tells us it's been nicely modded with some red vinyl accents, and a gloss black top.  He added Vorsteiner side splitters and rear wing along with a Carbon Fiber Interior and Steering Wheel.  The Huracan is lowered on Novitec springs and topped off with a set of 3 piece Strasse Wheels that are Satin Black with a Polished Red Lip.  Providing the beautiful exhaust tone is a Soul Performance exhaust system.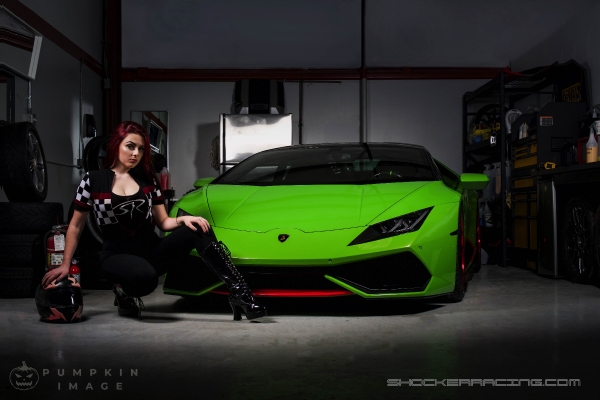 Keep reading for more of our interview with Brittany Ford:
SR: What do you do for a living?
Brittany: I am a Phlebotomist, Pharmacy Technician, Independant Marketer for Companies, and I am in school for Nursing!
SR: How did you become interested in ShockerRacing?
Brittany: I love cars and modeling, ShockerRacing consists of my two favorite things... so who wouldn't be interested!?!
SR: What was your first car?
Brittany: I had a 2003 Nissan Altima which unfortunately didn't last long.  I was a typical wild 16 year old fresh with a license and totoaled it out doing donuts in a parking lot backwards!
SR: You drive a Mustang GT now, if ShockerRacing was going to pay for any one mod, what would you choose?
Brittany: I would do an LS7 Swap with a Twin Turbo Kit! You would catch me out at every drag event being the only girl taking wins!
SR: What is your dream car?
Brittany: I would want a 1992 Mclaren F1, all black with red interior.
SR: If you could travel and have your dream car anywhere in the world, where would you go?
Brittany: The beaches of Western Australia, the water is so clear and pretty there and there are so many different hiking and exploring opportunites.
SR: How did you get involved in the car scene?
Brittany: I have always been interested in the car scene because my family races.  I had a couple friend with nice cars so I just started tagging along to car events.  From there it inspired me to get my own car to take out.  I started busting my butt with 3 jobs and now I have my Mustang GT.
SR: What is your favorite event of the year?
Brittany: TX2K most definitely! It is the most intense event of the year for sure!  Late nights in Houston racing until 6am, and early mornings at Royal Purple Raceway in Baytown, TX for days filled with drag and roll racing.  Definitely worth the loss of sleep, and I have been there 4 years in a row now!
SR: Do you have any nicknames?
Brittany: Just Britt Brat.
SR: What is your favorite food?
Brittany: Strawberries, that's definitely all I need in life to survive!
SR: What is your favorite pizza topping?
Brittany: Chicken.
SR: Which of the Fast and Furious Movies are your fave?
Brittany: Of course the first one because that is where it all started.
SR: Are you a Paul Walker of Vin Diesel kind of girl?
Brittany: Paul Walker, we were supposed to get married but he's waiting on me in Heaven.
SR: Do you have any tattoos?
Brittany: I have one, it's 3 roses under my left boob.  There's one large pink one surrounded by two small blue ones.  The large pink one represents my mom and the blue ones are my sister and I.  Growing up we were all each other had and they are the reason I grind all day everyday.
SR: Leave us with your favorite quote.
Brittany: "She slept with wolves without fear, for the wolves knew there was a lion among them." R.M. Drake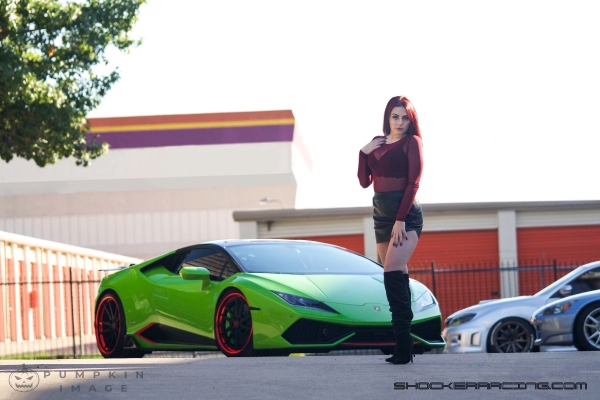 Follow the crew on their social media:
Model - Brittany Ford:
Photographer - Pumpkin Image
Lamborghini
Shoot Location - RPM Garage Dallas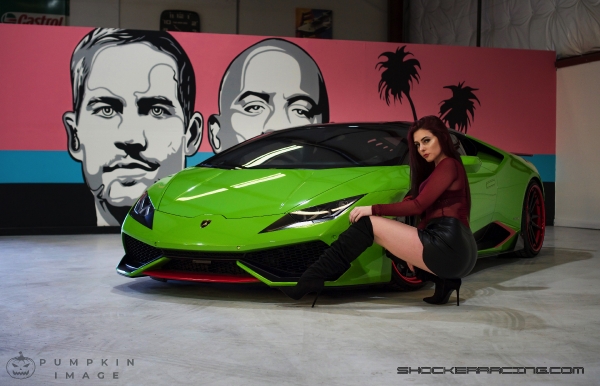 Follow ShockerRacing on our Social Media: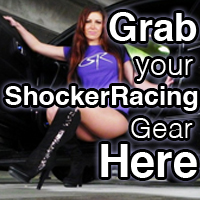 Instagram: @ShockerRacing
Twitter: @ShockerRacing1
Facebook: Facebook.com/ShockerRacing
YouTube: YouTube.com/ShockerRacing
Snapchat: @ShockerRacing
View the full photo gallery here
View the full photo gallery here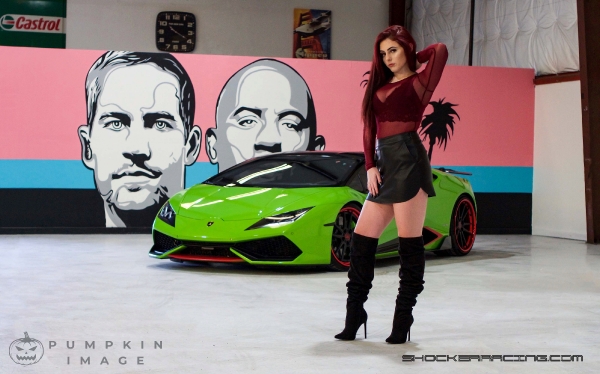 The 2019 ShockerRacing Girls Calendar is now available for Pre-Order
Click the Photo below to get yours now!