Danikix Joins The ShockerRacing Girls
Written by James Tuesday, 11 December 2018 09:36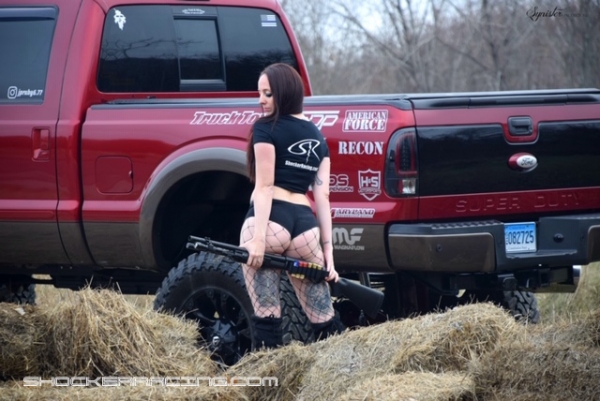 ShockerRacing has been helping cars models get started in this industry for the last 12 years. We offer plenty of ways to join the ShockerRacing team, from the many contests we host to simply ordering the uniform to shoot in. Our classic Bootyshorts have brought fan favorite models to the 'popular page' on social media. You may recognize our newest model Danielle aka "Danikix" from the many Fan Friday posts of her throughout the year on ShockerRacing's Instagram. Today, ShockerRacing makes it official for Dani. She finally had the chance to do a shoot for us to share and become apart of the team.


As we got to know Dani a little more, she told us what got her started in the car industry... "My dad built classics and hot rods when I was a kid. I still love them but there's something about the imports that I could not resist." We wanted to know why she kept submitting to our page and why she want to be apart of the team. Like many, she told us she loved the family and support we share for one another. Dani told us "I love the empowerment and support to female car enthusiasts and models." We couldn't agree more! Dani is a car lover and tells us her daily is a lifted 2013 Dodge Ram 1500. She also has a 1998 Mitsubishi Eclipse GST, as well as a 1980 Corvette Stingray. She tells us the Vette is her project car, but her dream car is any Koenigsegg.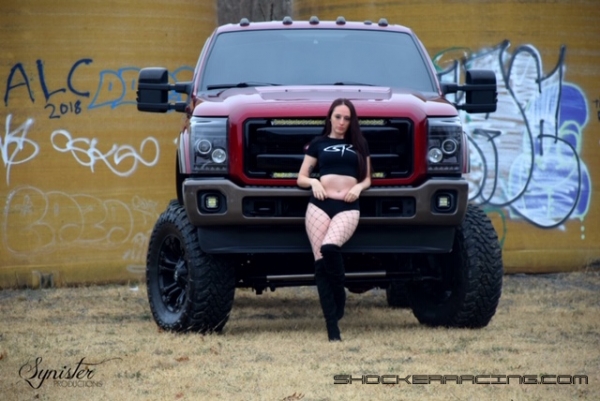 Dani is not new to the car modeling industry. She has been around for a few years attending some of her favorite events like DSM/GTR shootout in Ohio. "I love it because it's nothing but love, racing, friends and parties. Just like events should be, not this competitive bashing that seems to have taken over the car scene lately." She tells us. We asked her if she had a favorite ShockerRacing girl, which she told us how much she admires Bear. "She is so sweet and down to earth in person, always down to talk to you and does not think she is above anyone else because of her followers. Plus she's stunning and a true car enthusiast not just a model!"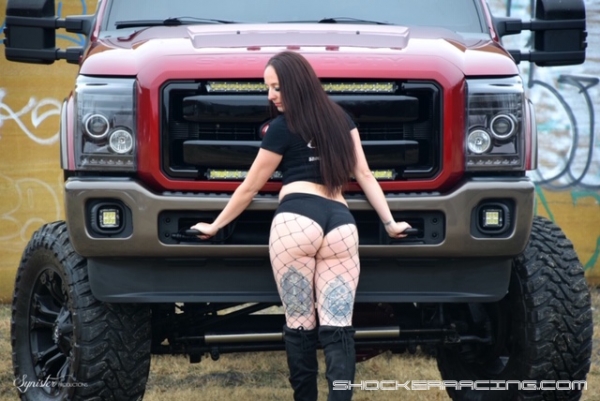 Dani's shoot was held in a nearby location in her New York hometown. The abandon building, now skate park, is the back drop to her friends 2015 Ford F350 6.7L diesel. It features a 10" Fabtech lift kit and 38" Toyo tires, Amp Powersteps, custom painted grill and tailgate, RECON custom painted side emblem lights, Tuned and deleted, custom headlights and taillights. Dani said she has been friends with her photographer(@synister_mikey) for years, and they met the truck owner(@jpruby6.77) for this shoot through Instagram.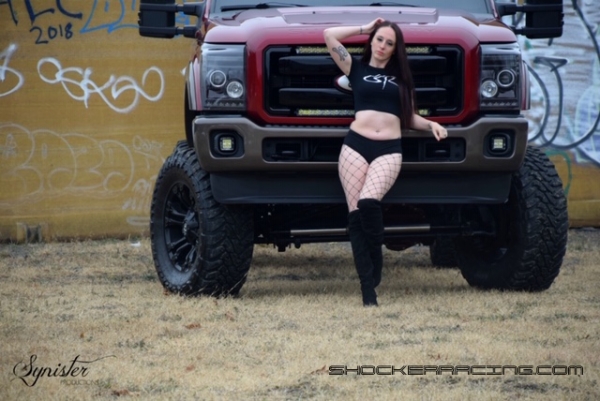 Read the rest of Danni's interview here:
SR: What was your first car?
Dani: 2000 Mitsubishi Eclipse. I have owned 5 eclipses you can say i have a thing for them.
SR: If you could travel and have your dream Koenigsegg anywhere in the world, where would you go?
Dani: Japan, Korea, or China for sure! Not only for the car culture but i did martial arts for half of my life.
SR: Which of the Fast and Furious movies is your Fave?
Dani: Tokyo Drift, I can listen to Lucas Black, the guy who played Sean, talk all day with that accent. Plus I feel like it focused more on the car culture then the recent movies.
SR: Are you a Paul Walker or a Vin Diesel kind of girl?
Dani: Can i mash them together?!
SR: Are you single?
Dani: Technically yes, but I am "seeing" someone i guess you'd call it.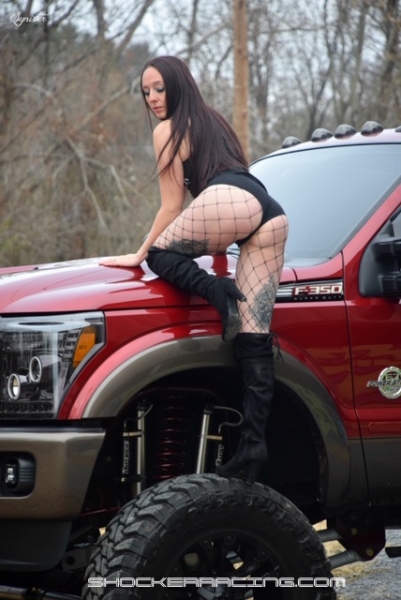 SR: What would an ex say is your best asset?
Dani: Depends which ex you'd be asking. I guess.
SR: What is your biggest pet peeve?
Dani: When people ignore your texts or calls but post on social media.
SR: What nicknames do you have?
Dani: Just Danikix
SR: What's your favorite food?
Dani: Pizza or chocolate covered strawberries!
SR: What's your favorite Pizza topping?
Dani: Ziti. If you haven't tried baked ziti pizza you are missing out!
SR: Do you have any tattoos?
Dani: I have 11 tattoos.
SR: Tell us about them!
Dani: The Mitsubishi logo behind my ear... clearly i love them!  A police badge on my upper back because my dad was a cop before he passed away, right inner bicep is a wrench with brass knuckles due to my upbringing of cars and martial arts. On one wrist I have the day my dad died in roman numerals, the other is his signature which oddly enough looks very similar to mine. Upper ribs I have 3 stars, my two older sisters and me all have them in age order with our favorite color since we all have the same dad... they both have the same mom. I have the lyrics on my ribs to "City" by Hollywood Undead. They were my favorite band for the longest time and parts of that song mean a lot to me. I Have bows with skulls on each hip, not sure why other then they were cute. Both the back of my thighs are done with Victorian frames around Jack and Sally from The Nightmare Before Christmas. It was always my favorite movie even as a kid. I have an appointment for my half sleeve, which I can not reveal yet BUT it is car themed!
SR: Tell us two fun facts about you that people don't already know.
Dani: Number 1, I am actually obsessed with interior design of homes. I watch insane amounts of home shows and even play design games on my phone when I am not working. Number 2, I did my first photoshoot as a joke with a photographer friend. I did not think anyone would think my pictures were any good or that I was "pretty enough". When I posted them 10 years ago... way before social media was a big thing, I got nothing but positive responses and others wanting to work with me.
Keep an eye out on Dani's social media to see what future automotive events she will be attending. You can also catch her at promotional events with Angry Orchard, Ford and Continental tire throughout the year.
If you would like more information on how to become a Shocker Racing model. Please email us why you should be apart of the team at shockerracinggirls@gmail.com.

Follow the team here:
Model Danielle:
Photographer:
Truck Owner: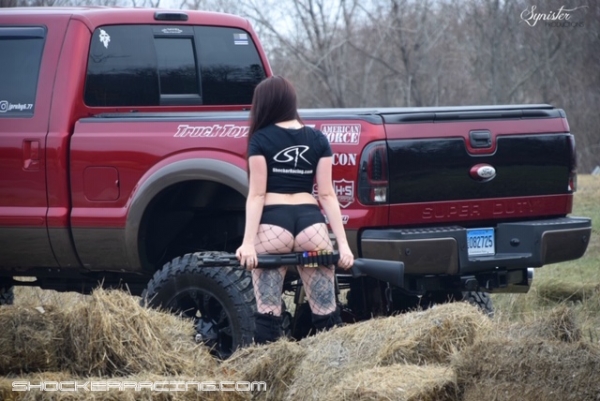 Follow ShockerRacing on our Social Media: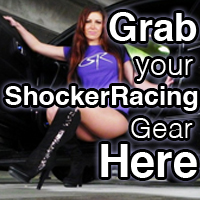 Instagram: @ShockerRacing
Twitter: @ShockerRacing1
Facebook: Facebook.com/ShockerRacing
YouTube: YouTube.com/ShockerRacing
Snapchat: @ShockerRacing
Order your 2019 ShockerRacing Girls Calendar now! Click the photo below to order: