Lam & Courtney Lynn - Pinup Shoot
Written by James Wednesday, 02 October 2019 17:40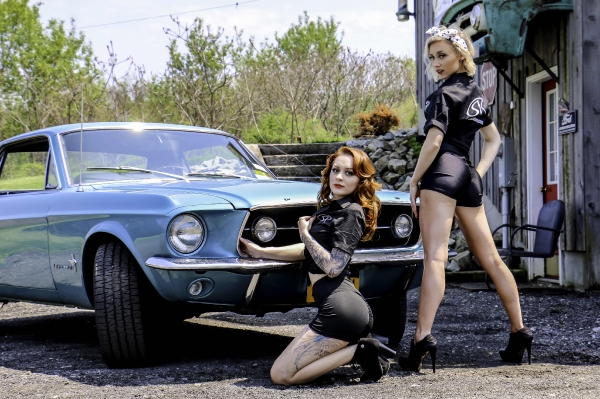 Courtney Lynn and Lam are back in action for their third ShockerRacing feature together. These calendar girls (January 2018 and December 2019 in case you missed it) decided to put a modern spin on the iconic 50's pin-up girl theme this time around. Taking the phrase "double trouble" to another level, check them out in this brand new set featuring two rides and two looks.
Hit the link to see the full photo shoot: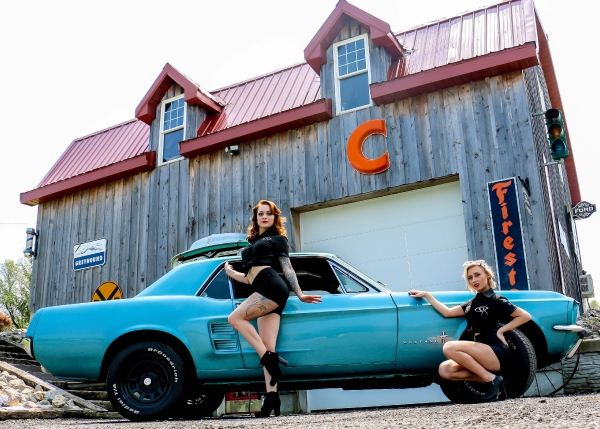 Follow Lam and Courtney Lynn on Instagram: @lam.bamm & @princesslgt
Courtney Lynn hair by Chris Piacentino - @christopherstyles88
Car Owner: Marty Comstock
Location: The shoot was done in front of the owner, Marty's, house because it provided the perfect backdrop for this photo shoot.
Details about cars in shoot: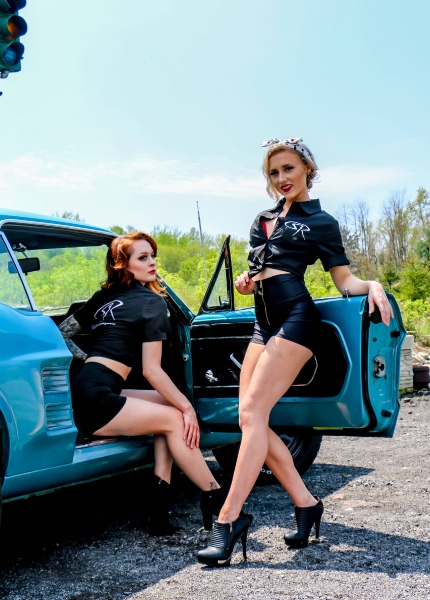 1967 Ford Mustang
Arcadian Blue
Fully restored
Modified sport suspension
Power brakes
Power steering
Specifications for the 1967, 1968 Ford Mustang:
Wheelbase, inches: 108.0
Length, inches: 183.6
Curb-weight range, pounds: 2,568
Width, inches: 70.9

Engine Types for the 1967 Ford Mustang:
I-6: 200 cubic inches; 115-120 horsepower

Transmissions for the 1967 Ford Mustang:
Automatic: 3-speed

Model-Year Production for the 1967 Ford Mustang:
1967: 475,346

Base Prices for the 1967 Ford Mustang: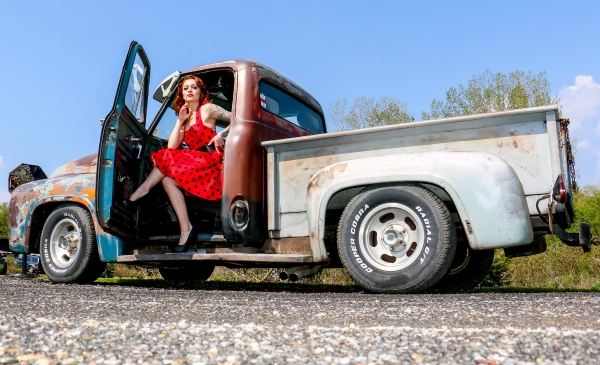 1954 Ford F100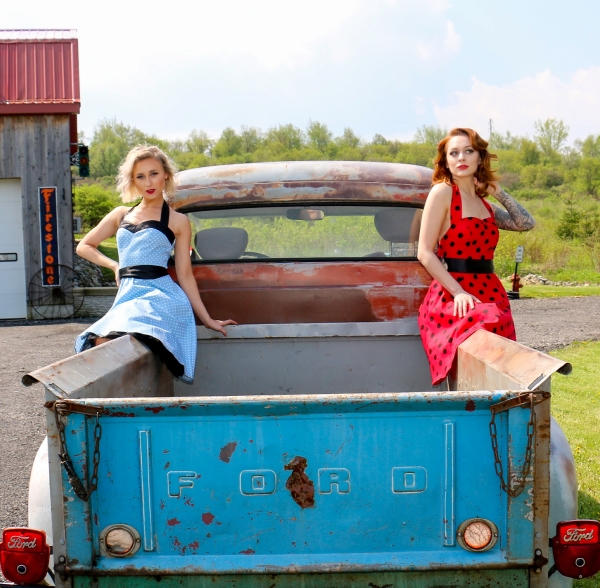 Original patina finish
Completely stock aside from seats and wheels
Production of the 1954 Ford F-100 Pickup:
101,202
Specifications of the 1953-1956 Ford F-100 Pickup:
Wheelbase, inches: 110.0-118.0
Length, inches: 189.1-203.2
Weight, pounds: 3,102-3,325
Price, new: $1,330-$1,611 (U.S.)
Engines for the 1953-1956 Ford F-100 Pickup:
| | | | |
| --- | --- | --- | --- |
| | | | |
| | | | |
| | | | |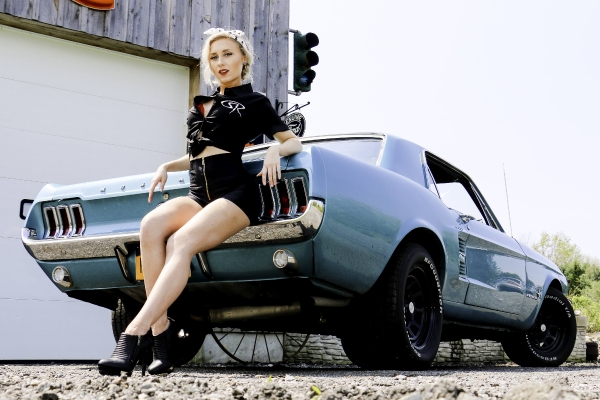 From Marty the vehicle owner: "Gus is named after its original owner, Cyril Gushue. Gus hungaround the shop after acquiring a 30+ car collection while stationed in the navy on the west coast. After retirement, he moved his family and car collection to his hometown of Herkimer, NY. This truck was bought from an airman in Sacramento, and Gus drove it daily as an original stock truck. He then started taking it apart to refinish it as it was in really good shape for its age. In December of 1991, Gus passed away, and the truck was rolled outside and left in the shop yard until 2014. My father originally acquired the truck from the estate as it wasn't the highest sought after by car collectors because it was dissembled, and unfinished. In 2014, I took possession of the truck and replaced brakes, wiring harness, rubber seals, tires and such, and drove it as is. Our good friend Joe Gizowski from Spectrum Graphics in Herkimer painted the doors with "Gus' Garage" in the style of the patina the truck acquired from sitting in the weather for over 20 years. The truck in a homage to a great guy, and a great friend."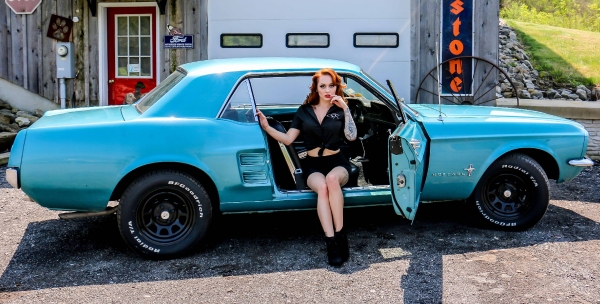 What Shocker Racing uniform piece is shared in images?
Shocker Racing button up custom mechanics shirts.
Any other outfits in this shoot, what are they?
Do you have any fun details we should know about the shoot?
This is our first SR shoot with Steve at Epic Imagery! This shoot was 7 months in the making and we are so glad it finally came together!
What was your favorite detail of the car?:
Lam - I loved the baby blue color of the Mustang, it's one of my favorite paint colors for a car.
Courtney- I liked the rustic feel of the truck, it's different than anything we've ever shot with.
How do you know the car owner?
Lam knows him from the dance industry, he's actually a professional ballroom dancer.
How do you know the photographer?
Courtney has known Steve for a handful of years and he was one of the first photographers she had worked with.
Where is your dream shoot?
Lam - Bonneville Salt Flats for a cool race themed shoot and maybe some test driving?
Court- Anywhere with a 22b Subaru!