Written by James Monday, 25 August 2014 00:00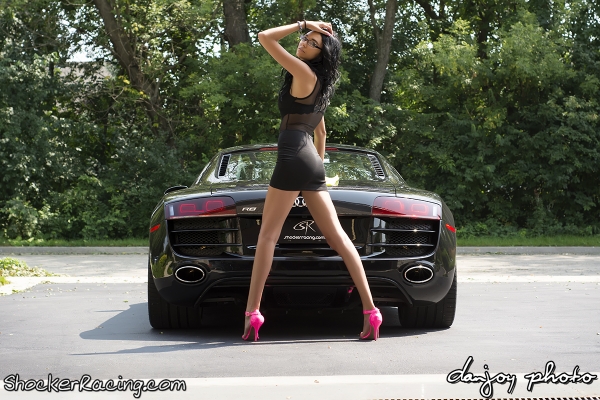 I missed having a featured ride article for the month of July as there was so much going on and I was unable to coordinate a shoot with one of our amazing photographers but I promise we will make up for it in August! We were contacted a few weeks ago by a beautiful model named Rikki and scheduled a Dan Joy Photoshoot with her for Saturday, August 2nd. We were locked in to be shooting with Turk's 2012 Audi R8 and Mook's 1998 Supra.  Everything was set for the shoot as we had locked down a great garage to shoot in, but we contacted Rikki a couple of days before the shoot to confirm and received no response.  As it was getting later and later on the Friday before the shoot we began to panic as we had still not heard from the model.  Then at about 7:00pm Friday evening a family member of Rikki's contacted us to let us know that she had a health issue and was going to be in the hospital over the weekend.  We were saddened to hear this news and we hope she is doing well as we have not heard any further details.  Being that the stars had all aligned to get the location, photographer and cars scheduled, the shoot had to go on and we scrambled to find a replacement model.  In stepped the beautiful Angela Angelovska whom we had the pleasure of working with just a couple months ago.  We contacted Angela and she just happened to have a few hours on Saturday free to come to Chicago.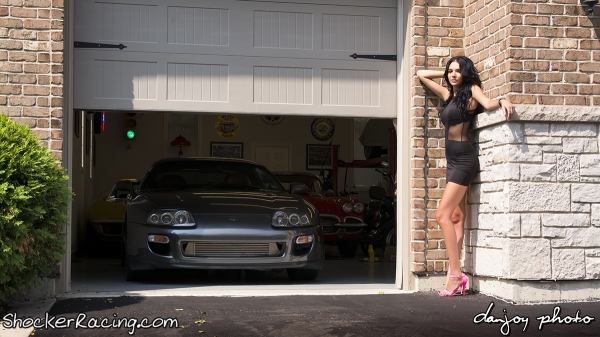 You may remember, Angela, the 6 foot tall Macedonian beauty from the 3 Boosted Z06's article we did back in June.  Angela was great to work with and we had hoped to work with her again, we just didn't realize we were going to be lucky enough to do it so soon.
Angela is an 18 year old who works at Advocare and is from Crown Point, IN.  She is a car enthusiast and got involved in the car scene through family members.  Angela currently drives a nicely modified white V6 Camaro and dreams of getting her hands on a 2014 Z/28 Camaro someday!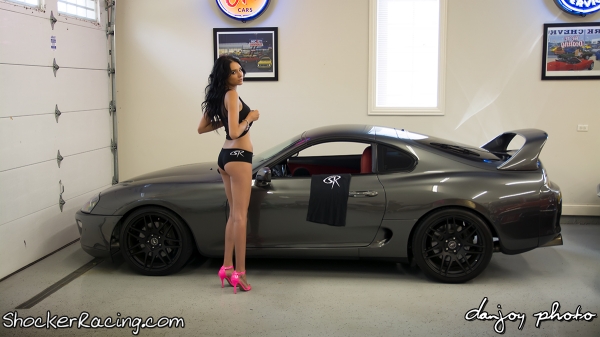 We asked Ms. Angelovska what she thinks her best asset is and she says its her smile... Do you agree? She also tells us that her biggest pet peeve is people who chew and talk at the same time.  So if you want to have any chance of landing a date with this single beauty you better chew with your mouth shut!
Follow Angela on all of her social media - Instagram: @AngelaAngelovska FB: Angela Angelovska Twitter: @AAngelovska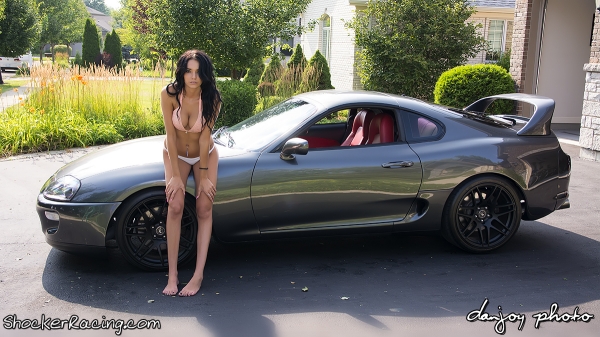 Now I am sure you all want to know more about the cars, so I won't disappoint....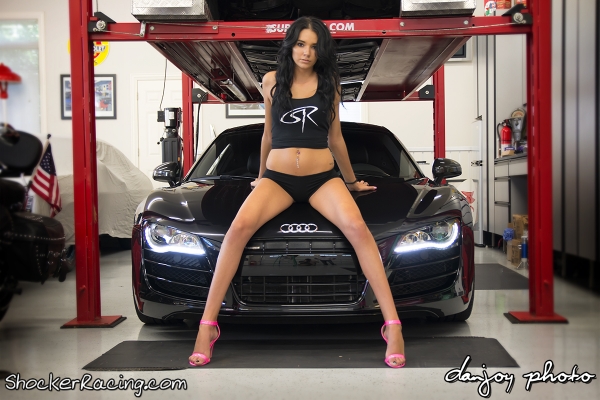 Turk's Audi R8 V10 fsi: Turk bought this 2012 Audi R8 brand new and quickly began to personalize it to his tastes.  Shortly after purchasing it he found another Audi R8 owner on the forums that wanted to swap engine vents with him so that Turk's would now be blacked out.  He then ordered up a set of carbon fiber side blades and ShockerRacing did a how to install write up on how to replace the blades. He then swapped the grill out with the Black Optic Grille that removes the license plate indents and he tinted the windows.  After that, Turk finished off the mods with a Fabspeed Supersport Exhaust that you can hear here: Youtube Video Turk's next step is to have the car custom tuned to pick up some extra horsepower!
Mook's Toyota Supra: You may have seen our full article we posted about this completely rebuilt Turbo Supra back in early 2013 but if you missed it, here is the link: Mook's 1998 Toyota Supra Turbo
Since publishing that article not much has changed to the Supra other than adding the factory spoiler.  As far as performance goes Mook has just been making some fuel and tuning adjustments.  He has been working with the guys at Devo2Ning and added bigger injectors with a flex fuel sensor and tweaked the tune along with addressing some boost leak issues.  The car is running much healthier now and making much more boost! With the higher boost it is currently making about 700rwhp and 600 ft/lbs of torque.