Written by James
Saturday, 06 October 2018 09:57
Now that the summer car show season is over, Shocker Racing is gearing up for the fall/winter season of contests held by ShockerRacing.com. So to start the friendly competitions, the #ShockerRacingHalloween contest is BACK. This is the most participated contest we hold every year. We encourage our favorite Car Girls to show off their costumes with some sick rides. As per usual the contest is available to any ladies that want to join in on the spooktacular fun! So get your costumes and your cars ready, our favorite entries on IG will win a Shocker Racing shirt!  Hit the link for the full contest details...
Written by James
Friday, 05 October 2018 09:22
September of 2018 marked the first time I have had the opportunity to attend one of the famous Mustang Weeks!  I have had it on my bucket list for years now and things finally worked out for Mrs ShockerRacing and I to attend.  We began planning in early spring, and decided that we would drive there and bring our friend Jordan's(@CarsMoveMe) Shelby GT500 out in a trailer from Chicago.  We booked an amazing house right on the beach, and began assembling the ShockerRacing crew to stay with us.  But even with all of the hype around Mustang Week, the thing I was most excited for was to finally meet many of the amazing ShockerRacing Girls I have known and worked with over the years.  One of these girls was Allysa Reyes, whom you may remember from her first feature: Allysa Reyes With Her Ecoboost Mustang
Written by James
Tuesday, 25 September 2018 15:20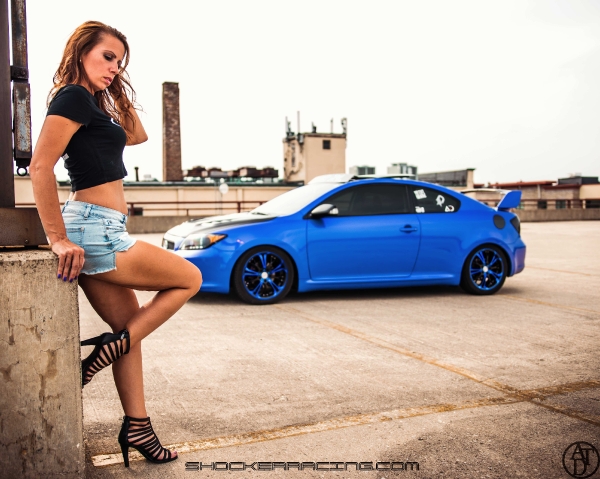 The past year has been a little rough for Jenny Walter and her 2007 Scion Tc.  You may not recognize Jenny's car from her last shoot with her Scion since it has undergone some major work.  A lot of the work was not by choice as she was involved in a bad accident that damaged quite a bit of the front end of her baby.  Knowing she loved the car so much she did not want to give up on it, and her supportive boyfriend began to help her piece the whole car back together.  "I am lucky enough to have a boyfriend that is really into cars, so he did a lot of the work and helped add a lot of little touches for me... including light up Scion emblems!" Jenny explained.
Written by James
Thursday, 20 September 2018 16:54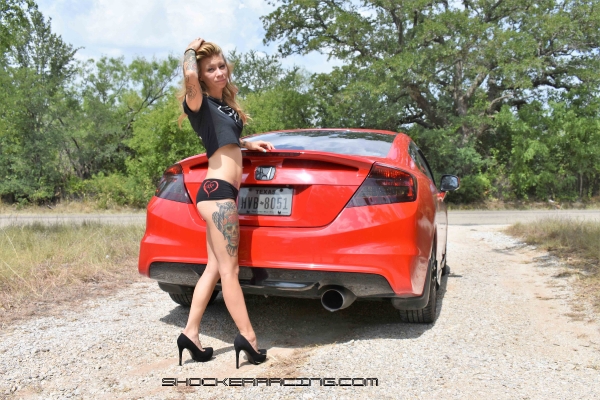 Savannah Stanforth is a self proclaimed flower child and yet another new ShockerRacing Girl based in Texas!  We continue to be overwhelmed by the amazing support we receive from the Texas car scene.  Mike Parker has been a big supporter of ShockerRacing, and you may remember him and his Civic from the recent feature with Miracle: Do You Believe in Miracles?
Mike brought his Civic out again and met up with his good friend Savannah in Mineral Wells, Texas for her first photo shoot.
Written by James
Saturday, 15 September 2018 08:40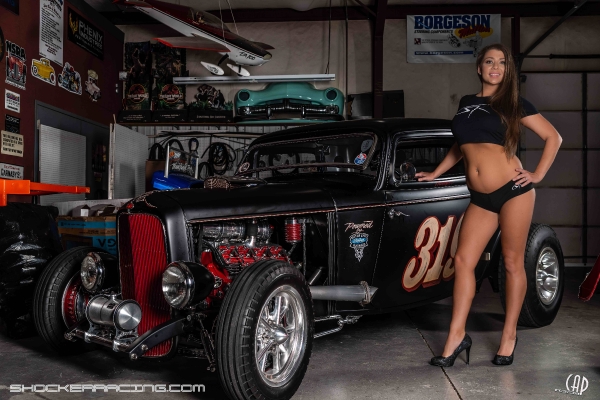 Resident photographer, Chris Auditore headed back to the shop at Street Rods by Michael for another round of photos with one of their amazing Hot Rod builds.  This time he lined up Nashville based model Aria Paige, and a beautiful black Ford Street Rod named Thumper as well as a C3 Corvette and another beautiful red and silver Hot Rod.  For her ShockerRacing debut, the beautiful brunette rocked a pair of the classic SR Boyshorts and a Black Crop T-Shirt.
Read more: Aria Paige Shoots with Chris Auditore Photography
Written by James
Tuesday, 04 September 2018 07:50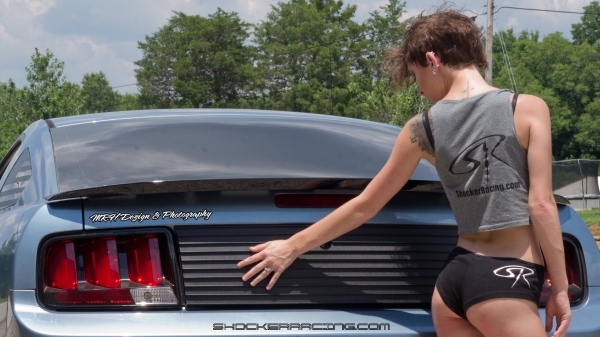 The ShockerRacing crew is out here in Myrtle Beach South Carolina for Mustang Week 2018.  This happens to be my first time meeting in person some of the ShockerRacing Girls that have been so important in our growth including Bex Russ and Alexandra Owen.  We have also had the opportunity to meet JD Joyride TV, and Ronnie from All Cars United and look forward to meeting many more!  One of which is our latest ShockerRacing Girl: Brandi-Lee Wilson!  The 22 year old South Carolina native has been patiently waiting for her feature to be released and we are excited to be able to release this during Mustang Week when we will actually get the opportunity to meet her!
Written by Bex Russ
Thursday, 30 August 2018 09:15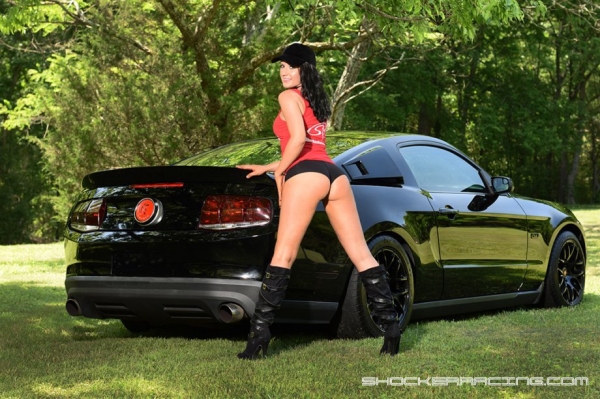 Our Girl Karisha threw down a new shoot for us back in May to share with fans. You may recognize her from a few bad a** shoots she has done for ShockerRacing in the past. My personal favorite Karisha has done is with the Audi R8 at the airplane hanger. ShockerRacing fans seem to feel the same and voted the same shoot in to the 2018 SR Girls Calendar. I'm curious if fans will love this session just as much. Hit the link to see the full photo shoot:
Written by James
Monday, 27 August 2018 17:05
21-year-old Chelsea McCullough is completely new to modeling, but she is jumping SR BoyShorts first into the automotive modeling scene.  Chelsea's fiancé, Bruce, knew our resident photographer Chris Auditore, and recently booked her first photo shoot.  Bruce owns a handful of collector cars and with the intention of listing some of them for sale, they thought it might help the for sale listings grab some attention by having Chelsea pose with them.  This is when Chris informed Chelsea about ShockerRacing and suggested that she rep some of our apparel, and that is when the magic happened!
Written by James
Tuesday, 21 August 2018 08:45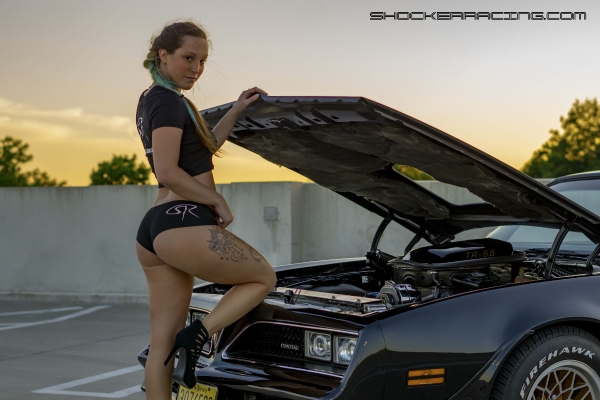 Let's face it, I am a little obsessed with Jeeps since I recently acquired a 2018 Mojito Green Wrangler JL... Our newest ShockerRacing Girl and I have a lot in common!  Not only is she also obsessed with her Jeep, but we just found out we share the same birthday - July 29th!  For this shoot, Alyson teamed up with Mike Miranda from @Boundless_Photography, his father's 1979 Pontiac Trans Am and fellow photographer, Darwin Cipion... I know you fellow Jeepers want to see her with her Wrangler but we will save that for her next feature!  Hit the link to see the full shoot and get to know Alyson:
Written by James
Thursday, 09 August 2018 09:26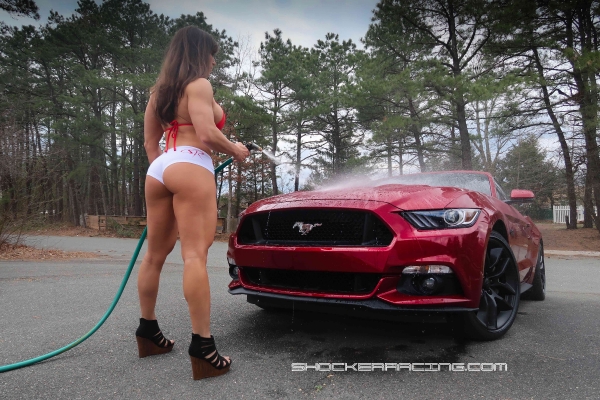 Kristen Graham is all about Muscle... she spends much of her time training, competing and building her muscles at her gym: Crossfit Toms River.  Kristen recently purchased a 2017 Ruby Red Mustang GT Premium and began flexing a different kind of muscle.  She wasted no time adding an Airaid Intake and a Borla S-Type Exhaust along with some appearance mods like plasti-dipping the stock wheels black.  Kristen has a fast growing YouTube Channel, and she has documented much of her Muscle Building on the channel including the modifications she has done to her Stang along with event coverage such as American Muscle.  Kristen had the opportunity to meet up with our friend JD Joyride TV and take some pics for her ShockerRacing Girls feature!  Hit the link for the full shoot and to see Kristen DEADLIFT A MUSTANG!!!
Written by James
Wednesday, 01 August 2018 09:38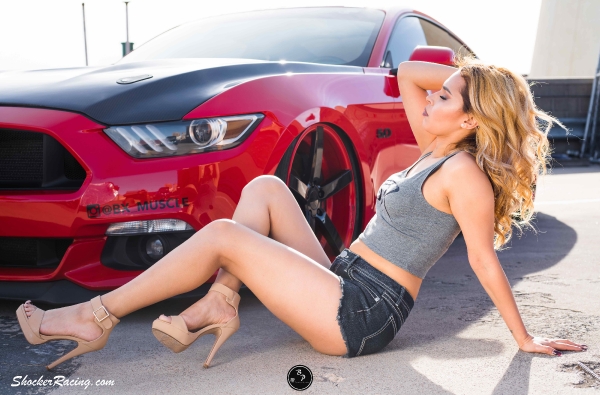 Selina Holguin joins the ShockerRacing Girls this week from El Paso, Texas!  I am not sure if there is another state in the U.S. that has more SR Girls representing than Texas... and we love it!  The 24 year old, known as @Ouiselina on IG, submitted these photos to us way back in April and has been extremely patient with us as SR has been blessed with an extremely busy summer for 2018!  Selina teamed up with Dave's 2015 Mustang and photographer Mario to bring us this shoot.  Hit the link to see all of the pics:
Page 7 of 28