Written by James Thursday, 24 January 2019 11:06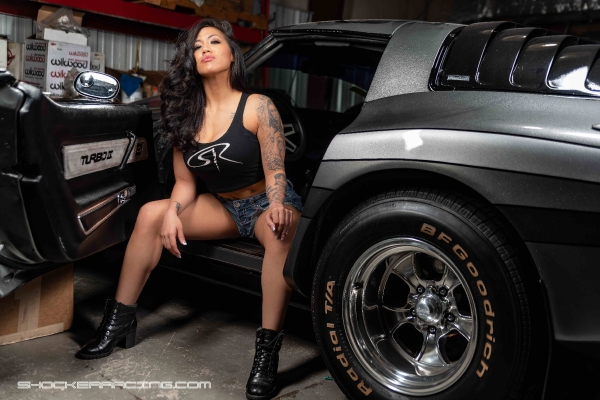 It's been a minute since we featured a shoot by Chris Auditore Photography, one of our resident photographers based in Tennessee.  We've been missing his unique shots brought to us from the Street Rods By Michael custom Hot Rod shop.   This time Chris brings us some new rides and a new ShockerRacing Girl! Let us introduce you to Mia Krystina in the shop with a C4 Corvette, a 1949 Willys, and a 1932 Ford Roadster Hi Boy.
Hit the link to see the full shoot: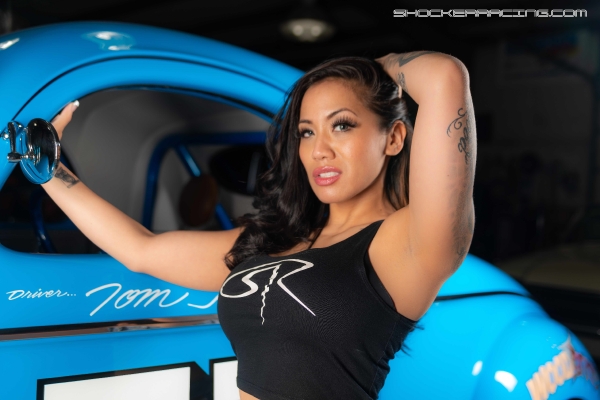 Back in September, we last featured Chris' work with Aria Page and the Thumper the '32 Ford 3 Window Coupe.  It's been a cold winter in Tennessee, so Mia tells us the nice warm shop was the perfect spot to work with some amazing custom cars and provided the perfect backdrop.  "The shop owner was so sweet, hospitable, and knowledgeable," Mia explained about meeting Michael at his shop for the first time.  Mia tells us she met Chris through Facebook, "He contacted me and we immediately vibed.  He and I were on the same page for the look we were trying to convey. I'd say we executed it perfectly."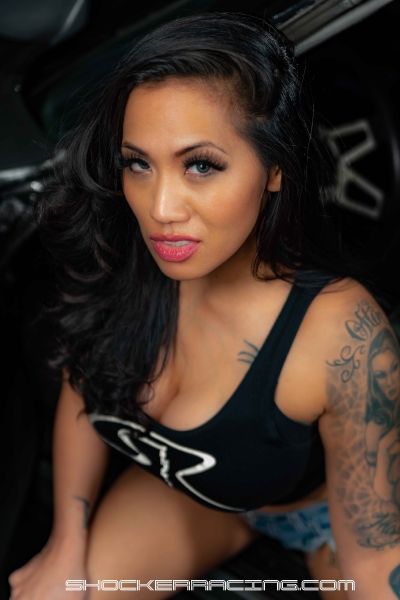 For the majority of the shots, Mia rocked one of the ShockerRacing Crop Tank Tops in black.  She also switched it up to one of our "You Can't Park With Us" T-shirts in Hot Pink.  She paired them up perfectly with a pair of Daisy Dukes cutoff jean shorts.
"I love the sleek silver on the beautiful C4 Chevrolet Corvette, and that Trans Am Racing body kit was sexy!" Mia explained why the Corvette shots were her favorite,  "The shots definitely displayed my confidence in what I do and showcased the car perfectly."  She tells us she had a blast shooting with Chris and Michael, she learned a lot about the cars, and they even spent some time talking music.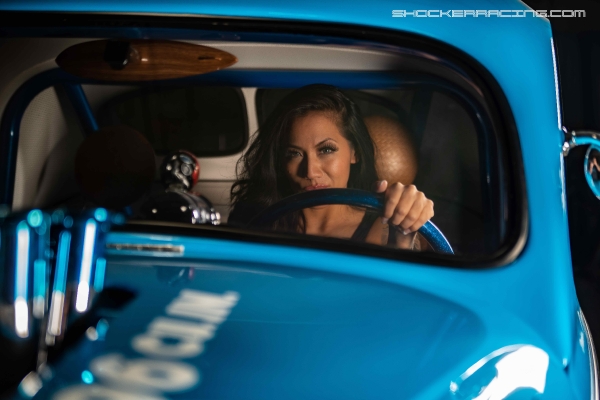 We asked Mia where her dream shoot would be, and she eagerly said Jay Leno's Garage would be fantastic.  "He's one of the greatest car collectors ever," she said,  "he has everything from Jaguar XJ220's to 1931 Duesenberg's and even Mazda Cosmo 110s in there."
You can catch Mia out at the Cars & Coffee in Nashville the 1st Saturday of each month.  She will also be out at GoodGuys Nashville National in May, and she is planning to attend SEMA this year.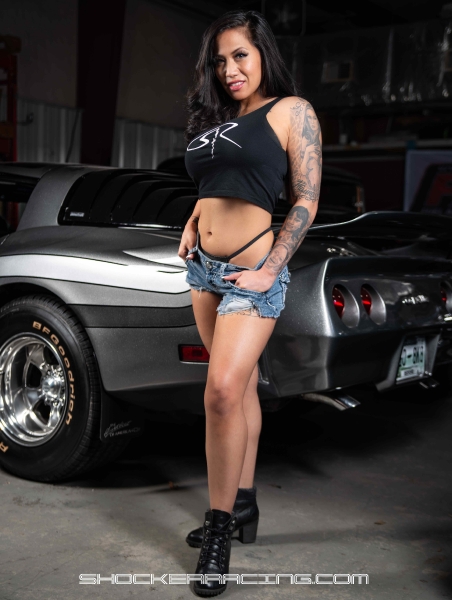 Follow Mia on Instagram: @Mia_Krystina
Photographer - Chris Auditore
Shop - Street Rods by Michael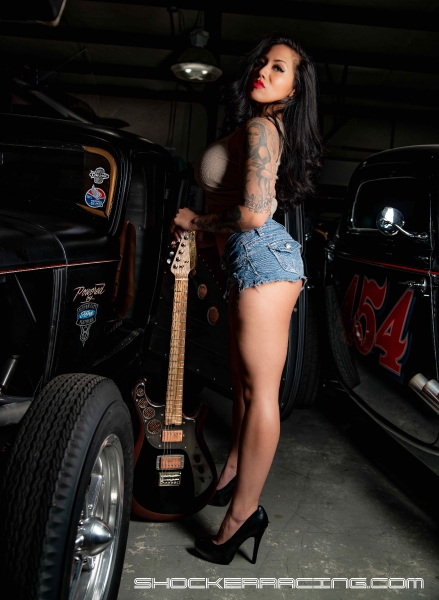 Follow ShockerRacing on our Social Media: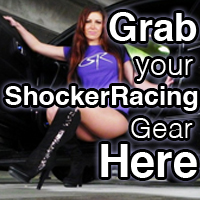 Instagram: @ShockerRacing
Twitter: @ShockerRacing1
Facebook: Facebook.com/ShockerRacing
YouTube: YouTube.com/ShockerRacing
Snapchat: @ShockerRacing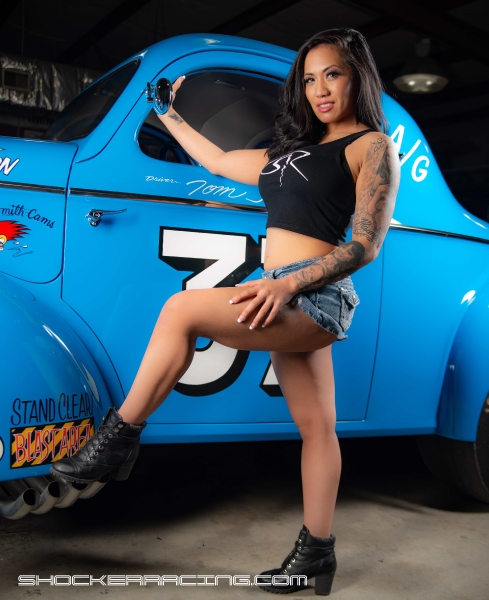 Check out Mia's full photo gallery here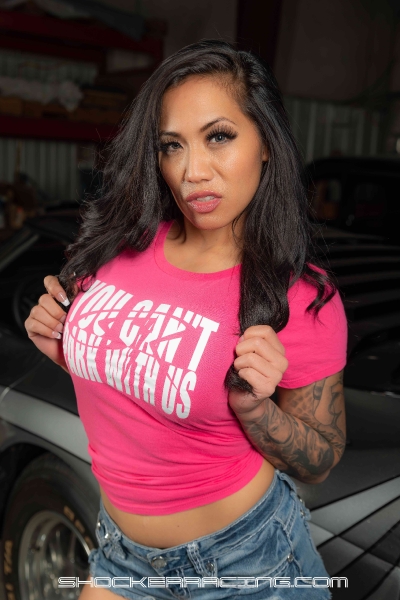 Check out Mia's full photo gallery here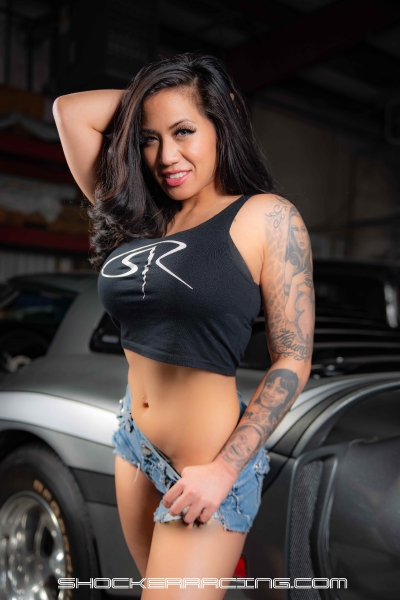 DON'T MISS - JAMIE LYNN'S FIRST FEATURE: