Written by James Tuesday, 05 March 2019 13:27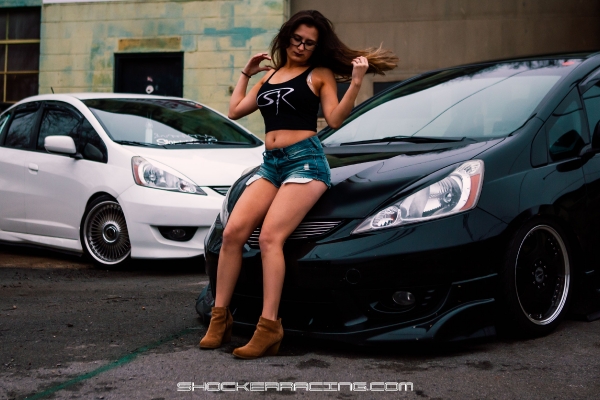 Tiffany's jewelry isn't the only amazing thing that comes in a small size.† Court Lynn and her awesome Honda Fit are sure to impress, despite their small stature.† Our newest ShockerRacing Girl is Court Lynn, not to be confused with multi-time ShockerRacing Girl, Courtney Lynn.† Ms. Court Lynn measures in at just 4'11" tall, the perfect "fit" for her modified Honda Fit! That's right, we said a Honda Fit... Court takes a lot of pride in building her Honda Fit and showing it off at every Tuner Event she can find.† The 21-year-old tells us the Honda is the first car she ever owned and she is building it to be her dream car one mod at a time!† This 2011 Fit Sport Edition isn't just your typical import with some wheels and decals, Court is going all out for her build.
Hit the link to see what she has in the works:
†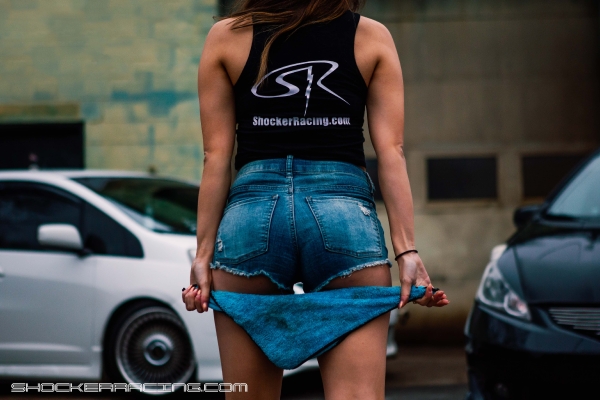 This Knoxville based car enthusiast, and now model, lives for the car scene. "My biggest pet peeve is people that think the car scene is only for guys." Court Lynn explained.† It's easy to see she has a passion for making her Honda unique, as well as enjoying various events on a regular basis.† Court will be taking over our Snapchat this weekend from Riverside Chattanooga and will be attending Import Alliance in Atlanta at the end of the month.† Her Honda will be on display at both shows.† Court recently won an award at the Tuner Evo event she attended.
Court's build has already included a completely custom interior fully equipped with a chandelier hanging below the dome light, but that is just the beginning.† The only thing she has left to complete her interior is a new headliner.† She is adding a widebody kit next month and is currently working on adding a Sprintex Supercharger kit.† It currently sits on a set of Work Emitz 17" Wheels with Tein Street Basis Z Coilovers, but she says she desperately needs an air suspension. See Court's full build list below.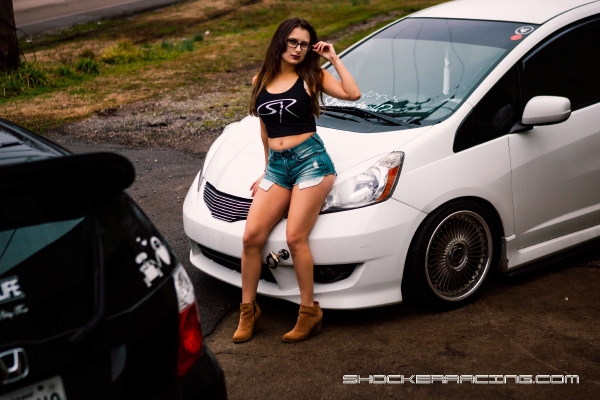 Court recently met Sarah (@Sen.Cityy) out at the Tuner Evo event.† "She's my favorite ShockerRacing Girl because when I met her she was super kind to me and has inspired me to start modeling with cars." Court explained.† Nothing makes us happier here at ShockerRacing than when our SR Girls can help, support, and inspire other women in the automotive scene.† This philosophy of supporting women in the auto industry whether they model or build their cars is what sparked Court's interest in ShockerRacing.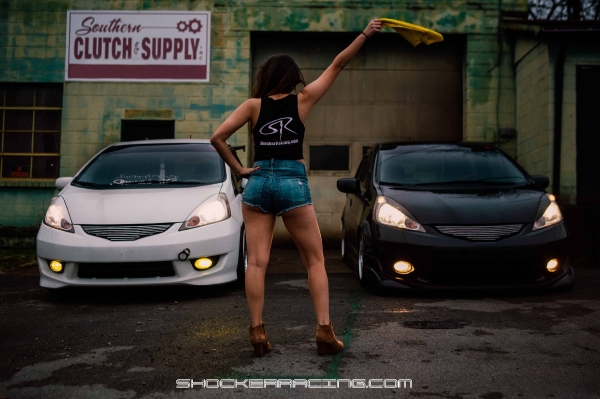 2011 Honda Fit Sport Edition Mod List: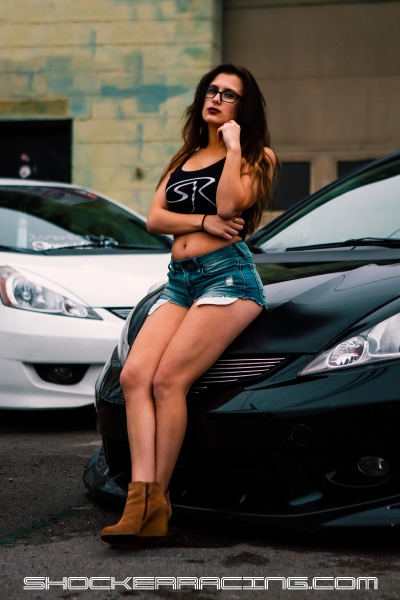 Exterior:
Custom handmade front lip

Mugen Rear Lip

Custom side skirt extensions

VIP front grille

Jís Racing STellar V Tail Lights

Jís Racing GT Wing
Wide Body Kit in Progress
Suspension/Wheels:
Tein Street Basis Z Coilovers

Work Emitz 4x100 17x8 +22 in the rear +35 in the front
Engine:
HPS Short Ram Intake

Sprintex Supercharger in progress
Interior:
Custom Diamond Stitch Leather Seats

Custom DIamond Stitch Floor Mats

Vinyl Wrapped Dash

Avenue Performance Neo-chrome centered Wood Grain Steering Wheel

Flossd VIP Front and Rear Tables

Custom Headliner with built in custom Chandelier

Custom Door Panels

Junction Produce Pillows and Headrests
The black Honda Fit in the photos is owned by Wally Lehnhoff, and the entire photo shoot was done by Katrina Wiens.† Check out the whole crew on their social media:
Court Lynn - IG - @knoxvilles19xxfit
Photographer - Katrina Wiens - IG - @katrina_wiens
Black Honda Fit - Wally Lehnhoff - IG - @wallyl72
Follow ShockerRacing on our Social Media: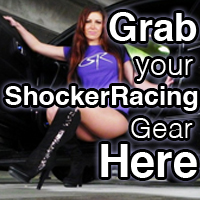 Instagram: @ShockerRacing
Twitter: @ShockerRacing1
Facebook: Facebook.com/ShockerRacing
YouTube: YouTube.com/ShockerRacing
Snapchat: @ShockerRacing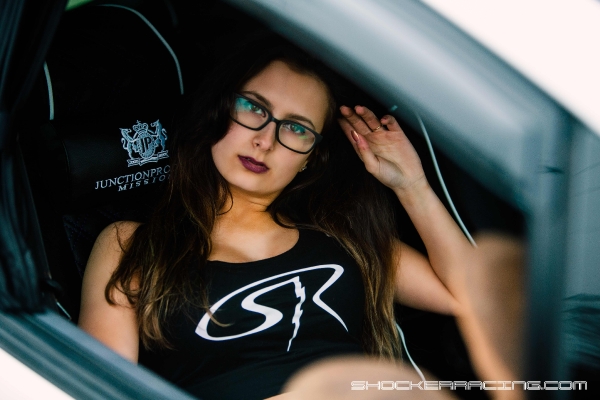 View Court Lynn's full photo gallery here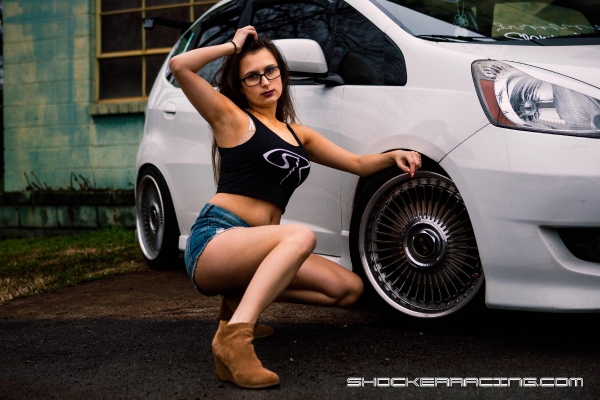 View Court Lynn's full photo gallery here
View Court Lynn's full photo gallery here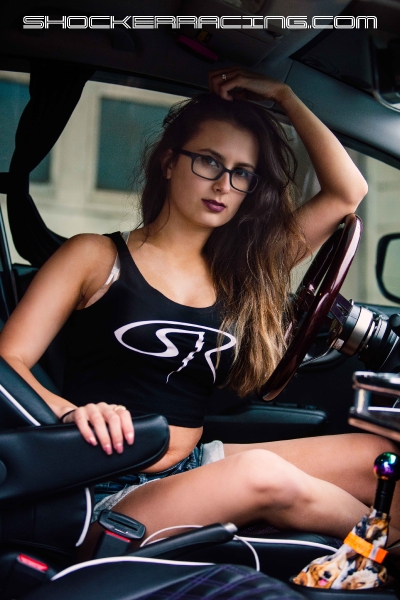 View Court Lynn's full photo gallery here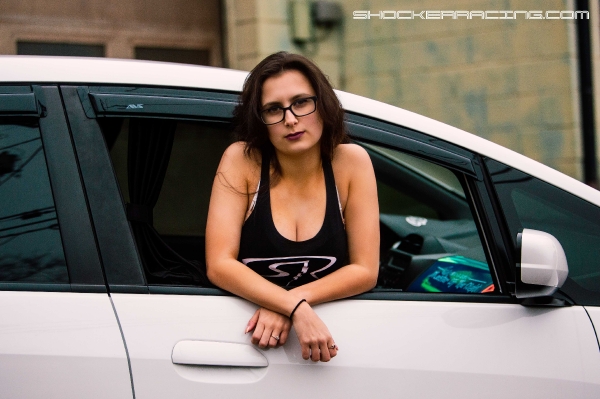 View Court Lynn's full photo gallery here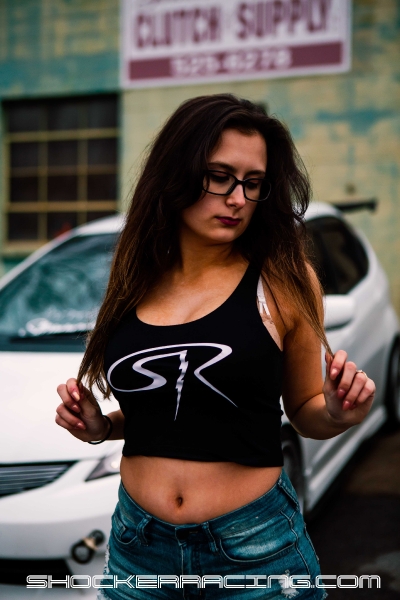 View Court Lynn's full photo gallery here
View Court Lynn's full photo gallery here
†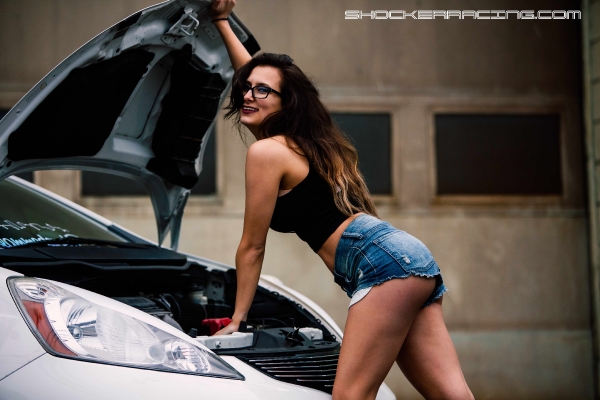 View Court Lynn's full photo gallery here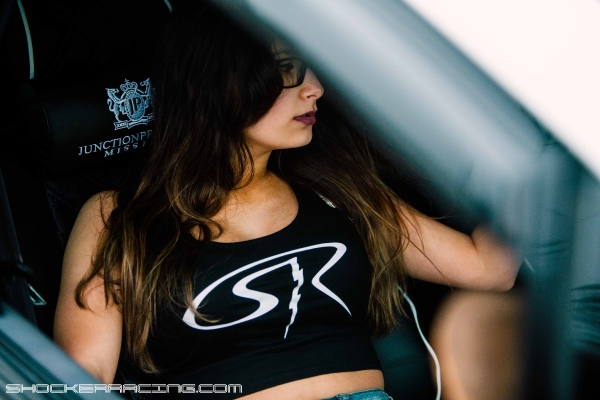 View Court Lynn's full photo gallery here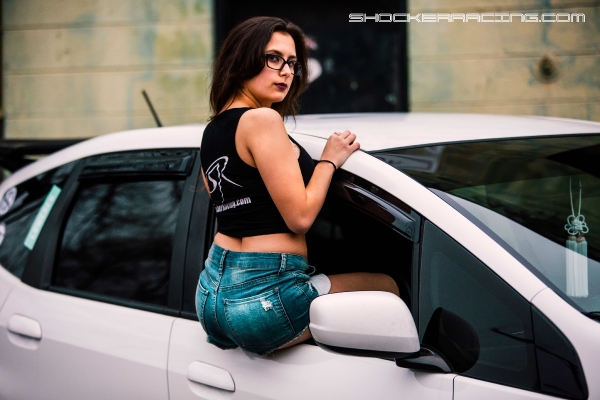 View Court Lynn's full photo gallery here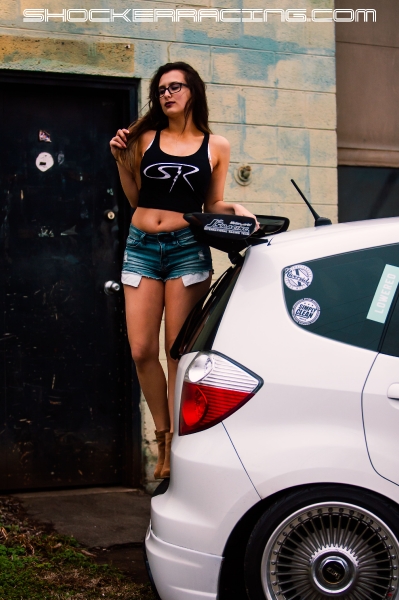 DON'T MISS - Ashley Hutt Joins the ShockerRacing Girls - Click Below: