Written by James Monday, 02 June 2014 00:00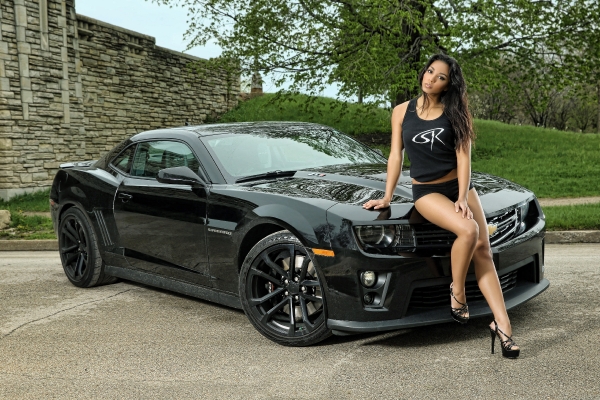 Early in May, I received an email from a person named Darrian who was interested in having their 2013 ZL1 Camaro featured on ShockerRacing.com.  I asked for some photos and some more details about the car and what mods had been done to the car.  Darrian sent me some pics of the black fifth generation ZL1 Camaro and explained that it was stock.  I thought to myself, where is the story here? Yes, the ZL1 Camaro is potent in stock form being powered by the supercharged and intercooled 6.2-liter overhead valve LSA V-8 from GM.  It's rocking 580 horsepower and 556 pound-feet of torque and will hit 0-60 in 4.2 seconds but you can read about that and see pics in any Road and Track or Motor Trend magazine.  I was then informed that Darrian had a photoshoot scheduled with none other than Goyk Photo and that SHE was a member of the Indianapolis Motor Speedway Indy Girls Team!  I began to put the puzzle pieces together and found out that Darrian Arch was also Miss Indiana Teen USA for 2013.
Darrian, 19, is currently a college student majoring in Biology and tells us she has always been a car enthusiast.  Her parents raised her around sports cars and she spent plenty of time at the drag strip.  Her first car was a Blue 2011 C6 Corvette and this was the gateway to her love for speed!  Darrian special ordered this Black 2013 ZL1 Camaro late in 2012 and has kept it stock for the time being.  She has made 5 passes at Byron dragway in the ZL1 and she ran 12.2's and 12.3's. She tells us that she plans on upgrading the Camaro to a Lingenfelter 700hp package in the very near future.  The LPE package increases the power to 623 rear wheel horsepower and 617 pound-feet of torque and includes: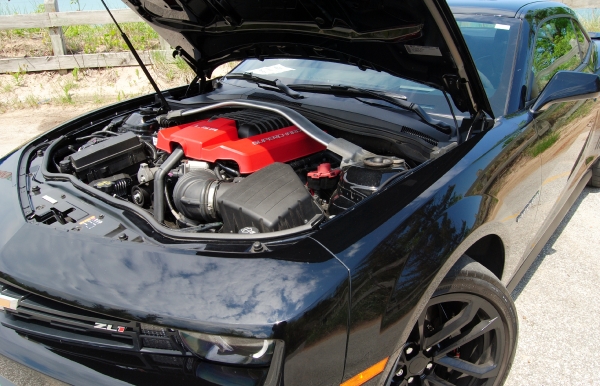 - Engine removal & removal of supercharger assembly, cylinder heads, camshaft
- Lingenfelter CNC porting & polishing of ZL1 LSA cylinder heads for optimal flow
- 2.165? diameter hollow stem intake valves
- 1.59 diameter high temperature Inconel exhaust valves
- Lingenfelter multi-angle valve job, cc chambers, surfacing & spring height adjustment
- Competition Cams valve springs, titanium retainers, 10 degree locks
- Lingenfelter GT9 camshaft by Competition Cams 215/247 .629/.656 121 CL
- GM Head gaskets & head bolts
- 2.55 inch diameter steel supercharger drive pulley - powder coated black - 8 rib
- 8 rib serpentine belt
- Lingenfelter LS9 solid supercharger isolator coupling
- Port and polished supercharger snout
- Lingenfelter High Flow air intake kit
- Lingenfelter 10% overdrive harmonic balancer
- 63 lbs/hour fuel injectors
- 160 degree thermostat
- Professional installation, camshaft degreeing & testing
- Engine testing & expert ECM tuning
- Chassis dyno testing before & after installation
- Excellent drivability, highway mileage not adversely affected
- Lingenfelter certificate of authenticity
- Lingenfelter 2 year/ 24,000 mile warranty
The Indianapolis Motor Speedway Girls Team was just launched in March of 2014.  As part of the IMS Girls team, Darrian is part of a core team of 6 girls that will serve as goodwill ambassadors for future Indianapolis Motorspeedway events.  They will work to promote and bring a new experience to the speedway by interacting with the fans.  They will be at every race including the new Grand Prix of Indianapolis as well as the Indy 500, Snakepit and the Red Bull GP.  Indy girls promotions will include appearing during grid and podium trophy presentations.  Darrian has also been an extreme sports model for Umbrella Girls USA, which is a boutique modeling agency built around motorsports.  She has quite the impressive resume and now she can add ShockerRacing.com Girl to the list!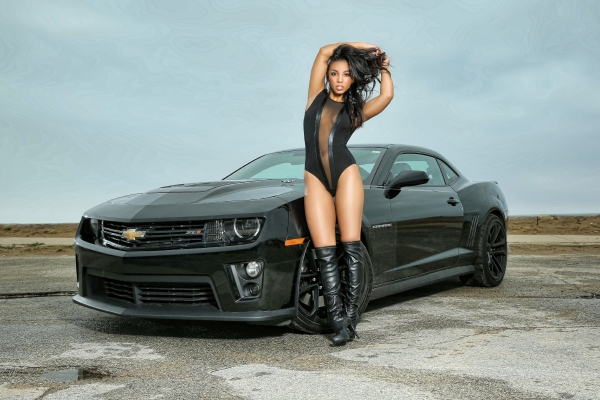 To view the complete photo gallery click here
We are extremely happy that Darrian chose to contact ShockerRacing.com to share her story, her photos and her beautiful 2013 ZL1 Camaro with us.  We look forward to seeing what the future holds for her and her fifth generation Camaro.  If you are around the Chicagoland area keep your eye out for a Lingenfelter beast to be tearing up the streets soon!
Added 6/7/2014 Video put together by Darrian:
Video - Darrian wins Miss Indiana Teen USA 2013:
Click the photo to meet Sarah and her 600+ HP Fifth Gen Camaro: