Written by James Monday, 11 January 2016 11:41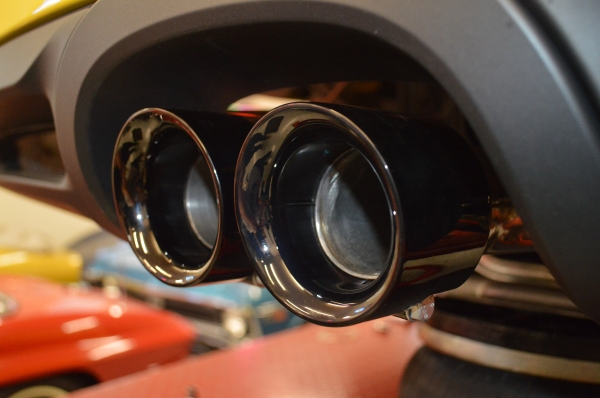 I have been eyeing the Fabspeed Supercup Race Exhaust since I ordered my Racing Yellow 2016 Cayman last spring and I finally called up the guys at Fabspeed Motorsport right around Thanksgiving. After working with them and talking to John over there I decided that the Race Exhaust was going to be the right fit for my 6 speed 2.7L Cayman. John warned me that the Supercup exhaust was very aggressive sounding but from all of the videos I had seen it was the only exhaust that sounded the way I feel the Cayman SHOULD sound... CLICK READ MORE TO SEE THE VIDEO!
I explained to him that I am used to very loud Corvettes as my last Vette had headers with no cats and that I personally like them aggressive. We got it all installed and the sound from outside the car is absolutely perfect, when I first got it done I made wifey drive around the block a few times so that I could hear it pulling away and then coming back around the neighborhood!!! For the interior sound, John was right... There is definitely a bit of drone and this exhaust is not for the faint of heart. IMO, it's worth the extra interior noise for the power and weight savings as well as having a beautiful and powerful exterior exhaust note. Also, this is one of easiest exhausts I have ever installed. The build quality and fitment was amazing(especially compared to the last Magnaflow exhaust I installed on my buddies S550 Mustang). I used a drive-on lift to do this install and since the rear wheels need to be removed to change the exhaust, it took me longer to jack the car up on the drive-on lift and remove the wheels than it did to actually swap the exhaust. Check out the video with before and after clips along with a fast forward view of us actually installing the pipes.
We recently installed the LED Clear Side Markers on our Cayman.  Check out the feature here: