Written by James Monday, 05 May 2014 00:00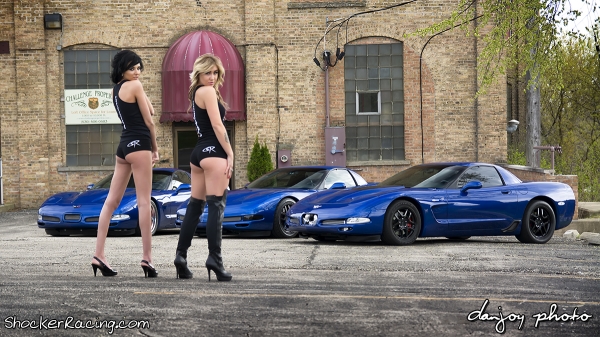 ShockerRacing began working on picking a featured ride for the month of May just hours after getting off the phone with SR member C5Z06SpeedJon.  Jon had called to discuss his latest plan to supercharge his Electron Blue 2002 Corvette Z06.  When we starting considering our options for the Featured Ride, we realized that SR now had three boosted Electron Blue Z06 Corvettes in the club all that would be pushing 700 plus horsepower(Spdkilz, Smoothblue, C5Z06SpeedJon).  All three Vettes are similar with color, power, and attitude but that's where the similarities end...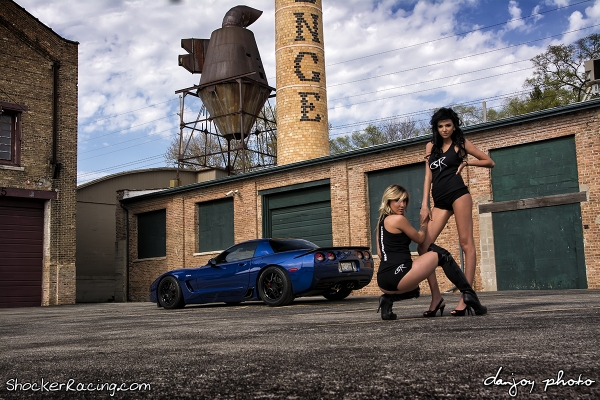 They are each uniquely different and each of the three has its own story to tell.  Once deciding to feature all three of the boosted Vettes, we contacted our friend Dan from Dan Joy Photography(www.facebook.com/DanJoyPhoto) to do the shoot and began our model search.  We posted on Instagram(IG @ShockerRacing) and on Facebook(www.facebook.com/shockerracing) looking for models and at first we did not have the response we were looking for.  Then a couple of weeks later, we received an email from Angela(IG @AngelaAngelovska) with some headshots. After reviewing her info, we decided that she was perfect for what we had in mind... and it didn't hurt that she owned a 5th Generation Camaro as well!  We starting thinking that we were going to need a second model since we were going to be shooting with three vehicles and thought that adding a blonde would be a nice contrast to Angela's striking brown hair.  Randomly, Angela emailed us asking if she could bring her best friend along to shoot with her.  After seeing her friend, Chloe's(IG @Chloeeharriis), headshots we decided that she was the perfect blonde to complement Angela and these beautiful boosted C5's.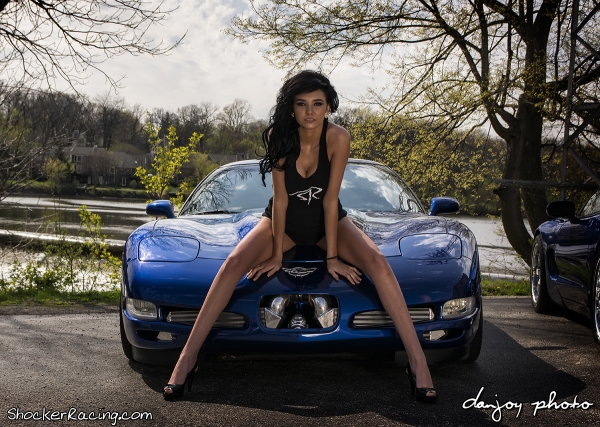 Many of you may remember the infamous "Spdkilz" and his website, www.spdkilz.com, for his amazing photos and C5 Corvette tech tips.  You may also be wondering what happened to Spdkilz and if the 2003 Z06 even still existed!  The last updates that most people had seen of "Spdkilz" were back in 2007 when the car began it's custom twin turbo transformation built by CM Racing.  From the latest photos that he had posted, the twin GT35R turbo kit turned out absolutely beautiful! The symmetry of the forward facing custom welded headers and the twin front mount intercoolers is absolutely stunning.  The simple touches of Electron Blue accents under the hood immediately catch your eye.  When all was said and done, Spdkilz was pushing an easy 6psi of boost and making right at 600 horsepower to the rear wheels.  So what happened?  Where has Spdkilz been for the last 6 or 7 years?  The car was put away in storage while Carleton finished his schooling.  When he put it away, it had a few kinks to work out as is expected when you build a completely one off turbo system.  It is now alive and back out of storage, getting ready to get into the shop and finish up all of the details.  Stay tuned for future updates as things should be starting to come together and finally get this truly unique C5 back out on the streets of Chicago.
Click here for the full article on Spdkilz
Corvette #2 - C5Z06SpeedJon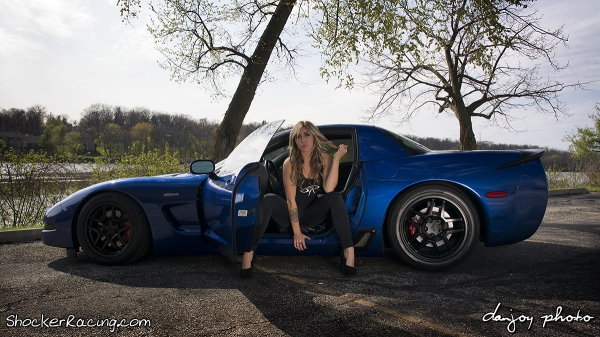 The story of Jons' Z06 began when his 2007 Lemans Blue Corvette was totaled in a fire.  A lot of change was happening in his life and at the moment it made sense not to run out and purchase a new car.  After some things settled down, he found himself picking up this 2002 Electron Blue Z06 that was already equipped with some basic mods.  Being a California car, the modifications included a very mild heads and cam package to be able pass California emissions. This was a nice starting point for Jon to build from but he knew he had much loftier goals.  After replacing a few of the already installed performance mods to try to wake it up, Jon decided something drastic had to be done to get the results he desired.  Jon had previously owned LS powered cars that had been cam only and one that had been sprayed.  This time he wanted to try some boost out!  The car was heading into the shop to have a new twin disk clutch installed so he thought it was the perfect time to have the A&A Blacked Out Supercharger Kit installed.  The Vortech Supercharger ended up making 661 rear wheel horspower and 529 rear wheel torque!  Jon has a spot reserved already for the WannaGoFast Half Mile Shootout in June and hopes to destroy his mile per hour from last year.  Stay tuned for updated results and new 1/4 Mile times coming soon!
Click here for the full article on C5Z06SpeedJon
Corvette #3 - Smoothblue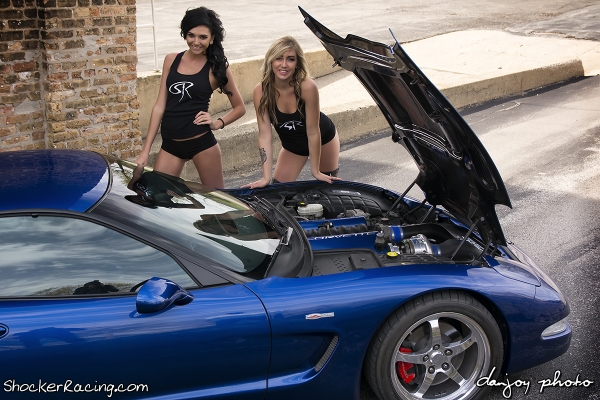 Smoothblue was a fairly well know Electron Blue Z06 in the Corvette community as it was originally owned by the shop manager at one of the most well known LSX speed shops in the country.  Perry picked it up knowing that it was well maintained and well regarded in the Corvette world.  The car was nicely modded for a naturally aspirated Vette and had run some incredible 1/4 mile times with the few mods that were already done.  It also stood out on the street with the CCW SP500 wheels that were on it drawing attention wherever the car went. Perry took the Vette to the next level when he dropped the compression and added a Procharger D1SC Supercharger kit making 11.5lbs of boost!  The C5 Z now safely makes over 600 horsepower to the rear wheels.  After making the power he wanted, Perry began to make the car stand out even more.  He added the Tigershark Rear Bumper with the Corsa Tigershark Exhaust along with an MCM hood!  He added a set of coilovers to get the stance he was looking for and then added some Corbeau A4 leather seats.  Perry plans to eventually forge the bottom end and swap the wheels to a set of iForged Classics, and who knows... someday this car may end up getting painted white!
Click here for the full article on Smoothblue
We met up in downtown Batavia, IL at an old factory building right on the river for the shoot.  The location was suggested by Spdkilz and it was truly the perfect backdrop for the shoot.  Things were looking a little down as some rain was rolling in as we were preparing for the shoot, but we got lucky and the light drizzle quickly passed.  A quick wipe down of the cars and we began lining up the three Vettes for our first shots.  Of course, three badass Vettes like this drew some attention and before we knew it we were being interupted by a drunk guy on a mountain bike.  This guy started snapping pics of the cars and getting all up in our business when he could clearly see we were getting ready to begin shooting.  We finally got him to leave so that our models, Angela and Chloe, could get comfortable and prepare to start shooting.  The photographer, Dan, quickly started snapping away and the girls began nailing shot after shot.  Everything from the photographer, to the models and the location ended up coming together perfectly and we are extremely happy with the results from the shoot.  ShockerRacing and Dan Joy Photo both hope that we will have the opportunity to work with Angela and Chloe again in the near future.
Be sure to "Like" Dan Joy Photo on Facebook: www.facebook.com/DanJoyPhoto
Follow Angela on Instagram @AngelaAngelovska
Follow Chloe on Instagram @Chloeeharriis
Click the photo below to see Angela with Mook's Supra and an Audi R8: