Written by James Monday, 15 February 2016 12:00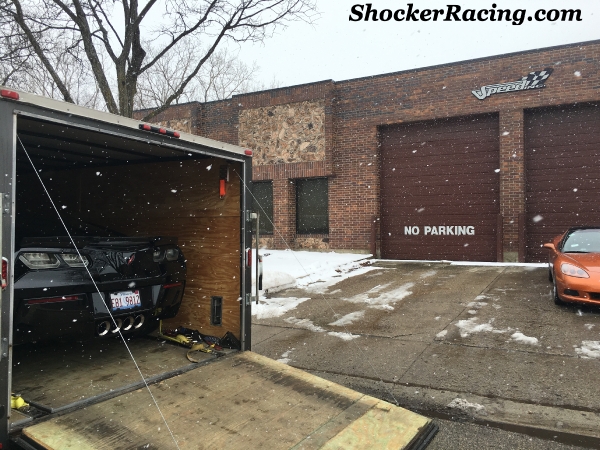 Just over a year ago, an order was placed for a black 2015 C7 Z06 Corvette.  This Vette would be equipped with the 8 speed automatic transmission and a Performance Data Recorder.  We took delivery of this 650 horsepower beast early in April last year and the tires haven't stopped spinning since!  Last fall we took her out to the Omega Motorsport NoFlyZone Half Mile event.  Of course all of the big horsepower cars wanted a piece of the brand new Z06, so we proceeded to get beat up on all day by all of the baddest cars at the event.  This was unacceptable so we will be showing up at this Springs NoFlyZoneMidwest with a few new goodies and a bit more power thanks to our friends at Speed Inc.....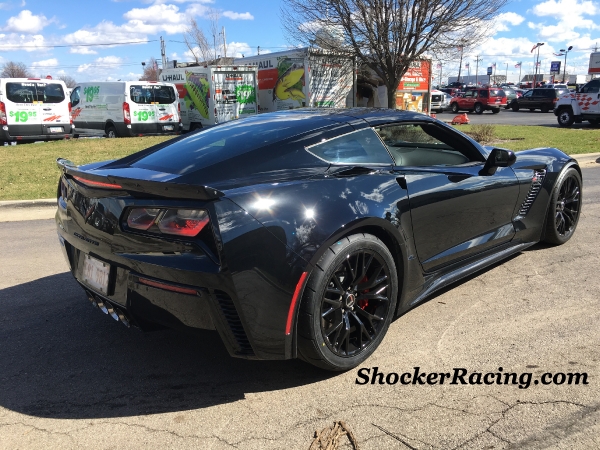 On Wednesday, February 17th Speed Inc. will be strapping the Z onto their dyno for a pre-dyno number before the modding process begins!  Stay tuned as we update you on numbers and what mods they will be installing.  We have already scooped up a set of 19"x12" Gloss Black Drag Wheels from C7Z06VetteOwners.com along with a set of 345/30/19 Nitto NT05R Drag Radials from Wheel Pros.  This combo should help grab the pavement a little better this season, especially with the additional power we will be adding.
Here are the 19" Wheels with the tires mounted: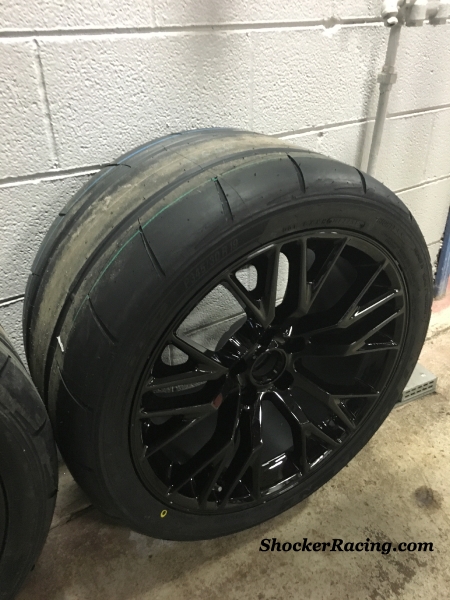 2/17/16 Update: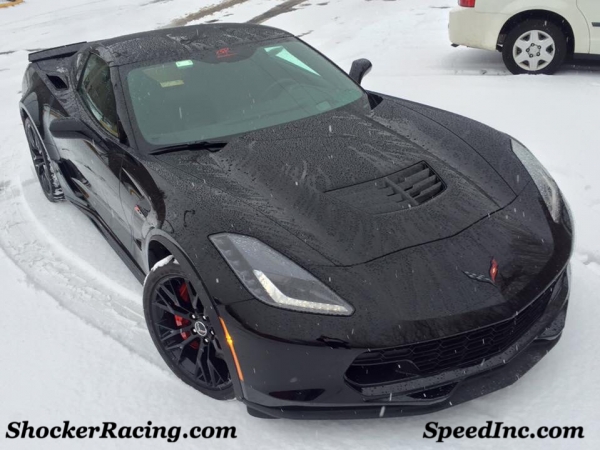 Below you will find the Dyno Sheet for the Pre-Mod dyno pulls.  The car made only 518 rwhp and 531 rwtq on Speed Inc's Dynojet, which seems to be pretty low.  If you look at the air/fuel ratio's, you will see that the stock tune is running super rich.
I figure now is the time to let the cat out of the bag as to what mods Speed Inc. will be installing between today and tomorrow.  We decided to add the Halltech Systems Stinger-RZ which seems to be one of the biggest and most important gains on the C7 Z06 with claims of 40-55 rwhp gains on the C7 Z06.
The 2nd mod we decided to go with is the Innovators West 18% Overdrive Harmonic Balancer to increase boost.  This balancer should add about 3lbs more boost.  People are leaning towards replacing the balancer as opposed to the blower pulley because it is less labor intensive and provides better belt wrap than a smaller blower pulley.
Once these are both installed, Speed Inc. will strap her back on the dyno and begin the tuning process.  Hopefully, with how rich she was running we will see some nice gains.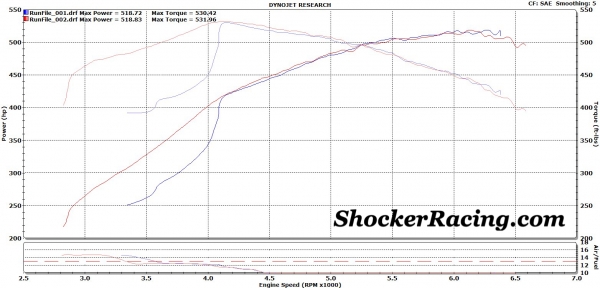 2/18/16 1:00 pm CST Update:
Both the Innovator's West Overdrive Balancer and Halltech Intake are fully installed and Speed Inc. has her back on the dyno for tuning as I am typing this.  Here are some pics of the pulley and the Halltech Stinger RZ.
Innovator's West 18% Overdrive Balancer: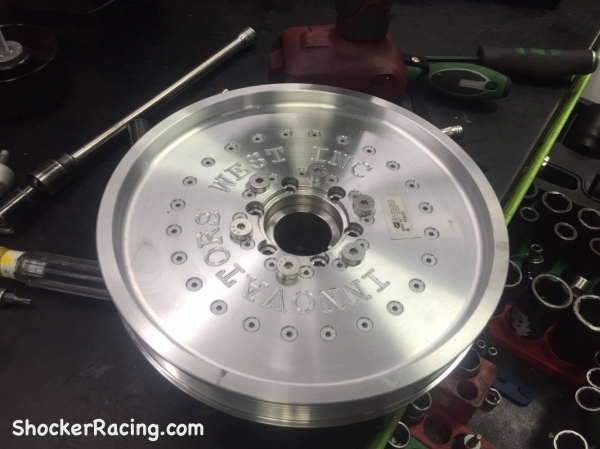 Stock balancer removed: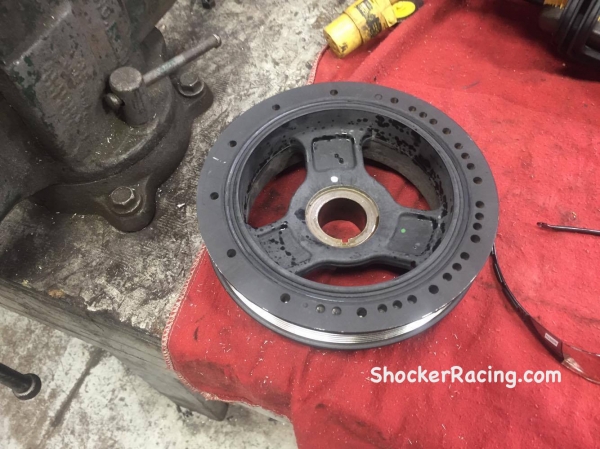 Innovator's West Balancer Installed:
Halltech Systems Stinger-RZ Intake: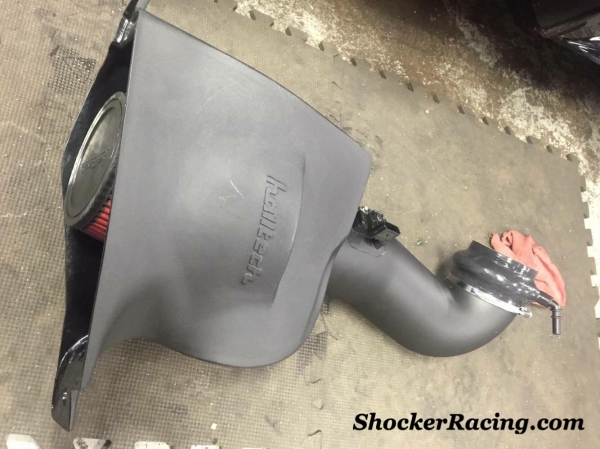 Halltech Systems Stinger-RZ Intake Installed on the C7 Z06: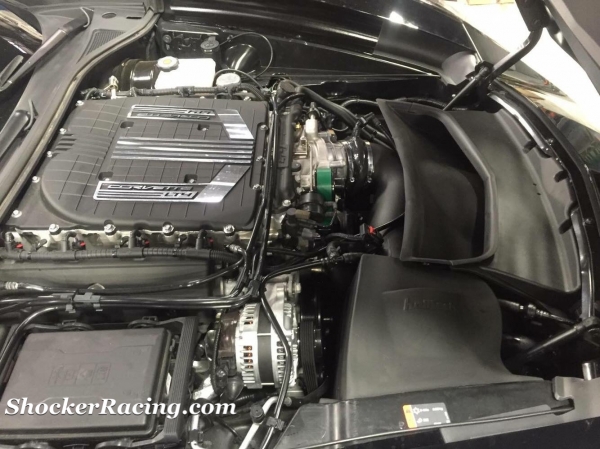 C7 Z06 on the dyno at Speed Inc. for tuning:
2/18/16 Final Results Update:
We just received the final results from Speed Inc. and the power gains were right about as expected.  She put down 610rwhp and 680rwtq.  The guys at Speed got the A/F ratio's perfect and that 150rwtq gain is pretty impressive.  They did note that the IAT's were higher than they would like to see, and suggested that we make sure to allow the car ample time to cool down at the track.  We are going to discuss some options for the future to help with the cooling issue this and many other C7 Z06's are facing.  Stay tuned for further updates and to see how she runs at the Omega Motorsport NoFlyZone Midwest at the end of April.
We would also like to say a big thanks to Tom, Tony, and Hassan from Speed Inc. for working with us through the whole process.  They offered great advice about different options for the car and kept us up to date as they worked on her.

2/22/16 First Drive:
I drove her home on Monday after having Andy from Clear Guard for Cars install a Xpel Paint protection on the car.  It was a 45 degree day here in Chicago and I was cruising down Route 72 heading West.  I was cruising at 60mph and I decided to jump on it along an empty stretch of road.  The exhaust and supercharger let out a roar and the tires just went up in smoke!!! I guess we need to get the drag radials installed asap and get her out on a slightly warmer day to actually get to experience her new power!
Final Dyno Sheet with Halltech Stinger-RZ, Innovator's West Pulley, and Dyno Tune: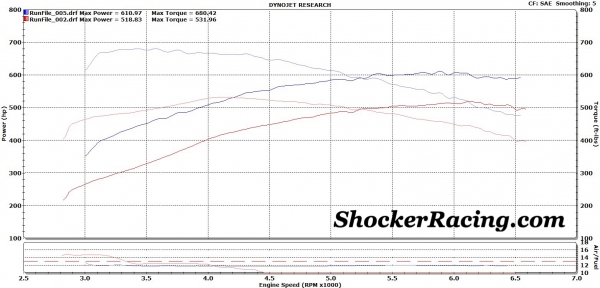 After getting her back home lowered on stock bolts:
Video of the C7 Z06 on the Dyno at Speed Inc.
Video of the C7 Z06 racing a C6 ZR1 in the Half Mile:
Here is the original feature from the day we took delivery:
Check out our feature with Megan Lyda and the Atlanta Custom Wraps 1100+ C7 Z06: